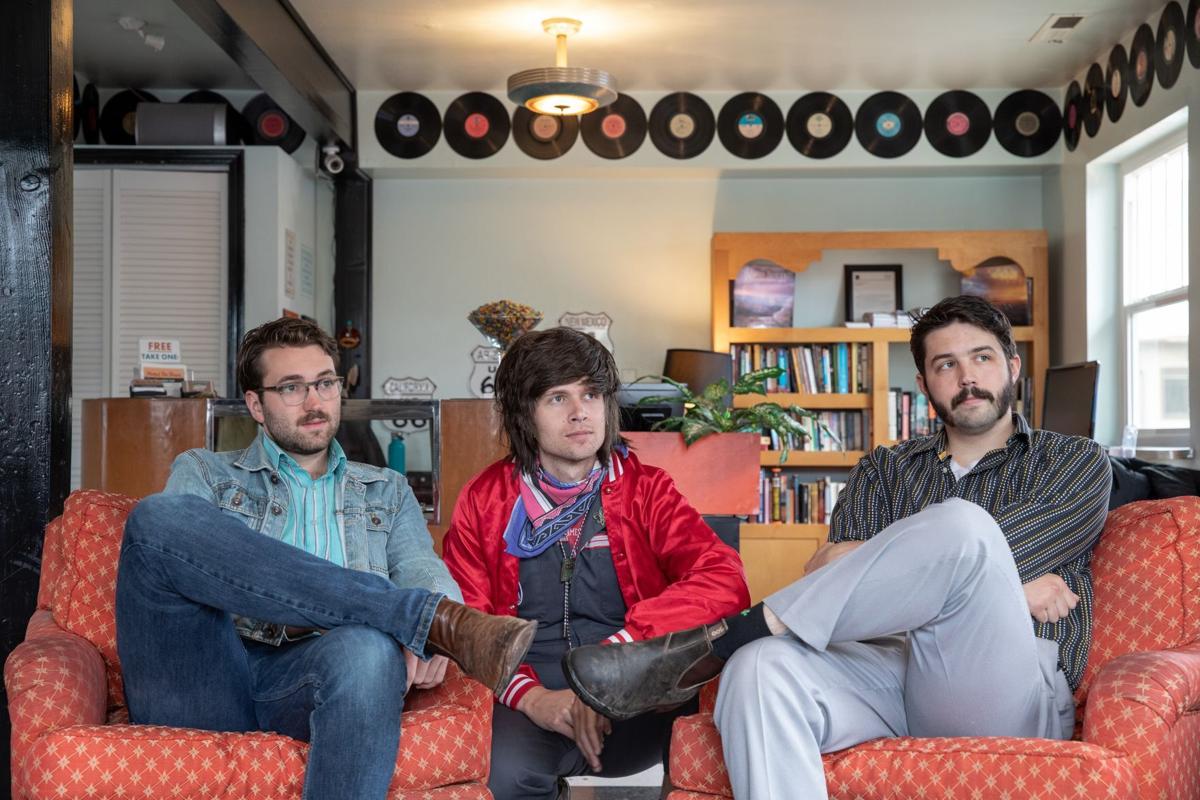 SUNDAY | 9.20
It's back for round two, The Museum of Contemporary Art Flagstaff aka MOCAF is hosting its second round of the social distancing and cycling art event, this time called Social Distance Further 2.0. After the first installment of the interactive, outdoor art installation featuring Flagstaff artists of all mediums, they've decided to do it again. The event will take groups of 4-6 through various spots in Flagstaff by bike, starting at the Coconino Center for the Arts and ending at Momentum Aerial for a flying good time. "All inside venues became obsolete for the time being—that was my initial shock moment," Andres "Dapper Dre" Adauto told Flag Live! in a recent interview, explaining how MOCAF and other venues were forced to get creative. "The bicycles came into it because I wanted to think outside the box. It's efficient, it's fresh air, you can social distance, it becomes about your community and still sharing a space with people safely."  Bicycles are another way to become acquainted with the town, too. Each bike group will get a guide who will take them to the various stops along the way where spoken word artists, musicians, marital artists and more will perform. Featuring Random Impulse Taiko, ambient sounds by Shameful Footsteps, the music of Slugs from Space, the wordsmith duo that is An Illustrated Mess and more. Participants can pre-register for specific time slots when they purchase tickets. The route will take about two hours and is 12 miles round trip. Individual groups will meet at the Coconino Center for the Arts to begin and then will be led to the next experience/performance/installation. All attendees and artistic participants will be required to wear masks. For more information or to purchase tickets visit https://m.bpt.me/event/4735820 or check out the MOCAF Instagram page @m_o_c_a_f and click the link in their bio. We won't force you to go, though we think you should, so we'll leave you with this final quote by Dapper Dre: "This is something experiential within your community here, something to keep your community healthy, yourself healthy, which bikes offer because they lessen our reliance on fossil fuels. But they also allow us to roll up to this event, to be entertained and challenged by the perspective of these performance artists."
FRI-SAT | 9.18-19
The Orpheum Theater recently launched its Under the Stars series featuring local and regional bands performing beneath Flagstaff's beautiful dark skies. These events are the first in-person ones to be held by the venue in several months and are the perfect way to enjoy live music safely and at a distance. Ah, the great outdoors. This weekend's performances feature Sci-Fi Country on Friday and The Senators on Saturday, each with two shows, one at 7 p.m. and another at 9:15 p.m. Go Friday to hear the country-meets-psychedelic-meets-otherworldly tunes of Sci-Fi Country (Ben London, Quinn Scully and Tre Hibbert) and make a weekend of it by stopping by the next day to catch The Senators in all their indie glory. The event will take place in the Orpheum's parking lot, 15 W. Aspen Ave. Tickets can be purchased for groups of two and four at $40 and $80 respectively at www.orpheumflagstaff.com.
SATURDAY | 9.19
NIGHTTIME IS THE RIGHT TIME
Ever wanted to wander Buffalo Park at night but were too afraid of the dark to go alone? You're not alone. Good thing Flagstaff Dark Skies Coalition leaders Lance Diskan and William Seven are hosting a guided tour of the night in the famous local park and one of Flagstaff's best night sky locales. Participants in this Flagstaff Star Party will enjoy a conversation on night-sky topics, as well as quiet time for personal interaction with the night-sky. The event also includes free swag and c'mon, who doesn't love free swag? The merchy merch we're speaking of is a Flagstaff Star Party souvenir night vision friendly flashlight. Get a load of that. Wear comfortable shoes and appropriate clothing. Facemasks are required. Children are welcome if accompanied by an adult. No pets allowed. The star party begins at 6:30 p.m. and goes until 8 p.m. at Buffalo Park, 2400 N. Gemini Rd. To reserve your spot, or learn more, visit www.facebook.com/FlagDarkSkies/
9.11-9.27
What do the all-knowing internet and William Shakespeare's Forest of Arden have in common? They're both places where you can be the self you've always yearned to be, that is, according to James Cougar Canfield who directed Flagstaff Shakespeare Festival's most recent production, a virtual version of Shakespeare's As You Like It. Though the production was originally scheduled to be an in-person show, FlagShakes and Canfield quickly switched gears to make this raucous pastoral comedy into a 16-bit video game-inspired masterpiece. Set in the gaming world, love, lust, swapped identities and colorful characters are at the fore in this 16th century tale of Rosalind and her cousin Celia who escape the former's uncle's court. Together the two set course for the Forest of Arden with jester Touchstone, arriving and falling in love while playing a series of tricks and becoming their true selves along the way. With a nostalgic video game score composed by Sean Golightly and 16-bit Nintendo-esque animation by Nathan Leigh, this is not a performance you want to miss. You can purchase a downloadable link of FlagShakes' As You Like It at www.flagshakes.org. The play will be available to watch through Sunday, Sep. 27.
9.18-9.27
Wanna hear a secret? You have superpowers. No, it's true. Don't believe us? Maybe you'll listen to experts like earth scientist Christa Sadler. As the W. L. Gore & Associates Keynote Speaker for this year's Flagstaff Festival of Science, Sadler will speak on "Tapping into the Superpowers of Science" to kick off the 10 best days of the year this Friday. Events include livestreams on subjects like the science of tintype photography with Eric Retterbush or the physics of aerial arts with Momentum Aerial as well as in-person hikes, stargazing, geocaching and more. There are topics for practically all ages and interests, just waiting to be explored. For the full schedule, downloadable activities, event registration and more, visit www.scifest.org.
Be the first to know
Get local news delivered to your inbox!