FRIDAY | 12.1
From the Powell Museum in Page to the JW Powell Boulevard overpass on the I-17 which welcomes travelers and locals home in Flagstaff, John Wesley Powell's influence and presence in Arizona and the greater Southwest is indelible. And his 1869 expedition of the Green and Colorado rivers, perhaps his most famous excursion, remains one of the most daring and exciting adventure's in America's history. But how much of it is truth and how much of it has been embellished by the admiration of inaccurate historians? After 20 years of research, author Don Lago is releasing The Powell Expedition: New Discoveries about John Wesley Powell's 1869 River Journey, which sheds new light on old territory. "I've always loved history books and you assume their authenticity, especially if they are a university academic. You assume that they know what they are doing, that they're doing their research and that everything is accurate," says Lago. "I think it was really disheartening and shocking to realize just how poorly researched and documented these statements are and how historians can go on repeating these things for decades." In the book, Lago talks about some of the inaccuracies and biases in previous biographies about Powell and his journey, as well as the histories of his forgotten crew. Through pictures, letters and interviews with families of the crew members, Lago paints a fuller picture of what happened on the 1869 expedition that helped map the final portions of the United States. "For some people, the whole story is about Powell, and the crew members are obscure and unimportant. So I think [the book] will raise the role of the crew members and raise the respect people have for them and how important they were in making the trip happen at all," says the author. "They weren't just names. They were real people with real histories and real backgrounds." Don Lago will be giving a book signing Friday at Bright Side Bookshop, 18 N. San Francisco St., at 6 p.m. www.brightsidebookshop.com.
THURSDAY | 11.29
Joe Ehrmann, former defensive lineman for the Baltimore Colts, Indianapolis Colts, argues that "the three most destructive words that every man receives when he's a boy is when he's told to be a man." Since adolescence, boys are pressured to succeed in America's slim definition of masculinity and what it means to be a "real" man. The 2015 documentary The Mask You Live In, directed by Jennifer Siebel Newsom, examines the lives of boys and young men as they navigate through a maze of identity issues. According to Newsom, the inspiration for the documentary came when she was pregnant with her son. "It was really important to me that I could nurture a son who could be true to his authentic self, who wouldn't always feel like he had to prove his masculinity," says Newsom. "There's so much loneliness, pain and suffering when one is pretending to be someone that they're not." This Thursday, join others at Firecreek Coffee Company for a screening of The Make You Live In, followed by a discussion about gender, stereotypes and identity. Starts at 7 p.m. www.therepresentationproject.org/film/the-mask-you-live-in.
 SAT-SUN | 12.2-3
The scene: It's Christmas Eve. You're exchanging early gifts with loved ones and you hold your breath as they tear into the newsprint it's wrapped in (hey, we can't all afford shiny new wrapping paper). Surprise! It's…something they already own. What a buzzkill. Avoid that scenario this holiday season and buy unique gifts from local Flagstaff artists during Flagstaff Arts Council's Fine Craft Sale. Browse original handmade art and crafts including jewelry, clothing, pottery, ornaments, wood work, glass work and much more from 20 Flagstaff artists. The sale will be held at the Coconino Center for the Arts, 2300 N. Fort Valley Road, Saturday from 10 a.m.-5 p.m. and then Sunday, 12-4 p.m. www.flagartscouncil.org.
SAT-SUN | 12.2-3
In January of 2016, acclaimed and prolific singer/songwriter Jerry Joseph, whose catalog includes more than 30 records and 250 original songs,rented a tiny home a mile from his house to work on songs for a new album. "I ended up writing a fistful of songs. It was cold early January but a perfect place to write. Weird stuff was happening in general, one of those weeks where I had my copy of Black Star and David Bowie died," Joseph recalls. "I tend to do the mad scribble thing when I write." Joseph took those songs to Jackpot Studios and, during a massive snowstorm and a spell of personal and uncomfortable songwriting, recorded his latest effort, Weird Blood. "When I write in a flurry like that, it's hard to see a thread. It feels more like a purge than a considered attempt at art but in the end I seem to get to stuff that I can't get to when I'm thinking too hard." A songwriter with outspoken political views, Josh this year took his music to Iraq, South Africa and Afghanistan where he brought musical instruments to residents, teaching and playing with local musicians. Catch Jerry Joseph and the Jackmormons this Saturday and Sunday at the Orpheum Theater. Tickets are $13 per show or $22 for both nights. Doors open at 7 p.m. Show at 8 p.m. 15 W. Aspen Ave.www.jerryjoseph.com.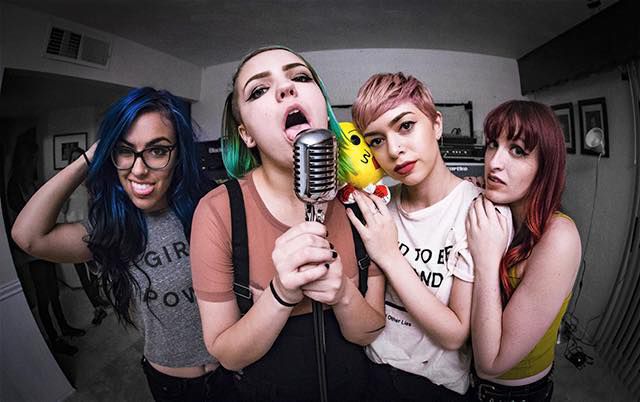 MONDAY | 12.4
DON'T UNDERESTIMATE THESE DOLLS
Last year, Phoenix-based rock band Doll Skin toured the country in support of their first EP, In Your Face, sharing the stage with the likes of Dead Kennedys and Escape the Fate. They then followed that up with the full-length In Your Face (Again), produced by Megadeth's bassist, David Ellefson, and were even given recognition in Alternative Press magazine as a rising band to look out for, but don't buy them a drink to celebrate their accomplishments; all but one of the four band members are under 21, proving that age has nothing to do with talent. Vocalist Sydney Dolezal, guitarist Alex Snowden, bassist Nicole Rich, and drummer Meghan Herring first met four years ago at the School of Rock in Phoenix. Ellefson saw them perform at a Battle of the Bands contest at Desert Mountain High School, which his son was also competing in and immediately knew they were destined for great things. "They were the whole package, a band that was fully formed. The attitude, the chops, the stage presentation — it was all there the first time I saw them play," he said in an interview with Phoenix New Times. With Doll Skin's newest release, Manic Pixie Dream Girl, they blend punk, metal, alternative and pop styles to create a fun listen made up of wailing guitar solos and soaring vocals from Dolezal who celebrated her 18th birthday three days after Thanksgiving. Start your week off right when they play at the Green Room, 15 N. Agassiz St., with Fairy Bones. Tickets are $5 in advance, $7 at the door, and the show starts at 8 p.m. Ages 18 and up. www.dollskinband.com.