WEDNESDAY | 11.29
CREATING A MOVEMENT THROUGH MOVIES
There are a myriad of ways in which to address climate change. You could become involved in local politics and enact policy and legislation which could reduce carbon emissions. You could become an advocate for science-based education to teach the youth about the effects of climate change and global warming. Or, you could make a movie. In partnership with the Northern Arizona University Honors College and the Orpheum Theater, The Flagstaff Mountain Film Festival presents, as part of its Fall Showcase: Food, Future Earth and Society, films about people and cultures continuing to thrive in the face of climate change and modernity. Started in 2003, the FMFF aims to shine a light on Earth's natural beauty though cultural and outdoor-adventure documentary films. For more than a decade, the festival has continued its goal and has expanded from an event which would only fill half of the Orpheum Theater to needing additional venues such as Theatrikos and Firecreek Coffee Company to screen more of their films, every year tackling a new set of issues facing Earth during its seasonal showcases. This year, the festival asks: How do we adjust and adapt to a world that's ever changing through modernization, technology and global warming? The films during this festival, including its feature film Adaptation: Bangledesh, tackle those issues and celebrate human ingenuity and the fate of humankind. Join Adaptation: Bangladesh subject, cultural ecologist and National Geographic Explorer, Alizé Carrère, as she presents and hosts a discussion about the film. Along with numerous environmental groups, initiatives and nonprofits including the Diablo Trust and Flagstaff Foodlink, join others in discussions about local, national and global issues which affect us all. Tickets are $8.50. Doors open at 6:30 p.m., show at 7:30 p.m. Tickets and information are available at www.flagstaffmountainfilms.org.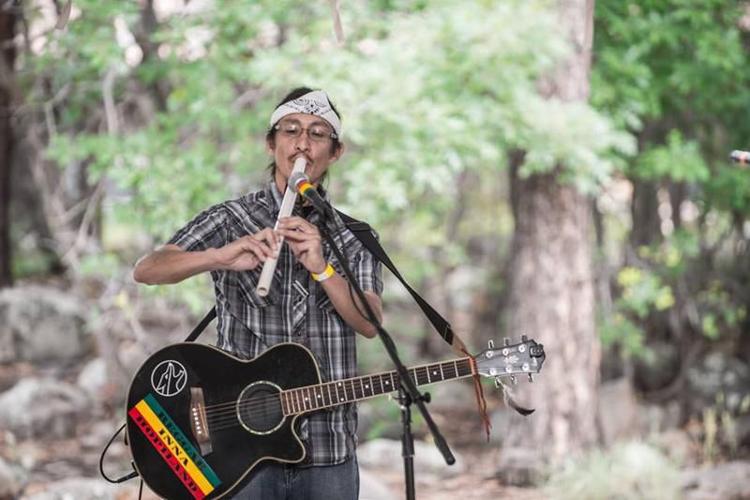 FRI-SAT | 11.24-25
The first National American Indian Heritage Month was enacted in November 1990 under President George H.W. Bush. Since then, similar designations such as the National American Indian and Alaskan Native Heritage Month and the Native American Heritage Month have been enacted, and now November is widely recognized as Native American Heritage Month. With only a few more days left in November, there is still time to celebrate the rich history and heritage of Native Americans with the Museum of Northern Arizona which has put on events and programming all month long. This Friday, the museum will feature a performance from the traditional Navajo dance group the Jones Benally Family Dancers at 3:30 p.m. And on Saturday, catch a performance from the Hopi-Tewa singer-songwriter and Museum of Northern Arizona artist-in-residence Ed Kabotie at 2 p.m. For tickets and information, visit www.musnaz.org.
TUESDAY | 11.28
Thanksgiving marks the start of the season of giving, but too often that giving spirit can get caught up in the materialism of its following shopping holidays such as Black Friday and Cyber Monday. Since its inception in 2012, the #GivingTuesday movement seeks to kick off the charitable seasons when most people are already focused on holiday and end-of-year giving. Created by the Belfer Center for Innovation & Social Impact, the movement furthers its goal to bring "people together around the values of service and giving back—#GivingTuesday connects diverse groups of individuals, communities and organizations around the world for one common purpose: to celebrate and encourage giving." Getting involved in the movement is easy and local community involvement is encouraged. Give to local charities, businesses and organization this Tuesday join the global movement of charitable giving and philanthropy that raised almost $200 million online in 2015. The giving doesn't stop at Thanksgiving. For more information and to find local participating organizations, visit www.givingtuesday.org.
WEDNESDAY | 11.29
JUST A LITTLE OFF THE TOP
Sometimes we all need a fresh start, a cathartic moment or action to send ourselves into a new mode of thinking and of being. Some might get a new wardrobe. Some get a haircut. And though it might be No Shave November, the Flagstaff Interference Series invites you to experience your own act of catharsis with Noise Shave November and shave your head and/or beard. This Wednesday, join Flagstaffians and catharsis seekers alike at the Headspace Southside Salon for a day of new beginnings with another installment of Noise Shave November, this time with just a hair of social justice and awareness. Donations at the door will go toward the American Civil Liberties Union of Arizona and shaved hair will go toward Wigs for Kids, a non-profit hair organization that crafts custom-made hair replacements for children who suffer from various forms of hair loss. Also, tattoos during the day will represent ally signifiers and money made at the door will go toward organizing more music and events around the community. Suggested donation of $5, tattoos $5. Begins at 7 p.m. More information at www.facebook.com/interferenceseries/.
TUESDAY | 11.28
Every semester the Northern Arizona University College of Arts and Letters features a film series for its students and the public, and this fall semester is no different. This semester's theme is 20th Century Fox: The Stars, featuring 15 movies with performances by some of the biggest names in 20th Century Fox films ranging from 1935 to 2016, including Marilyn Monroe, Alan Rickman and Jane Fonda. The series has featured films such as The Poseidon Adventure, Young Frankenstein and Hidden Figures. This week features 9 to 5, a movie about three female employees (Jane Fonda, Lily Tomlin and Dolly Parton) who turn the tables on their sexist, bigoted boss, played by Dabney Coleman. And next week, catch the final installment of the series with the Christmas classic, Die Hard, starring Bruce Willis and Alan Rickman. Join others for a free film screening at the Cline Library Assembly Hall and learn more from speakers and professors about your favorite Hollywood hits. For a full list of movies and times, visit www.nau.edu/CAL/Events/CAL-Film-Series/.