THUR-SUN | 5.9-12
The Anti-Defamation League recently released a report that said 2018 was the third-highest year on record for anti-Semitic incidents in the U.S. The state of Arizona saw an increase of anti-Semitic incidents by 23 percent in 2018. Even in Flagstaff, as recently as April, the location for the future Molly Blank Jewish Community Center, set to be the new home for Chabad of Flagstaff, was vandalized with swastikas painted on windows and carved into walls. Flagstaff Shakespeare Festival's production of Indecent reminds us what is past is present. Indecent recounts the history of Sholem Asch's 1907 Yiddish play God of Vengeance, from its debut and early success in Europe to performances in New York, where in 1923 the cast was arrested on the grounds of obscenity, to basement and attic performances in Poland as the storm of World War II looms. Even for today's standards, the premise of Asch's God of Vengeance seems rife with controversy—a Jewish brothel owner bribes a rabbi so the rabbi's son will marry his daughter. As his daughter falls in love with a woman, the brothel owner is overcome with pious madness. If tackling a same-sex love story wasn't taboo enough, Asch's play takes a critical view toward his own religion, portraying Jews as flawed people who can become mad with religion, who hold prejudices and are imperfect. The play, despite its controversy, is a success in Europe. Only when it moves to America does it see turmoil. Indecent bravely shows us the importance of resistance to censorship, preservation of one's culture and the disillusionment of the American Dream. Catch the final performances of Indecent this weekend, Thursday and Friday at 7 p.m.; Saturday at 2 and 7 p.m.; and Sunday at 3 p.m. All performances will be held at the Riordan Mansion State Historic Park, 409 W. Riordan Rd. Tickets can be purchased at www.flagshakes.org
ONGOING
Rebekah Nordstrom is no stranger to pushing her artistic skills to their limits and beyond. In 2017, Nordstrom composed a plein air painting every day, this after only making the commitment to dedicate herself full-time to her art in 2016. To begin 2019, Nordstrom started working more in her studio to better understand color and light by composing a painting daily in what she called études. An étude is a composition built on technical motive, but created for artistic value, and though the word is usually used to describe a musical composition, Nordstrom believes that it is an apt application. She compiled these études for her exhibit, Study Color | Color Study études in oil, now on display inside of Lotus Lounge, 106 N San Francisco St. Meet the artist May 21 during Flagstaff's monthly Locals Night.
FRIDAY | 5.10
[Ed note: The Buffalo Park event has been RESCHEDULED for May 31 due to cloudy skies in the forecast. The Lowell Observatory Event and Tour is still scheduled for May 10]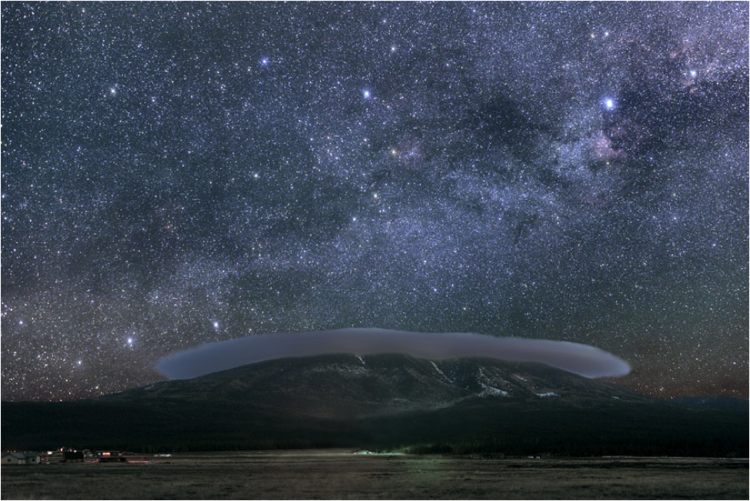 As the world's very first International Dark Sky City, it might be safe to say Flagstaff is a little obsessed with the night sky—just visit the Coconino Center for the Arts to view a little bit of that pride on display at NightVisions VII. Then there's Lights Out Flagstaff, a celebration of the city's breathtaking night sky and its commitment to responsible energy consumption. For one night, homes, businesses and city buildings will flick off their lights (that's right—all of them! Maybe leave a nightlight if you have clumsy folks or little kids in the home) and enjoy free public astronomy programs provided by local community organizations like Lowell Observatory. This Friday, go behind the scenes during a tour of the observatory before taking a free bus ride to Buffalo Park where telescopes will offers views peering way off into the stars burning billions of miles away. The bus leaves the observatory at 8 p.m. and availability is on a first-come first-serve basis. www.lowell.edu
FRI-SUN | 5.10-12
A LITTLE SOUTH GOES A LONG WAY
We here at Flagstaff Live! have been into crosswords lately, so here's a clue: what's a four-letter word for a music/art festival that seems too good to be true and begins with the letter "f"? No, it's not FYRE (though, you wouldn't necessarily be wrong). It's FORM, and we promise this one will actually happen. (At the very least it will have better cheese sandwiches.) Currently in its sixth year, FORM Arcosanti is an innovative three-day festival and creative retreat at the Urban Laboratory at Arcosanti, an experimental micro-city designed by Italian-American architect Paolo Soleri in the heart of Yavapai County. What separates FORM from your typical festival is its emphasis on the importance of experience above spectacle. Having featured such names as Thunder Cat, Solange, Father John Misty, Hundred Waters and more, FORM continues to grow, attracting creative minds for three days of music, art and wellness. This year's lineup includes the likes of Anderson .Paak, Japanese Breakfast, Florence + The Machine, Kaytranada, Khruangbin, Pussy Riot and more. This year also features poetry with Yrsa Daley-Ward, Aja Monet, Watsky and more, an art workshop with Lonnie Holley, and a traditional Yoruba practice by artist and co-founder of Black Lives Matter Patrisse Cullors. General admission tickets are sold out, and Patron ticket packages are still available. Visit www.experienceform.com for more info.
SATURDAY | 5.11
[Ed note: This event has been CANCELED due to weather. Southern Fried Vegan may be returning later in the summer]
We're just going to say it: Flagstaff is very much lacking in vegan dining options. Sure, there's The Pizza Patio, Red Curry and the occasional meat and dairy-free option at other restaurants, but that's not much when compared to how many steakhouses and gourmet meat shops there are. Many people take for granted how convenient it is to be able to walk into any restaurant and not worry about whether they can eat anything other than the chips and salsa. Enter southern California-based food truck Southern Fried Vegan. With a mission to "provide vegans great unique food while minimizing the 'excuses' for everyone not to go veg," it seems like they can do no wrong. The food truck caters events and sets up at farmers markets, festivals and breweries across southern California, but there's no need to make the drive just for a taste of their jamabalaya, Po Boyz, vegan fried chicken or BBQ "steak" burgers. Southern Fried Vegan will be set up at Mother Road Brewing Co., 7 S. Mikes Pike—weather permitting—Saturday afternoon from 1-6 p.m. Of course, Mother Road's regular brews will be available as well. Visit Southern Fried Vegan on Facebook for more information.