SATURDAY | 7.13
THE MIDNIGHT HOUR IS CLOSE AT HAND
Let's face it: Very few good things happen after midnight. It's a time when darkness falls across the land. All those creatures crawl in search of blood. And you don't even want to know what happens if you don't have the soul for getting down, but it involves the hounds of Hell, rotting inside a corpse's shell and it ain't pretty. But sometimes—just sometimes—there's a reason to stay up past the witching hour. Cue: Bookmans Midnight Madness sale. Long one of Flag's go-to spots for all things nerdy, the store, located at 150 S. Riordan Ranch Rd., is hosting a full evening of free events and sales running from 5 p.m. until midnight. As the hours go by, the sale percentages increase, so the longer you stay, the less you'll pay. The event will also feature an improv performance by the Chomsky's School of Improv in the Bookmans café from 6:30-7:30 p.m., as well as an outdoor parking lot screening of The Lego Movie: The Second Part at 8 p.m. You think this Hot Pick is over? Our word count is at least 300, so we have more to talk about! The night will also feature free face painting by Flagstaff FacePainting from 5-7 p.m. and a Coconuts Robot Race where participants can build their own robot and race for a $50 Bookmans trade credit with Coconuts Robotics Team from 6-7 p.m. Stay until 8 p.m. and test your pop-culture smarts at the Pop Culture Trivia. DJ Knomadic will help you power through the final two hours of sales with classic funk and soul records. Stay up past your bedtime for Midnight Madness on Saturday, July 13, beginning at 5 p.m. The event is free and open to the public. For more information, visit www.bookmans.com/events/midnight-madness-at-bookmans-flag/
FRIDAY | 7.12
Duunnn dunnn... duuuunnnn duun... duuunnnnnnnn dun dun dun dun dun dun dun dun dun dun dunnnnnnnnnnn dunnnn. Time to go back to 1975 and pee your pants. The Orpheum Theater will be showing Jaws this Friday as part of its Downtown Brew and View series. The Stephen Spielberg classic follows an oceanographer (Richard Dreyfuss), a local sheriff (Roy Scheider) and an old seafarer (Robert Shaw) as they hunt down a killer shark before it can kill more swimmers off the coast of Amity, Long Island. Who will come out alive at the end, man or beast? Come find out this Friday, July 12, at 6:30 p.m. Wear your best summer swimwear and get ready for some trivia to win Orpheum concert tickets. Just $5 will get you into this hair-raising screening. "Boys, oh boys! I think he's come back for his noon feeding."
FRIDAY | 7.12
You have free articles remaining.
We'll say it again and again (and again and again and again): There's nothing wrong with using computers and high-tech machinery to power your musical creativity. It goes beyond simply pressing buttons—meanwhile, all the piano players smile and look away. It's actually way more complex than that, sometimes requiring a sophisticated knowledge of theory, time and even coding. Don't take our word for it. For about a decade, musician, producer and tech expert Jon Hobotech Margulies has been writing comprehensive guides for Ableton Live, a digital audio workstation and music sequencer. Along with that, he's used pads, computers and gizmos, as well as traditional instruments, to create his music. This Friday, along with Ceta Singley and Xiowolf, he's hosting Echocaster, a live looping performance and workshop, at Firecreek Coffee Co., 22 E. Route 66. Each artist will perform a solo set, but come early for the discussion of the techniques and technologies the artists will use during their performance. The event is $6 and begins at 6 p.m.
SATURDAY | 7.13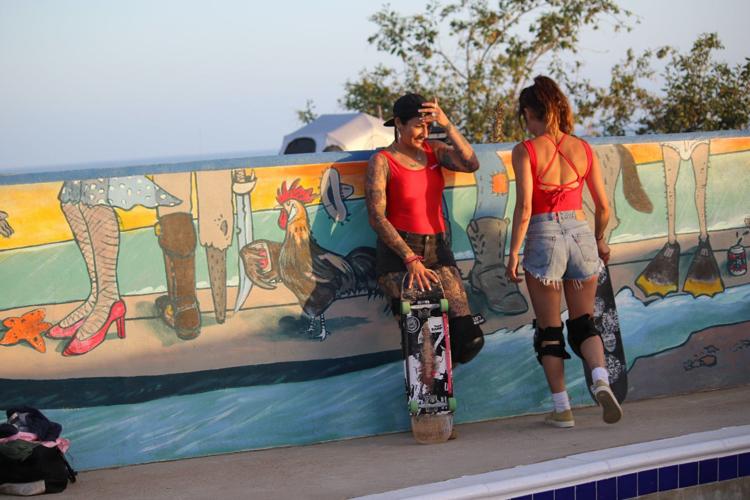 Maybe you've always been too afraid to step on a skateboard, or maybe you're fearless. Maybe you're a woman and the skate park has always felt like a boys-only club, where the girls sit on the sidelines, tasked with fawning and ogling only. Not this weekend, femmes. Las Chicaz asks that you "Leave the kids at home!" But like, seriously though. The skate group, which has members in several states, including Arizona, California and New Mexico, will host its Women's Skate Clinic at Foxglenn Skatepark in east Flagstaff this coming Saturday. All participants are encouraged to bring canned goods, personal hygiene items or gently used women's clothing to donate to Hope Cottage women's shelter in Flagstaff. Each donation will be rewarded with a raffle ticket to win prizes from the group's sponsors, including Quell Skateboarding, Nikita Clothing, Cartel Coffee Lab and SANTA CRUZ Skateboarding PH. The crew, who are all over 21, will head to Hops on Birch for a post-sesh cool down; join them, with just $3 for the first pint and happy hour prices after that. Come down to Foxglenn Skatepark, 4200 E. Butler Ave, this Saturday from 11 a.m.-1 p.m. For more information, visit Las Chicaz on Facebook.
WEDNESDAY | 7.17
There will be old things, really old things. Old music, old images, old people. Just kidding about the last one. We love old people. And young people and big people and small people and funny people and boring people. All this rambling to say that the Monte Vista Cocktail Lounge, located in the bottom of that old, beautiful, haunted Hotel Monte Vista, will host a little something called Night of the Living Retro. The lounge has hosted this event before, throwing it back to the '80s and '90s time and time again. This time, hosted by DJ Lounge Lizard, will be another evening of tracks, old trax on wax with movies on the screen and those lovely Monte V bartenders helping to make the night a right ole' blast. Vinyl, tunes from back in the day, classic movies. Night of the Living Dead the movie? Most likely. Dancing? Definitely. Drinks? For sure, no question. Great people? Hopefully, but mostly likely, yes. Warm Flagstaff weather? You got it. Fun? Yeah, baby. The event will take place this coming Wednesday. Show up at 9 p.m., stay until last call at 2 a.m. Who says the club can't go up on a Wednesday, too? Not us, that's for sure. For more information and to see a cool event poster, visit www.facebook.com/events/3252320121448493/