FRI-MON | 2.23-26
There's a common idea that all living things can be connected to each other by six or fewer steps. Known as the six degrees of separation, Hungarian author Frigyes Karinthy first introduced this theory in 1929. Think about it. You know someone who knows someone who knows someone who knows someone who knows someone who knows someone who knows…Kevin Bacon. Or your ex-partner. (Actually, let's face it; it's more like one or two degrees of separation in that situation.) Or one of your idols. It really is a small world after all. So, especially in a smaller city like Flagstaff, it's more likely that you know more people than you think, even if just by proxy. Have you ever attended a show or just gotten a drink at the Green Room? Well then you may have met Keith Solmo. Described as "one of the most loving, thoughtful and hard-working individuals to live in our beautiful little mountain town" in a Facebook fundraising event hosted by the Green Room, Solmo's sudden death has left an impact on a large part of the community. As of our print date, just three weeks after an online fundraiser was set up on YouCaring to raise money for Solmo's girlfriend Emily Anne Brooke, $10,000 has been given by 155 donors. And as if that weren't enough to show how much the community cared about him, the Green Room will be hosting a weekend of fundraising events with performers either donating their pay to the cause or items to raffle. Beginning Friday, all proceeds from Dirty Dreams, featuringperformances by DJs Soulece, Harper and Dirty Nabz and visuals by Joshua Tree Media, will be donated to the memorial fund. Then on Saturday, proceeds from The Gewald's Superhero Party will go toward the fund. There will be a potluck and celebration of Solmo's life Sunday night followed by karaoke and a raffle with prizes from local artists and bands. To end the weekend, Senses Fail will be donating items to raffle and collecting donations during their Monday night show. Visit www.flagstaffgreenroom.com for information on ticket prices.
FRIDAY | 2.23
THE SONGWRITER'S SONGWRITER
You don't have to be a child prodigy to become good at a skill. Singer-songwriter David Wilcox didn't pick up a guitar until college when he was inspired by hearing a fellow student playing in a stairwell. 18 records later, and his career is marked by a wildly loyal fan base held rapt by his smooth baritone voice and folksy guitar phrases. He's even served as inspiration for other artists with songs covered by musicians such as k.d. lang. As for the future, "I used to think that my goal was to catch up, but now I'm grateful that the music is always going to be way out in front to inspire me," Wilcox says. See him perform at the Coconino Center for the Arts, 2300 N. Fort Valley Road. Tickets are $20 in advance, $25 at the door, and the show starts at 8 p.m. www.davidwilcox.com
SATURDAY | 2.24
There's nothing like the crackle of a slightly-worn vinyl record. In an age of crystal clean, perfectly pristine, high-quality music that is entirely over-produced, vinyl records speak to our longing for imperfection. After a two-month hiatus, Sold Out Productions and Counterculture Records are putting the needle to the wax yet again for the third Flagstaff Reccurring Record Show. Since their last show in December the record show is gathering again at Flagstaff's Green Room for a full day of vivacious vinyl…valor. Sponsored by Bookmans Entertainment Exchange and featuring thousands of 45s and LPs from Arizona vendors, the record show will host live DJ cutting from Kip Killagain, DJ Emmett White and Disco Kitchen from 10 a.m. to 4 p.m. $5 for the public, $3 for students. 15 N. Agassiz St. Visit the event page on Facebook for more information.
SAT-SUN | 2.24-3.4
INDEPENDENT AND LOVING IT
Just in case you didn't get enough movie time in during last week's Flagstaff Mountain Film Festival, head on down to Sedona for the 24th annual Sedona International Film Festival. From features to shorts, documentaries to animation and foreign films to student films, the festival promises to treat attendees to a cinephile's dream at the Mary D. Fisher Theatre, 2030 W. AZ-89A. More than 160 films, representing the best in independent film from around the world, will be screened across nine days to honor those driven by a passion to share issues they feel to be important. Being with Animals, a full-length documentary by Swiss director Salome Pitschen, will have its world premiere Saturday and Tuesday during the festival. Pitschenbegan her filming journey with a question: How do I calm my excited dog? Sedona resident and animal communicator Maia Kincaid, Ph.D. is one of the specialists featured in the film "My primary purpose is to be a listener to animals, and sharing what they wish to share," she explains in the trailer. SIFF has been recognized as one of the top festivals in the nation by both filmmakers and audiences. With a nonstop schedule of films, don't forget about the workshops and discussions being held at the new "Festival Annex" in the theater's complex. Some of the topics include "Crowdfunding to Build Independence," "The Art of the Pitch" and "Producing and Directing." Visit www.sedonafilmfestival.org for the full list of films and talks to be offered.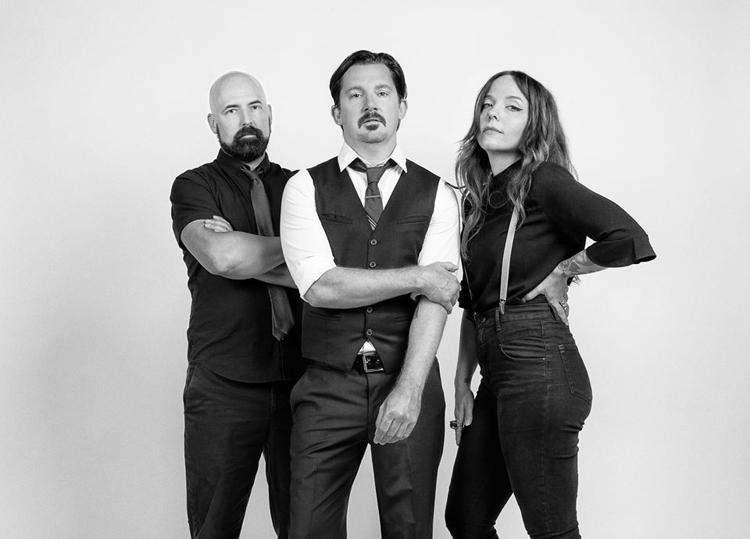 TUESDAY | 2.27
Inspiration can come from many places. A painting, a song or novel can move you and inspire creativity from the places you least expect. For singer/guitarist Carson Barker of the Austin-based trio, The Schisms, much of the inspiration for their new album Moon came from movies. "There's a definite film inspiration on these songs," says Barker. "On one side of the spectrum is film noir – the play between darkness and light, and the tension. David Lynch in the middle, for the mystery and low-key atmosphere. And then on the other side, the anarchy and chaos of [Alejandro] Jodorowsky – but we want to channel that chaos and keep it listenable." And the trio's latest album, and first to be released on Stray Wavs Records, expands on their Gypsy-goth rock past with a sound that feels like a vaudevillian fever dream, combining rock, new wave and soul and hinting at a band that is changing with the phases of the moon. "I set some rules for myself when I was writing these songs," says Barker. "No songs about zombies, no distorted guitars and no screaming. I definitely wanted to do more dance-oriented stuff but make sure people know we're still a rock band." Zombies or not, Moon is a ghoulishly good album. Catch The Schisms on Feb. 27 for a free show at the Green Room, 15 N. Agassiz St., with The Patterns and What Separates Us. 21 and up. The event begins at 10 p.m. www.the-schisms.com