THURS-SAT | 2.7-16
It's not like we really need an excuse to drink beer and celebrate the magic of fermentation, but it's still nice to have the recognition. This year's Arizona Beer Week promises us all the suds we can handle with events held throughout the state. For northern Arizona specifically since, well, that's where we are, one of the big events is the annual ABV Beer Dinner at the American Legion, 204 W. Birch Ave. Besides being an absolute feast featuring food from some of Flag's finest food fiends, this nine-course beer-paired dinner is for a great cause. All proceeds will go directly to community projects and initiatives that better the lives of veterans in our area. That event will close out Beer Week, so let's back up for a second. It all gets started tonight with the release of the Flag 7 Collaboration brew, an Imperial Oak Smoked Porter. The seven breweries in our lovely town teamed up for this special project to brainstorm, collaborate and share fermenters and we are the lucky ones that get to taste the result. That release will be going down at Uptown Pubhouse, 114 N. Leroux St., from 5-7 p.m. Also tonight, Lumberyard Brewing, 5 S. San Francisco St., will host a festive beer-themed night of trivia—sign-ups begin at 7 p.m., the game starts at 9:30 p.m. Then, on Monday, Wanderlust Brewing will be taking over the taps at Firecreek, 22 W. Historic Rte. 66, and people can meet head brewer Moxie from 6-8 p.m. Visit www.arizonabeerweek.com for a full list of events.
THURSDAY | 2.7
THE RIVER HOLDS MANY STORIES
Since 1998, Grand Canyon Youth, a nonprofit organization based in Flagstaff, has been providing youth an experiential education along the rivers and canyons of the Southwest, all in an effort to promote personal growth, environmental awareness, community involvement and teamwork among people of diverse backgrounds. Tonight, join Grand Canyon Youth for an evening of stories from some of the Southwest's greatest storytellers including Brad Dimock, Laura Falla, Scott Thybony, George Bain, Emma Wharton, JP Clark and more. All proceeds go toward Grand Canyon Youth's expeditions. A raffle will include a $1,000 gift certificate from Wildland Trekking Company and outdoor gear from Babbitt's Backcountry Outfitters. The event begins at 5:30 p.m. at the Museum of Northern Arizona, 3101 N. Fort Valley Road. $10. www.gcyouth.org
SATURDAY | 2.9
Technology is great for many things. Finding your way around a new city. Sharing photos with friends and family. Streaming the newest episode of your favorite TV show. It's not that great for this whole dating thing though. How do you know the person you're talking to is really who they say they are, or that they won't simply disappear with no explanation at all after several (seemingly) successful dates? Here's where Vino Loco comes in with Flagstaff Single Mingle, where people can make connections the old-fashioned way. Come for casual conversation, laughter, good wine, light appetizers and cheese, stay for the ambience. Stop by Vino Loco Wine Shop and Bar, 22 E. Birch Ave., from 6-8 p.m. each Saturday night. Follow @flagstaffsinglemingle on Instagram for updates, or email flagstaffsinglemingle@gmail.com.
SATURDAY | 2.9
How much do you know about fish? Here at Flagstaff Live! we love introducing people to the wonderful world of fish. We don't do it for money. We do it just for the halibut. Whenever the oppor-tuna-ty arises we practically swim upstream (OK, last one) to tell people all about it. For instance, did you know that fish are among the oldest animal families to live on Earth? Fish family history goes back approximately 500 million years, predating the dinosaurs, and there are more than 25,000 thousands of species of fish, with probably thousands more that have yet to be discovered. Fish are also vertebrates, which means they have a back bone, but unlike mammals, fish do not have lungs and they are not warm-blooded. In fact, they're more like reptiles and amphibians with cold blood and an inability to control their body temperature. Of course, we're no experts on fish—that's where this month's STEAM Second Saturdays comes in. This Saturday, join USGS Fish Biologist David Ward at the Museum of Northern Arizona, 3101 N. Fort Valley Road, as he discusses native fish of the Colorado River and northern Arizona. He'll bring along some live samples of endangered species and plenty of fish activities and crafts. The event begins at 2 p.m. Regular museum admission rates apply. Don't miss this event or you might feel gill-ty (OK, that was really the last one.) www.musnaz.org
SUNDAY | 2.10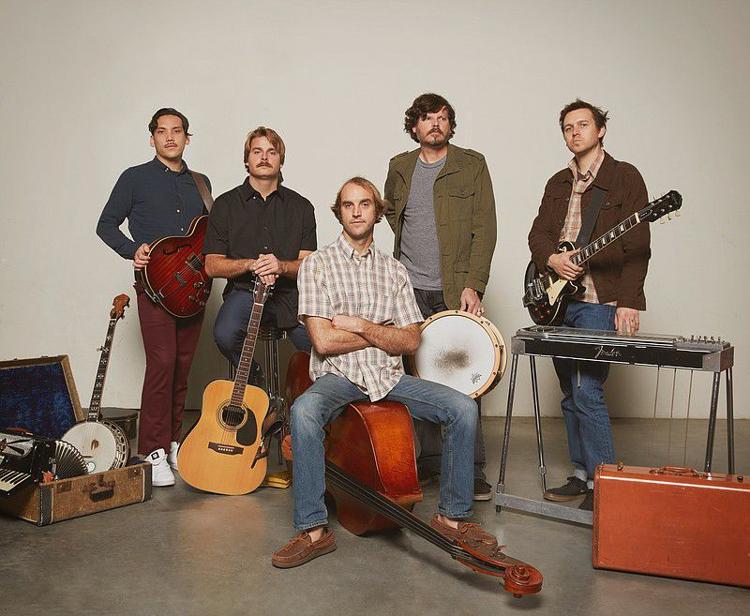 You can call the Carlsbad-based outfit Trouble in the Wind whatever you'd like—surf rock, Americana, country, blues, folk, alternative—but they know what they are. Just a plain old rock 'n' roll band. The genre-bending, award-winning band has six albums under their belt, and their most recent, Hammer On, showcases the band in flux, evolving with influences from country, psychedelic rock and everything in between. "I took a lot of time for this album in particular to build the songs in accordance to what I feel like our sound has been progressing into which is a lot more complex melodies and a lot more complex compositions," says Robby Gira, lead singer and guitarist. "The name [Hammer On] sort of came to me as I was listening to one of our guitarists playing a solo and he was using a guitar technique called hammer on... And that thought sort of bridged into the ethos of what this album is which is sort of us hammering on into the future, forging our sound and growing together as a band." The band was named 2018's "Artist of the Year" and won "Best Americana Album" at the San Diego Music Awards, and Hammer On has been nominated this year for "Best Country or Americana Album." Catch Trouble in the Wind this Sunday at Flagstaff Brewing Company, 16 W. Historic Rte. 66. The show is free and begins at 2 p.m. www.troubleinthewind.com