FRIDAY | 4.12
[Ed. note: This event is AT CAPACITY and no longer accepting reservations]
Following a boom of Southwest settlements between the late 1800s and early 1900s, an even faster decline saw ephemeral towns forgotten as gold or copper reserves dried up. Later, roadside tourist attractions weren't always as lucrative as developers expected, and projects were abandoned, leaving behind urban decay along with tales of cursed land, cold-blooded murders, satanic rituals and more. Photographer Susan Tatterson said she's always been drawn to such places. She began photographing abandoned landscapes in 2008 while attending the University of Baltimore and decided to focus on deserted mills, schools and asylums throughout Maryland for her MFA thesis project. She gathered photos from that project and released them in a book, Abandoned Maryland: Ruin and Restoration, in October 2018. Now, she lives in Arizona, is a professor of digital media at Central Arizona College in Coolidge and has done her fair share of exploring the Southwest's forgotten treasures. Her most recent book, Abandoned Arizona: Ghost Towns and Legends, includes almost 200 full-color photos taken at 10 locations across the state. "I just love standing amongst these ruins and imagining what had went on," Tatterson says. Decaying buildings are juxtaposed against vibrant sunsets in shades of orange and purple, while brief descriptions at the beginning of each chapter delve into the history and local lore surrounding locations such as Two Guns and Meteor City Trading Post. The circumstances that led to the demise of abandoned businesses and tourist sites dotting Arizona's landscape vary, but echoes of the past remain in the form of graffiti-covered walls and crumbling ruins full of stories waiting to be discovered. Tatterson will host a discussion of Arizona's ghost towns during a Night at the Museum event at the Pioneer Museum, 2340 N. Fort Valley Road, Friday, April 12, from 6:30-8:30 p.m. The event is free, but reservations are required and can be made by calling 774-6272 or emailing jhough@azhs.gov. Books will be for sale, and there will be a signing after Tatterson's talk.
THURSDAY | 4.11
Sometimes, we all just need to slow down and appreciate some of the finer things in life. Sonoma County's world-renowned Ancient Oak Cellars will host a wine tasting for Flagstaff vino enthusiasts with a finely curated selection poured by Michael Muratore of Classico Fine Wines & Spirits. Along with complimentary hors d'oeuvres from Chef Scott Heinonen of The Cottage Farmhouse French Bistro and live music by local singer-songwriter Jacqui Foreman, what else could you ask for on a Thursday evening? The tasting will be held at Vino Loco Wine Bar and Shop, 22 E. Birch Ave., from 6-8 p.m. Admission is free for Vino Loco wine club members, $10 for non-members. www.vinolocoflag.com
FRIDAY | 4.12
MUSIC FROM ACROSS THE GLOBE
Register for more free articles.
Stay logged in to skip the surveys.
What do you get when you mix together French, Chinese and American heritage? Probably some really interesting cuisine. But you also get Los Angeles-based chanteuse/songwriter Jessica Fichot. Drawing from her multi-ethnic background, Fichot takes us on a twisting journey across the globe with jazz, gypsy swing, international folk and everything in between. Not only is Fichot a cross-cultural singer-songwriter, she's also an active composer who has written hundreds of children's songs for various educational programs, as well as music for many independent video games. She is currently working on a new album, slated for an early 2020 release. You can see Fichot this Friday at the Coconino Center for the Arts, 2300 N. Fort Valley Road. Tickets are $12 and can be purchased at CCA and Arizona Music Pro, by phone at 779-2300, and online at www.flagartscouncil.org
SATURDAY | 4.13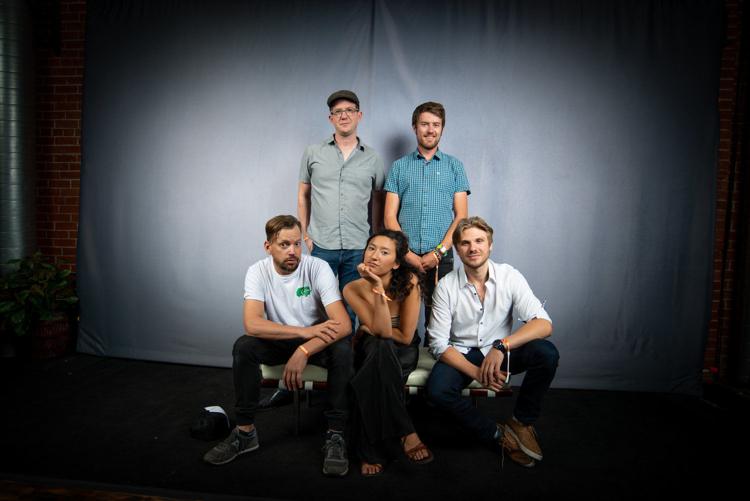 It's only been two years since the Colorado neo-soul-funk outfit J-Calvin formed, but they've already established themselves as one of the grooviest and most genuine groups currently in the jazz scene. Although the group mostly performs as a five-piece, the group rounds out to nine, with Sarah Pumpian, Jesse Ogle, Will Metz, Sam Kelly, Ted Moor, Raymond Murphy, Garrison Jones, Holly Pyle and Mike Moynihan, many of whom are music educators at iAM Music, a 501c3 non-profit music school that helps youth and adults pursue music, cultivates community events and builds meaningful creative networks. The band spent most of 2018 on the road and in the studio, performing at renowned festivals such as the Telluride Jazz Festival and Bohemian Nights at NewWestFest, eventually taking their high-energy jazz and J Dilla-inspired beats to WaveLab Studio in Tucson to record their debut album, Heart Glow. With 53 backers on their Kickstarter, the band reached their $5,000 goal and released a stunning and heartfelt debut, showcasing the band's authenticity in the often saturated field of jazz music. Catch J-Calvin this Saturday, April 13, at Firecreek Coffee Co., 22 E. Rte. 66. Opening the night will be local lovelies Four Cornered Room. Your ears and eyes will thank you. Doors open at 7:30 p.m., show at 8 p.m. Tickets for the all-ages event are $6 at the door. www.jcalvinmusic.com
SATURDAY | 4.13
Time flies when you're having fun on the dance floor. And for nine years, the funky folks over at Flagstaff's classiest, swankiest and, by all stretches, most uninhibited dance party, Payback, have been keeping our feet moving with their monthly shindig. Every second Saturday at Charly's Pub and Grill, host Dapper Dre and local DJs such as Marty Marr and Emmett White have been spinning oldies but goodies on 45-inch vinyl for the most fun and unique event for Flag locals, in-town visitors and dancing fiends alike, offering just about anyone a reason to look sharp, bust a move and enjoy an evening of classic funk, soul and more. But everyone needs a break at some point, and for the months of May, June and July, Payback will be taking a hiatus. Before hanging up those dancing shoes, it's promising to throw one last hurrah with Nine Years of Payback: Leather & Lace. As per tradition, the devilishly delightful Dapper Dre will host the night while E. White cuts some tunes. And if that wasn't enough, Quinn & the Confluence will be performing a very special cover set, featuring disco and funk tunes bound to keep those toes tapping and those hips moving. You know the place (Charly's—in case you didn't), 23 N. Leroux St. No cover, but leather and lace is strongly encouraged. Strongly.