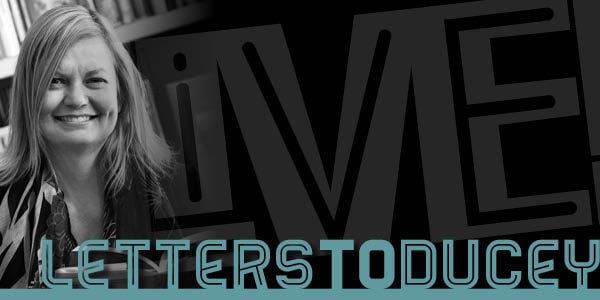 I'm working on a film with some other nonfiction writers who like to make films. It's tentatively called How Do You Know What You Believe? It's not the kind of film that promises to make anyone famous or to make the filmmakers any kind of money, but it's similar to writing because you get to put unlikely things together in a medium—but, since fewer and fewer people read, it's nice to try a medium that might get some kind of audience.
I'm feeling sad that Flagstaff Live! isn't in print right now. I'm sad that I'm writing less and less during the pandemic. I'm looking out from the deck where I always write my column in the summer and the same trees are in front of me—an aspen, a honey locust, a doug fir, an oak, a blue spruce that's almost as tall as his neighbor the Ponderosa—and yet, I'm feeling even the instability of trees. I went on a long hike yesterday through the old Schultz burn. There I found a lot of shrubbery—raspberries and nettles and other pokey bushes—and I saw some baby Ponderosas. Rejoice, I thought. The ponderosas are coming back. I'd heard that, with climate change, Ponderosas wouldn't re-seed in burn areas. The weather has changed too much. The seeds, though they require fire to germinate, wouldn't find purchase in this less snow, more heat world. The baby Ponderosas were at least two feet tall. 10 years, two feet—not bad! That seems like some kind of progress. But then I saw the cones of nursery-living. These baby ponderosas had been planted.
A planted Ponderosa is no less a Ponderosa because a human planted it. Forests have been "managed" for a long time. Their original job was to house owls and bears and squirrels. Then, humans took over and mandated the forest to provide jobs, lumber and paper pulp. Later, they were managed for recreation, and, now, to prevent forest fires from swallowing whole cities. Arizona does a fair job, better than most states, thinning forests and setting prescribed burns. We have farmed our forests almost into submission.
But the west is on fire. Fires everywhere. 112 in Valencia in September! But a cold front came in, promising to decimate the plants I've been tending since the beginning of the pandemic. I planted the starts in May, surrounding them with those weird water walls. Tonight, I'll keep the water walls on. I'll cover the plants with sheets. Maybe I'll save them. It's supposed to be hot again by next week. It's summer. Now it's fall. Nope, it's climate change. No, it's just the world turning too quickly.
My point, dear Governor, is that this situation seems vaguely unreal. Like the movie The Truman Show where the whole town conspired to make Jim Carrey's life appear real and not just a staged performance, I wonder now about these trees in front of me. Are they the same as the trees pre-pandemic? I've been staring at them so long, they seem overly familiar. Like someone is trying very hard to make sure they don't change. Shouldn't trees change over time? This wrought iron chair and this wrought iron table are the same ones I've been sitting on and at for 12 years. Longer than the pandemic, I think.
I am beginning to get a glimmer of what this unreality means. If the trees themselves are a simulacrum, then what kind of ground can I stand on? The film we're trying to make argues that we have been looking for truth our long lives and have discovered, yes, truth is mainly subjective. But for artists, that subjective search hasn't been turned to as propaganda for power. The search itself has been for community and communication. Something has shifted in our shared reality. People are saying the world is flat. They're saying that slave masters were kind people. They're saying the Holocaust didn't exist. They're saying "antifa" is fascist even though the phrase "antifa" means "anti-fascist." Did "living one's truth" lead to the letting facts slide?
I finally understand why people embrace authoritarianism. Looking at trees too hard can be stressful. How old are you, tree? Did you mean to be here or did someone force you? Life provides a lot of uncertainty. The facts themselves don't matter. You just want someone to tell you "facts.". If someone says the earth is flat with utter certainty, why not believe them?  A hard edge is a lot less bewildering than an ever-swirling ball covered in planted? Managed? Ancient? Natural? Trees? What do we even mean by tree?
Nicole Walker is a professor at Northern Arizona University, and is the author of Quench Your Thirst with Salt and a collection of poems, This Noisy Egg. She edited, with Margot Singer, Bending Genre: Essays on Creative Nonfiction, and is the recipient of a fellowship from the National Endowment from the Arts. The thoughts expressed here are hers alone and not necessarily those of her employer. For more letters, visit www.nikwalk.blogspot.com.
Be the first to know
Get local news delivered to your inbox!