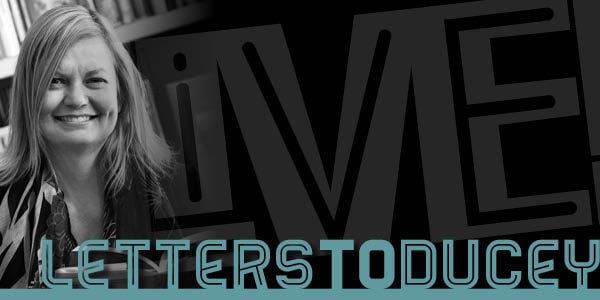 I had a dream last night that I was giving a Poetry Reading. I was sharing the stage with some guy named Jay Hill, a visual artist who spoke lyrically about his work. A lot of magical dreamlike elements happened—like being able to change my shoes by pointing at them, unlock a door with a pencil and riding in an elevator where every third floor was named "B." And yet, I still ended up finding my friends on one of the B levels. But the part of the dream that was truly magical was when my editor, Peter Covino, showed me a bad review of my poems and I turned and said, "It's fine. It's how you read the poems that matters."
In the real world, that's only true if you have a loud megaphone and people flock to poetry readings like they do to Trump's rallies. But really, the point of writing is to try to get your point across without having to physically be there. To propel your ideas or your vision or even just your observations beyond the three feet your non-microphoned voice can go. Writing requires a tiny bit of magical thinking—a dream that what you're saying moves beyond your mouth and your fingertips and is caught by a listening ear and listening eyes.
I try to keep my magical thinking in check. I mostly reserve it for forest walks when I think I saw something out of the corner of my eye: a coyote, a fox, a lynx, a mountain lion. I practice it a bit when I imagine some politicians getting lost in a forest. Oh, and when I wish that I'll publish something big enough that when I read my poems at literary events, lots of people listen.
I'm an optimist, which is grim, because it leads to a lot of disappointment. Expecting things to always work out is not very realistic. Magical thinking pretends you don't have to do the work to get to the dream you envisioned.
What I'm worried about is the unwillingness of some of your followers, dear Ducey, and some members of your party, who are not very interested in checking their magical thinking against reality. I've seen all over social media how the virus is a Chinese weapon to make Trump lose the election. That there was fraud. That Joe Biden didn't really win the election. That the moon landing was false and the earth is flat.
We can believe anything we want, I guess. I can believe that the whole world loves my poetry. I can believe that one day, my books will sell like pancakes. But without any evidence of the facts, such dreams are purely magical thinking.
The problem with democracy is that it requires pretty strong analytical and critical skills. And the major impacts conservative government has had on education include stripping it of funding, enforcing testing, and harassing teachers and faculty for teaching critical thinking. Without funding, classes are overfilled with students. To teach how to find evidence and critically engage with it requires small classrooms. Teaching to the test teaches students to believe that there is one right answer and they must be certain of that right answer to succeed. Like Ronald Reagan's restructuring the tax base where the wealthiest earners' tax rate dropped from 29 percent to 17 percent.
William Buffet, the original billionaire, wrote in an op-ed for The New York Times in 2012 stating that "the low rates for investment income had allowed him to pay only about 17 percent of his income in federal taxes, less than the effective rate paid by his secretary or any of the other 19 workers in his office." When the rich man pays less money than his secretary in taxes, the infrastructure upon which democracy was built begins to crumble. There is no funding for critical thinking—only for the idea that the rich shall get richer and the poor shall stay poor or get poorer. In the gap between analysis and certainty, you get magical thinking. If you believe that the economy is just and fair, that our kids and teachers are doing just fine, that there's no systemic racism, that climate change is a hoax—well, that does seem magical—but not very real. It has been a success for the one political platform. Take away funding for education. Make college so expensive it's inaccessible.
You've accomplished something, Governor Ducey. You've made this magical, spherical, complicated world as flat and easily digestible as a pancake.
Nicole Walker is a professor at Northern Arizona University, and is the author of Quench Your Thirst with Salt and a collection of poems, This Noisy Egg. She edited, with Margot Singer, Bending Genre: Essays on Creative Nonfiction, and is the recipient of a fellowship from the National Endowment from the Arts. The thoughts expressed here are hers alone and not necessarily those of her employer. For more letters, visit www.nikwalk.blogspot.com.