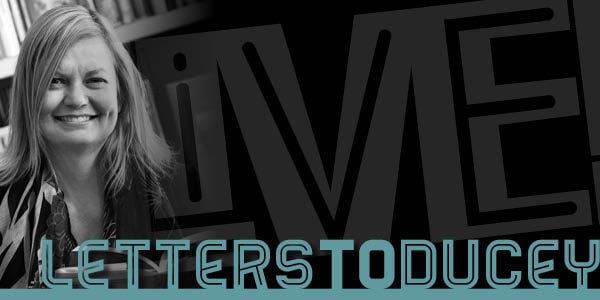 You may not know this about me, but I'm ready to reveal to you that I am a Democrat. I am willing to say publicly that I'm pretty far to the left kind of Dem—wipe out student debt, raise the minimum wage, cancel subsidies to oil companies (and corporate farms too), make our borders rather permeable, prohibit the exhaustion of carbon dioxide from power stations and automobiles, support voters rights. I'm really into Universal Basic Income. I am not an all-institutions-are-corrupt kind of person. I don't want to burn much down. I think people are, for the most part, good and therefore, when they try to help people, they really can do a lot of good. The hard part is getting them to try.
But, dear Governor, I have a confession. I have a Republican friend. Just one, if I'm not counting you. You might know her. She is die-hard, dyed-in-the-wool, John Birch Society Member Republican. She came to visit because her son goes to Prescott for college. She and I have been friends since my first job in Portland where we both worked at the Oregon Winegrowers. We liked wine. We liked books. She was a writer—mainly of business plans, but of histories, too.
When I found out she was a Republican, I was nonplussed. I didn't know Portland had any Republicans. I do not mean to be flippant. My dad became, to my mother's chagrin, a Republican. He voted for Reagan. Republicans are lovable and also they do exist in Portland.
This friend of 20 years came to visit her son in Prescott. She drove up to Flagstaff just to visit. We walked around town. We talked about my Processed Meats book that comes out next month. We talked about our kids. Her son is taking intensive courses in Mandarin. Zoe loves stoichiometry as much as I did. Max is still playing basketball. Her son is short. We wondered together if Max will also be short when he's in college.
I told her about my novel I wrote about a virus that decimates the globe. She said, "Before the pandemic?" I told her yes. Now I have to replace the virus with a technological experiment that falls apart. "You know, geoengineering when they spew sulfur dioxide into the stratosphere to try to deflect the sun's rays?" She hadn't heard of it but thought it sounded dangerous. I said, "Well, all the major countries would have to work toward making it work." She said, "Well, then, at least maybe some good will come out of it." Which sounded kind of Democrat-like but I didn't press it. When I put on my mask, she asked if she should put hers on. I said, only when we're near a bunch of people. She said although she's not sure about the virus, she definitely wanted her mom, who is 94, to wear her mask when she went anywhere.
We walked through downtown and then toward the Frances Short Pond where it was muddy but neither of us worried about our shoes getting dirty. We wondered about the pink coloring of the Catholic Church—while the brown rocks are volcanic, we thought the rest might be painted concrete. "That's a little disappointing." And it was. She told me about the book she's writing. It's a complicated story about Ukraine and Crimea. First part of the Austro-Hungarian Empire, it was ceded to Poland, then Russia, then the Nazis came. Her dad was sent to work in a concentration camp where he was forced to build missiles.
We stepped into the new Late for the Train. I explained that Pasto had been here for so long—it had been my first dining experience in Flagstaff when I came for my job interview and my hosts couldn't pick me up because the snow came down so hard. I walked from campus to downtown. That was a while ago. At the new Late for the Train, I ordered a Flat White. She asked what a Flat White was. The baristo said, "I learned what it was when the Australian Cross-Country team ordered one." Now with Australian accent, "A guy on the team said, it's a sloppily made cappuccino. Less steam. Less foam. Less decoration on top." I said, "Yes, I learned what it was from my Australian friend." My friend said she'd try one so now we can all drink Flat Whites together. She likes to try new things.
As she left, I directed her back to Prescott the Mingus way. She loves a beautiful drive just as I do.
Nicole Walker is a professor at Northern Arizona University, and is the author of Quench Your Thirst with Salt and a collection of poems, This Noisy Egg. She edited, with Margot Singer, Bending Genre: Essays on Creative Nonfiction, and is the recipient of a fellowship from the National Endowment from the Arts. The thoughts expressed here are hers alone and not necessarily those of her employer. For more letters, visit www.nikwalk.blogspot.com.