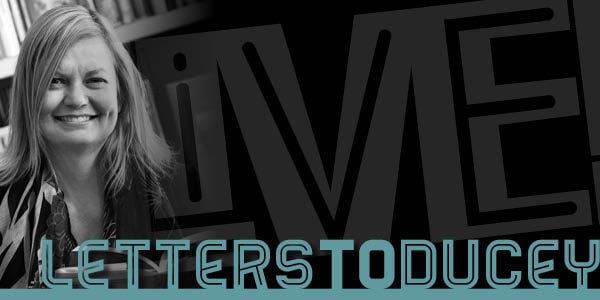 I can't remember if I told you about the coyote that was living in my neighborhood. It's hard to keep track of stories when our conversations go only one way. If you ever wrote me back, maybe we would have picked up a thread or two. We could have talked about fly fishing on the Fremont River or about our kids. I wonder how old your kids are now. My kids are 14 and 10. When I started writing letters to you, they were 9 and 5. Oh, the cliché that the more things change the more things stay the same. But not in the case of the coyote. When I first saw her bounce across the backyard, I thought she was a fox. But I watched her as she trotted through the neighborhood the next day and the next and, from her shorter tail and wider snout, I decided coyote. Female.  
She came by every day for a while. I got nervous for my cat Zane. He is mainly a wild animal and I make him stay inside most of the time, but he has a very persistent way of saying, "Let me out of the house or I'll scratch your eyes out. Or your couch." He wears a ridiculous clown collar that prevents him from catching and killing birds, but he sometimes finds mice. He goes out for a bit to do his rounds—up the stairs of the neighbor's back porch, back down, around their kayak, next door onto the back porch where our other neighbors rely on his regularly scheduled visits to say hello. Then he comes home, eats and sleeps.
This routine might be a bit risky. As I watch the coyote and read that captured and killed coyotes' stomach contents are 20 percent neighborhood cats, I worry for him. But I also resign myself to the possibility of him being eaten. If you're going to play outside, cat, you're going to have to live or die by the outside rules. I am probably not as hard-hearted as I pretend to be here. This cat is my true love. We spoon at night. But, I believe in a little tough love and, betraying my true love, I fell a little bit in love with the coyote.
When the dogs saw the coyote, they jumped and tugged at the leash. The coyote sat in the neighbor's driveway and watched them pass. She was very chill, this coyote. I looked for her every day. One day, after I drove home from an oil change, I saw the coyote walking up the malapai rocks in front of my house. Zane, wandering under our deck, didn't see the coyote until I honked. The coyote lurched. Zane jumped five feet in the air. He scrambled on top of the barbecue and onto the roof. The coyote turned and walked down the road.
Then, sometime in September, the coyote disappeared. I don't know if she was so chill that she made some neighbors nervous and they called the authorities. I don't know if one of my neighbors trapped or shot her themselves. Maybe she just got tired of my cat's routine and moved on. But I miss her. I still look for her every day.
It's sad how things just disappear. I was looking at a chart about the one-cent temporary tax funding initiative that voters approved in 2011. The one-cent tax expired in 2014. Since 2014, schools have lost more than $857 million thanks to tax cuts. If you include cuts to capital funding for buildings and repair and the loss of full-day kindergarten, public schools have suffered a loss of $2 billion.
I barely remember the years of the one-cent tax increase. I don't remember feeling poorer then, or richer. But when the tax expired, the teachers and principals must have looked around at their larger class sizes, for the missing counselors, at their corroding pipes, looked for the teachers who come to help struggling kids with math and reading, the teachers who provide after-school programs. They looked around every day and they missed them. The same way I keep looking for my coyote, they keep looking for where that funding went. Maybe, Governor Ducey, you could stop the missing. Bring the funding back.  
Nicole Walker is a professor at Northern Arizona University, and is the author of Quench Your Thirst with Salt and a collection of poems, This Noisy Egg. She edited, with Margot Singer, Bending Genre: Essays on Creative Nonfiction, and is the recipient of a fellowship from the National Endowment from the Arts. The thoughts expressed here are hers alone and not necessarily those of her employer. For more letters, visit www.nikwalk.blogspot.com.
Be the first to know
Get local news delivered to your inbox!