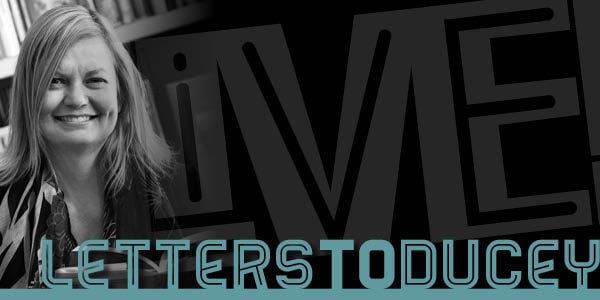 Usually, in the summer, I get a long stretch to just write—at least two weeks. Thirty percent of my job is to write and publish. My letters to you don't quite count, so to do that part of my job requires a little bit of dedicated time. I try to write during the semester or in between emails to students advising them on their courses and their writing; between classes I'm teaching and working to make the MFA program more robust and fulfilling. But it's really in the summer that I get to work. I don't know, maybe people don't need more words of mine in the world. But again, I'm supposed to do it. I'm extremely motivated by "supposed to," so in times of true despair, I cling to the part of my job that says, you have to write.
This summer is not a usual summer. This summer is more work than any semester I've ever had. Faculty are "off contract" during this time, which means that technically I don't have to write, but if I don't write please see above. But this summer has been the summer of desperate entreaty—which I've learned a lot about, writing to you. The main kind of writing has been pleading to anyone who will listen, not to eliminate the jobs of the most dedicated teachers I know, writing about curriculum changes, schedule changes, online changes, COVID-19 policies, railing about curriculum changes, schedule changes, online changes, COVID-19 policies. Writing to teacher fellows as part of the Diné Institute to let them know that they are incredible writers and teachers. Writing to students to tell them, yes it will be OK because epidemiologists have said the same thing for months now: wearing masks really does prevent COVID spread. Wear your mask, student. Wear your mask, student's student.
I have to write to the loan officer to convince him to let me refinance my house so we can afford the pay cuts and the extra help we need. I write the appraiser to let her know she missed the new garage door in her assessment. I write assessments of the collection of essays I read for an emergency PhD presentation.
Emergency PhDs. That's the world we're living in. This person had to finish her PhD earlier than expected because she was losing her immigration status. So not only did I write her assessment, I had to write a letter to the government decrying the loss of that immigration status.
Oh, writing. It used to be so fun.
I also used to do readings and lectures. Last year, I was gone so often, my kids started calling me Samsonite. The last time I stood in front of a live audience, pre-COVID, was in February at the University of Colorado in Boulder. I presented a talk, a workshop and a reading. I had a PowerPoint. It was exciting. I loved Boulder and I loved talking to people about books and how the tiny things of the world can save us.
I gave my first COVID talk last week in Utah. It was outside. Everyone wore masks. They brought their own chairs. They asked good questions. They did not buy books. I worry that was because I wasn't as full of hope as I usually am in my talks. I worry they didn't buy books because I was out of practice and not as at ease as I usually pretend to be. Maybe they thought they were covered in germs.
But the truth is, maybe words aren't working like they did before. Language is a collective agreement, and we aren't agreeing. No one is agreeing on anything. Some governors demanded we wear masks. Then you, Governor Ducey, demanded we take them off. You vacillated between going back to school or not, going back to work or not. And I too felt, as I wrote and as I read, that I was vacillating between hope and despair. I vacillated between thinking it was good to write and read and that I was wasting my time reading and writing.
This is the hardest thing about COVID. Not knowing what things are worth and not quite knowing what things mean. But maybe inside this vacillation, as we go back and forth between complete bewilderment and some moments of clarity, words will help us figure out what things are worth and where the meaning lies now, and words will work, even on you.
Nicole Walker is a professor at Northern Arizona University, and is the author of Quench Your Thirst with Salt and a collection of poems, This Noisy Egg. She edited, with Margot Singer, Bending Genre: Essays on Creative Nonfiction, and is the recipient of a fellowship from the National Endowment from the Arts. The thoughts expressed here are hers alone and not necessarily those of her employer. For more letters, visit www.nikwalk.blogspot.com.
Be the first to know
Get local news delivered to your inbox!