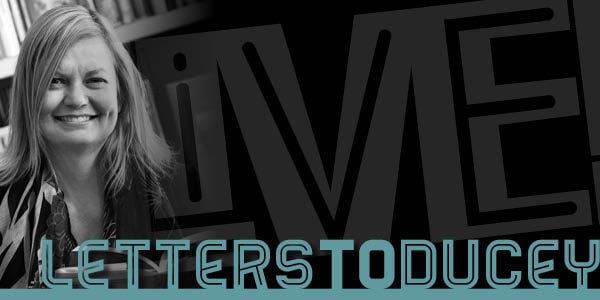 I'm in the middle of a faculty senate meeting while we plan next semester's return to Northern Arizona University. You know when Luke finds out that Darth Vader is his father and he falls through the trap door of the Death Star? Luke holds onto the edge of the plank by his elbow. He's lost his hand to his father. Vader wants his son to come back up to join him on the dark side but Luke refuses and lets go.
Lucky Luke! The Millennium Falcon flies by and catches him as he falls through space.
Oh, where to take this metaphor? I know. Let's pretend that Vader is COVID-19 and we, social distancers that we are, abandon ship. And yet space is scary and deadly in its own way. Let's say space is the economy and we are tumbling, tumbling through space. I can feel my stomach drop just imagining what that feels like—both the scary bodily tumbling and the economy's tumbling.   
Do you know who you could be? The hero. Swing by with your big ship and grab us. Take we who are losing students and thus losing faculty and pull us in. Take us into the great flying machine and you, great flyer, you would-be Han Solo, keep us protected from the virus and from plummeting.
I have 10 friends who lost their jobs because enrollment numbers are expected to decrease at NAU. The number of students who might not come back differs across campus so we're trying to be cautious and cancel classes. Some of these people have worked as instructors for more than five years. It's true that COVID-19 might have been what cut off their hands and caused them to fall through the trap door, but if our country and state are so great, there shouldn't be that frightful drop. The Millennium Falcon should be right there—not even a four-foot drop.
Teachers across the state, at the university and at the elementary and high school levels, are working hard to make sure students are learning while we stay at home. These teachers are working online, on the phone, some of them by mail! My son's teachers read aloud to him and call to see if they can help with his Spanish or his math. My daughter's teachers are managing to teach engineering, physics and math using videos and diagrams to explain what they usually show with hands-on materials in the classroom. What does it mean to be taught through space rather than in space? Rhetorical question. No need to answer it.
If you only care about economics, which is, so far, obvious, then think of all the research funding universities bring in. Look at all the money arts being taught at the university bring into the community. Look at the doctors and nurses who are trying to make it possible for people to survive this disease.
If you want people to be able to build Millennium Falcons, they have to be able to read and do math. If you want people to build Millennium Falcons, they need to read about them, imagine them, creatively embrace them.
Dear Governor Ducey, other countries and states are managing to be Han Solo. Solo recognizes that the more we can keep people employed, the more quickly we can bounce back from this. That fewer people will go on unemployment. That fewer lives will be destroyed like Luke's poor hand.
Your rainy day fund is meant to help us survive something like this. These people are teaching our students. They're contorting their lessons, just like Luke, jumping acrobatically across trapdoors, swinging from rim to rim where bridges should be.
Dear Governor Ducey, unleash the Millennium Falcon. A billion dollars is a lot of money. It's supposedly the reason you wouldn't support education before—because something bad may happen and you'll need that money to catch us if we fall. I can't imagine anything worse than people confronting so much coronavirus-induced death and the freefall of their livelihood. We are falling. Students are falling. The system is falling.
Nicole Walker is a professor at Northern Arizona University, and is the author of Quench Your Thirst with Salt and a collection of poems, This Noisy Egg. She edited, with Margot Singer, Bending Genre: Essays on Creative Nonfiction, and is the recipient of a fellowship from the National Endowment from the Arts. The thoughts expressed here are hers alone and not necessarily those of her employer. For more letters, visit www.nikwalk.blogspot.com.
Be the first to know
Get local news delivered to your inbox!