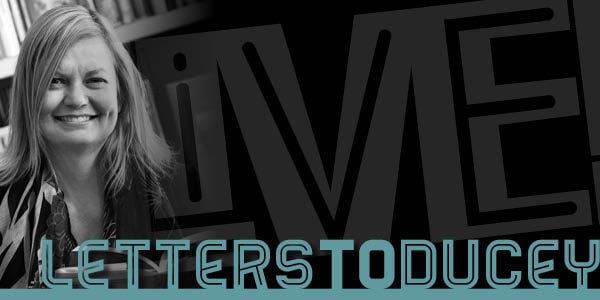 Happy New Year! We are, as I write to you on the Eve of the Eve, still deciding whether to withstand the weather of the Great Pinecone Drop at the Weatherford. I'll be lucky if I make the 10 p.m. drop. My daughter wants to go to the midnight version. I cannot imagine how that would work. Who drives after midnight on New Year's? Teenagers might be as tricky as the year 2019. Like 2019, having a teenager, as well as being a teenager, meant expectations were high, satisfaction was low. I sometimes wonder if we are all always teenagers—misunderstood, frustrated, wondering if we really have any friends, freaking out about the future. Perhaps everything we learn post-19 is how to sticker a smile over those times when we freak out.
There was this golden age when both Max and Zoe did what I told them. Well, Max has always pretended to be hard of hearing so he doesn't have to do anyone's bidding, but, when you could finally get his attention, he would indeed pick up the wrapper on the floor or put away his Legos. When the kids are between 3 and 9, although they may be willful, their wills are more bendable. But the older they become, the more their wills become stiff and frozen—similar to an icicle but not as likely to melt.
But melt they do. When a car crushed my phone, Zoe, the teenager, pets my head and says, "I don't see how anyone could drive over it. It is so sunny out today. It is completely visible in the road." She has great empathy not only for the iPhone, but also for her mom. She's really this incredible being who loves physics and cross-country, swimming, ice-skating, writing, reading and speaking Spanish. So what if she is part iBorg. She's great at Spanish! I mean, I'll never know because she doesn't speak it to me, but her time at Puente de Hozho was the most magical time, although Coconino High School is coming in strong with the Coconino Institute of Technology. And while the school has a great emphasis on STEM, it doesn't neglect the arts and humanities or languages. What incredible teachers they are. Zoe would say so in Spanish.
All of this is by way of saying, I think 2020 is going to be great. Or at least better. But we're all going to need our Spanish-speaking skills to make it so. There was one thing that happened in 2019 that made me feel like you, Governor, could be a real leader. On Dec. 7, 2019, you rejected Trump's offer to let Arizona opt out of taking refugees. Instead, you responded with what might be argued as a bit of resistance. You wrote to Mike Pompeo: "Throughout our nation's history, the United States has been a refuge for individuals fleeing religious and political persecution in their homeland. And Arizona has historically been one of the most welcoming states in terms of the number of refugees resettled here." It's not a common moment when you, Governor, make it easier for me to breathe. But to say this in the face of what has become one of the most horrendous actions the U.S. government has openly conducted is to say no to fascism, racism and xenophobia.
You have free articles remaining.
We are a country of immigrants. And, more truthfully, we are a country of children. We are children ourselves, masking our insecurities and fears. And those children who sleep on cold floors, coughing flu germs, changing 2-year-olds' diapers, separated from their parents—what hope have they for 2020? To be undevastated. To be reunited with their parents. To come to Arizona and receive the amnesty they need.
Until then, there's an ongoing project to receive letters for these kids. To date, the Training Occupational Development Educating Communities Legal Center has delivered more than 10,000 letters to Detention Centers in San Ysidro, California, Arizona and Brownsville, Texas. They invite you to send a letter or drawing, in Spanish if you can, to:
Max and Zoe wrote notes. They weren't sure what to say. What does one say? I said, tell them that you're sorry they have run into the hard heart of this administration and that at least the governor of Arizona isn't made totally out of icicles and that he welcomes them. Happy New Year to you, at least for that.
Nicole Walker is a professor at Northern Arizona University, and is the author of Quench Your Thirst with Salt and a collection of poems, This Noisy Egg. She edited, with Margot Singer, Bending Genre: Essays on Creative Nonfiction, and is the recipient of a fellowship from the National Endowment from the Arts. The thoughts expressed here are hers alone and not necessarily those of her employer. For more letters, visit www.nikwalk.blogspot.com.
Be the first to know
Get local news delivered to your inbox!