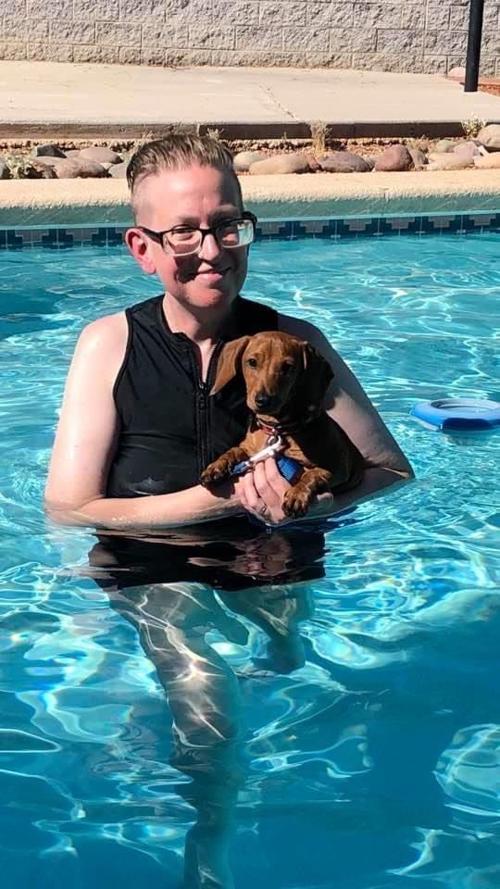 I remember learning to swim. I think I was five. We were in Sanibel Island, Florida. My father and grandfather put me in Water Wings and made me paddle from one to the other as they distanced themselves further apart, like human goal posts. I was eager to ditch the inflatable cuffs. In the water I felt safe, which is a feeling I seldom feel anymore.
Water, for me, is a religious experience—the feeling of weightlessness, the feeling of a body that is not failing, a body that moves easily, comfortably. In the water, a body without fear.
Before the pandemic, my wife and I splurged on an Airbnb rental, a huge house in the Catalina Foothills replete with an outdoor kitchen and, most importantly, a gigantic swimming pool. The plan was for out-of-town family to come and stay in the home and together we'd all celebrate my 44th birthday.
When COVID-19 laid waste to these plans, Sarah and I wondered whether or not we should cancel the reservation. The place was pricey. There would only be two of us.
"Let's go," I told Sarah. "I honestly don't know how many more birthdays I've got left."
The truth, of course, is none of us know which birthday is our last. Cancer just adds a sense of urgency, and so we went to the Airbnb.
My friend Erin drove in from Los Angeles to share in the festivities and for five glorious days, I was either in my swimsuit or my pajamas, often a little lifted on medical marijuana, often a little lifted on caffeine and once even on a little 25-year-old Dom Perignon (courtesy of my in-laws).
I swam a lot. Erin and I invented a "sport" that involved standing on pool noodles. Pool noodle standing, in the water, caused us to fall a lot. This made us laugh. We reminisced about weirdos we knew in Chicago—this made us laugh. We made crude jokes—which also made us laugh. We did impressions of "Mildred," a character Erin and I invented years ago who has no sense of humor or understanding of fun, until we were laughing so hard we were gasping for air.
Abe circled the pool, curious, unable to work up the courage or ability to jump in (he's a Dachshund and therefore not a strong swimmer). Occasionally, one of us would lift him into the water to cool off.
In the background, our phones played oldies on a Bose speaker: Paul Revere & The Raiders, Marvin Gaye, Three Dog Night. In the evening, after dinner, after the sun had set, after we'd had our fill of pool noodles and watching the lights that the Mt. Lemon wildfire had strung along the horizon's ridge, we went indoors to play Monopoly. (So as to preserve Sarah's good name, I must mention that she did not partake in Monopoly.)
Those five days were the happiest ones I've known in some time. I did not watch or read any news. I seldom checked social media. I never checked my email.
Erin and I reveled in the absurd on this trip. Rolled our eyes at the sign in the Airbnb's kitchen that said, "All You Need is Love . . . And Tacos."
"Every Airbnb has these," Erin noted.
We wondered whether it was a corporate thing. Like when you sign up with Airbnb you choose your house's "personality" and this one was "hipster-taco-house."
"'All you need is love' is such nonsense," I said, flopping down into the Grandpa Chair. "You need air and water, and sometimes, as in my case, you need Ibrance plus an aromatase inhibitor."
Days before we left for the trip, I received OK-but-not-great scan results. The cancer is continuing to attack my bones, but fortunately my anti-hormone therapy is doing its job and starving the lesions.
"Not bad," my medical oncologist called the results. I have said the same about vegan cheese. "Not bad" doesn't mean "good."
The days in Tucson were plain and simple "good." Nothing of Trump, of COVID, of cancer.
Standing on pool noodles, lazing in a chair I dubbed "the grandpa chair," sipping French roast while slightly high on an edible espresso bean, singing along to "Here Comes My Baby" (The Tremeloes' version—frankly the superior version), I rekindled my relationship with "silliness."
Silliness: nothing smart, or of critical import, or particularly thoughtful, but a boon to the soul. Silliness: what reminds your 44-year-old self that you were once a child. Silliness: what allows you, for a moment, to forget you're a cancer patient, that Trump is in office, that bills must be paid, dishes cleaned, suppers cooked. Silliness: it only works if it's organic. Silliness cannot be forced like that last squeeze of toothpaste from the tube.
Much of this year, I've felt I'm learning to swim in a different way: how to swim through scans, blood tests, doctor's appointments, a multitude of pills and shots and infusions, how to swim through the realization that this disease is hell bent on stealing my life. How to swim through the pandemic, through the reopening of schools, through the loneliness of quarantine.
There are no true goal posts this time—human or otherwise—but maybe there is an anchor in silliness: in singing "Oh Sherri" to the dog, in "modeling" pajama shorts for your wife, in watching The Bodyguard for the first time and realizing, aloud, "I'm way too gay for this movie."
Yesterday, I watched Abe play in a sidewalk puddle. He jumped in and out, stretched his long body in the water (though I wished he wouldn't) and I wondered if he remembered the Tucson trip, the water, the weightlessness. I wondered if he remembered the freedom of big blue pools, the sound of old music and laughter, the silliness.
Allison Gruber is an essayist and educator whose work has appeared in numerous literary journals including The Literary Review, Brevity Magazine and The Sonora Review. Her debut collection of essays, You're Not Edith, was a Lambda Literary Award Finalist. She lives with her wife, Sarah, their menagerie of animals and teaches English and creative writing at Flagstaff Arts & Leadership Academy.
Be the first to know
Get local news delivered to your inbox!