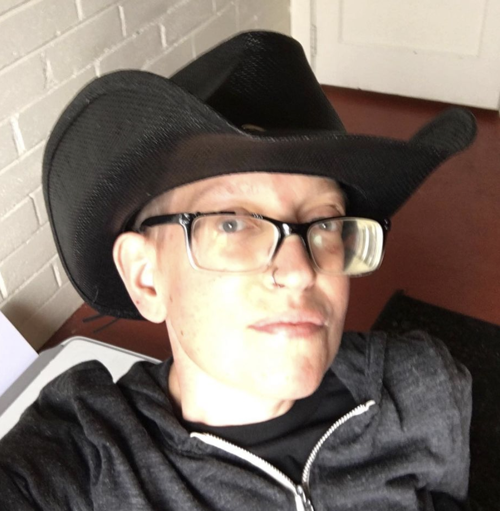 This is a word I have returned to often—in the past 15 months—when "unprecedented" just didn't cut it. Let's face it, if the empty ubiquity of the word "unprecedented" has taught us anything this year, it has taught us that the English language is still very much in its infancy.
So I lean into "unthinkable." Not even the inherently negative connotations it carries, but the word itself: what I have not yet thought of, and what I could never possibly predict.
The anxious impossibility of never being able to accurately and precisely predict the future has long been a very common, human problem of mine.
How I have tried to predict the future: mine, yours, ours.
How I, you, we have absolutely failed to predict the right now with anything more than a little arbitrary, coincidental success, and a dash of dumb luck.
I don't know about you, but I utterly failed to predict Trump, the pandemic, the riots on The Capitol. Never saw any of this coming.
The return of my cancer I strongly suspected, but never was entirely sure.
The death of Bernie I understood as an eventuality, but failed to know precisely when this would happen.
The move to Tucson? Unthinkable, but absolutely wonderful.
Recently, I posted on Facebook that I "love Tucson."
A friend who has known me since I was 19 commented: "What does 20-year-old Gruber think about Tucson?"
I replied that "20-year-old Gruber" would not be a fan of this prospect. Moreover, Tucson was unthinkable to me then.
Arizona was a place I had visited once as a child. Nothing more. I had neither positive nor negative feelings about the state, as Arizona was just a state "out west" like Colorado or New Mexico, but distinctly different from California (so I believed from my Illinois vantage point).
That said, had a voice—say, the ghost of Jerry Garcia—whispered to 20-year-old me in the night: Arizona. Tucson. This is what adult you will call home, I would have recoiled in horror and fought the futurecast at every turn.
I would have developed new anxieties and superstitious rituals to avoid this fate because though I had no specific feelings about Tucson at 20, I wanted a future that was more like, well, London or New York City.
I was so afraid when I was 20. Afraid of everything, but most acutely of anything that might, to borrow a new term, interfere with what I perceived as my life's "long game" which included the following goals: 1) alone 2) an English professor 3) a well-known writer.
One and two didn't pan out (thankfully), and I'll probably be toiling toward #3 until my ashes are scattered into Lake Michigan and the Sonoran Desert, respectively.
Tucson was unthinkable to me, and I am so very thrilled to be in Tucson at this very moment in my life and in the life of my nation.
I am learning not to fear the unthinkable, though some of the unthinkable is certainly fearsome: My cancer could worsen. White supremacists could overthrow the government. Cats and dogs could become friends and overthrow the government. (The latter, of course, would feel just fine to me at this juncture.)
*I recently told my students the only superpower I possess is the ability to worry about virtually any catastrophic possibility at any moment in time—even when I am feeling safe and joyful. When I do this, my friend Mike calls it "Gruber sings the Blues." Let the preceding paragraph be evidence of "The Blues."
Much of the unthinkable is potentially wonderful. I am learning to remember this in equal measure.
Last week I tendered my resignation at FALA, effective at the end of this school year.
Unthinkable. Terrifying. Thrilling. Horrible. Beautiful.
All of these descriptors and more (in German or Mandarin, perhaps) can describe the fierce and frightening empowerment that comes from making actual, thoughtful, healthy choices.
So much has happened—to me, to all of us—since I started writing this column some two (or more?) years ago—wonderful things: Abe lived, I lived, if you are reading this, you lived.
Awful things happened, too. We have lost so much—more than our hearts could bear, but bear these unthinkable losses, they did. Our hearts broke and broke, and they did the unthinkable: they rebuilt themselves. Cracks glowed, networks of cracks grew and grew in our hearts and extended to other hearts and we began to share stories of how we have survived up to this point.
Some people will remain broken-hearted forever. Forgive them, and you and your cracked up heart should just move in the only possible direction: forward. 
Some readers may blame the "heart cracks" paragraph on AA (of which I am a grateful member) and some will blame that paragraph on seven years living in Flagstaff, Arizona.
Both are correct sources of blame, but not the exclusive sources.
I must also blame Flagstaff Arts & Leadership Academy. By this, I mean blame my colleagues, but mostly my students, for making me the kind of person who sits in a yard in Tucson, wearing a cowboy hat, smiling into the sun while listening to really good music. I blame you for this, FALA. You made me the kind of monster who, one week after retinal detachment surgery, can smile and dream and believe that the future is now and on its way and it will be so, so much better than anything that ever came before in this deeply frustrating country.
FALA brought me back to myself.
The Flagstaff community, at large, helped me stay with myself long enough that by the time I got down to Tucson I cared about myself enough that I was ready to let go of the last, unnecessary, heavy piece of luggage I have dragged with me all the way from Chicago, Illinois: alcoholism.
I am a better human being for having taught at FALA and for having lived in Flagstaff. Frankly, I'm the best version of me I've been since birth. True story.
Note: Flagstaff does not work on everyone.
Side effects of taking Flagstaff may include, but are not limited to: increased turmeric consumption, rage against ski resorts and a disdain for all things Phoenician. (I still maintain Phoenix is simply "Hot Schaumburg"—my Chicago area friends and familiars will get the reference.) Call your doctor right away if you find yourself experiencing the kind of paranoia that causes you to bring your perfectly legal glock to Mama Burger . . .
I am writing to you from my backyard. If I close my eyes and just listen, I can hear palm fronds rustling, birds chirping and cars driving by playing what—I think—is known as "cumbia." 
Palo verde. Bougenvilla. Cumbia. These are all part of my language now when, five months prior, they were not. Dribs and drabs of Spanish are slowly braiding themselves into my native English.
At this moment in American history, I can think of no greater gift to my American-self: the natural (albeit slow) acquisition of the language spoken by the first "owners" of the land on which I am lucky to live.
Experience one winter/early spring in Tucson, Arizona, and tell me I am wrong when I say I am lucky to live here. Anything in the desert is lucky to live, whether flora or fauna. Out here, I believe even the saguaros feel lucky for their long, still lives.
In the desert, one must be adaptable, ready to live on little but what the universe, our benefactor, is willing to supply. When it rains in Tucson, every living thing takes joyous notice.
Though every FALA student, current and former, will always occupy a big and sacred place in my heart, I am excited for the next group of students to enter into my life. Who will they be? Anything might happen on my next adventure in American education. What will my students be like here in Tucson? What texts will I bring to my next classroom, knowing all I know now about education, about life, about the world?
The answers are limitless—and wonderful and frightening in their limitlessness.
The infinite, unknown set of possibilities overwhelms me, but also thrills me.
Part of my daily AA practice has involved what I call a "sunbath." This is where I walk away—usually around noon—from whatever task or thought I'm mired in and I walk into our big yard, find the sunniest spot (the pickings are great in Tucson), and begin stretching and meditating in the warmth. I listen to the palm fronds rustling, the birds, the cumbia, and put myself back into perspective. Afterward, I always feel better. And if this is, as I suspect, a permanent side effect of FALA, of Flagstaff, then it was the best, most unthinkable, clinical trial to which I've ever agreed.
May we never be strangers.
Allison Gruber is a writer and educator living in Tucson, Arizona. Her work has been produced on-stage, anthologized and published in many literary journals such as Pithead Chapel, Brevity and The Literary Review. Her first collection of essays, You're Not Edith (2015), was a Lambda Literary Award Finalist. Her second collection of essays, Transference, will be released with Tolsun Books in the fall of 2021. She holds an MFA from The School of the Art Institute of Chicago and has been teaching at the secondary and post-secondary level for well over a decade.