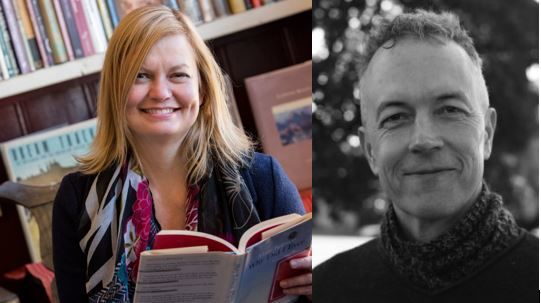 I hope you are reading this week's column in hopes that Nicole Walker is writing. Do you ever think of writing back? Do you ever wonder how her letters begin as letters and end up as essays? Perhaps she's inspiring you to not only become a better person but to also take up essay writing. Take a lesson from Walker and her colleague David Carlin, of RMIT University's School of Media and Communication and author of several essay collections, before you begin.
Walker and Carlin are co-presidents of the NonfictionNow Conference and co-authors of The After-Normal: Brief, Alphabetical Essays on a Changing Planet.
You're likely familiar with nonfiction as fact or truth-driven—academic text or even in diary writing. Shedding these notions might behoove you, however, when it comes to the creative nonfiction essay, a form that disrupts the need to be either purely factual or purely personal.
"Nonfiction is as fabricated as fiction is—it's made by humans and it brings with it all the underlying assumptions and cultural baggage that humans have. At its best, it reveals those elements as being part of reality and the way stories are told," Carlin says.
The broader nonfiction, creative nonfiction often finds itself meandering, pausing and stopping to explore particular points. Carlin describes it as a panoramic view; while writers look at one distinctive part of the panorama, they are still aware of everything around it. For Walker it is a mixture of things.
"I started as a poet. One of the things I love most about poetry readings is that poetry is riveting and you listen with your whole body," she says. "There's this breath in between where the reader talks to the audience a lot more informally. I love that pattern of intense listening and a little more of that colloquial voice. That made me see the connection between [nonfiction and poetry] and made me realize I could exist in those two modalities."
Creative nonfiction is relatively new in the world of form and style, partly because it braids the factual and the personal, the colloquial voice and more serious tones. For example, a letter to the governor about antibody testing could morph into an essay that grapples with climate change, or a meditation on motherhood.
"It's also a different way into thinking about facts and how received information affects you," Walker says.
"It's about bringing yourself to the world. It's always difficult because you don't want it to be confessional or self-centered or indulgent," Carlin adds. "I'm interested in writing which allows in all the different layers of reality."
All layers that surround the story become part of the storytelling process in creative nonfiction. Not only does an essay in this vein discuss the subject (you, Governor Ducey, for example), it also reveals the research process behind the discovery. One layer has the opportunity to be the research while another might brood on a more philosophical perspective.
The craft reminds Carlin of Roland Barthes' writing. The French philosopher and literary critic often begins with a sort of fantasy or something that obsesses him, then tries to explore it through fact and personal connection.
"I like that idea of something that grabs you and you don't know why, but you maintain faith with that thing that haunts you," Carlin says.
"Why is it haunting you? Why is it really troubling?" Walker says. "I can see it in concentric circles going out—here's the original trouble and here's the next one. [One thread in an essay] is following that out to try to figure out why it's so troublesome. Somehow I weave back through them and try to make connections."
Of his own process, Carlin says: "I have to write into the unknown and then I have to sense what the haunting thing or the thing I'm trying to grapple with is. I write in fragments and I don't worry about having it together necessarily. Sometimes I just start at the beginning."
"Let yourself write 'bad,'" Walker advises. "It's the fastest way to write your own voice. Most people put up so many roadblocks about what they think good writing is, they feel all tied up in knots. Untie the knots."
Take a step further from your normal research and begin to look for the layers of your own writing. Carlin suggests reading nonfiction as one way to inform your own practicum. Expand on your own knowledge of the wide world with Carlin and Walker's essays. Find the things that haunt you and then weave them together.