How we choose to decorate our bodies is expressive to who we are. Whether it's a haircut, a tattoo or even jewelry, we make ourselves known to others through this process. Jess Majella Worthington, a featured artist at the HeArt Box, is one whose passions are brought to life in this way. Worthington creates astonishing metallic jewelry that draws on many geometric designs. She is fascinated by the histories jewelry has in being something representative of who we are as people and what they may hold beyond physical properties.
"So much of what we wear is symbolic," Worthington says. "We are essentially living symbolic narratives and we tell stories just by looking at one another."
Worthington has always been surrounded by art, her parents being artists themselves. She found herself concentrating on sculpture later in college after experimenting with many different mediums as she pursued her BFA at University of Tennessee in Knoxville. She graduated in 2007.
"I see jewelry as a sort of tiny, wearable sculpture. In college I was working in metal, on a much larger scale, and I was creating pieces that related to the body and exploring the symbolism and history of the worn object," Worthington says. "Jewelry was a natural progression."
Worthington's jewelry is made to be played with. Her background in sculpture has inspired many of her interactive and contemporary pieces. She uses a combination of steel, bronze and natural gemstone beads to create most of her work.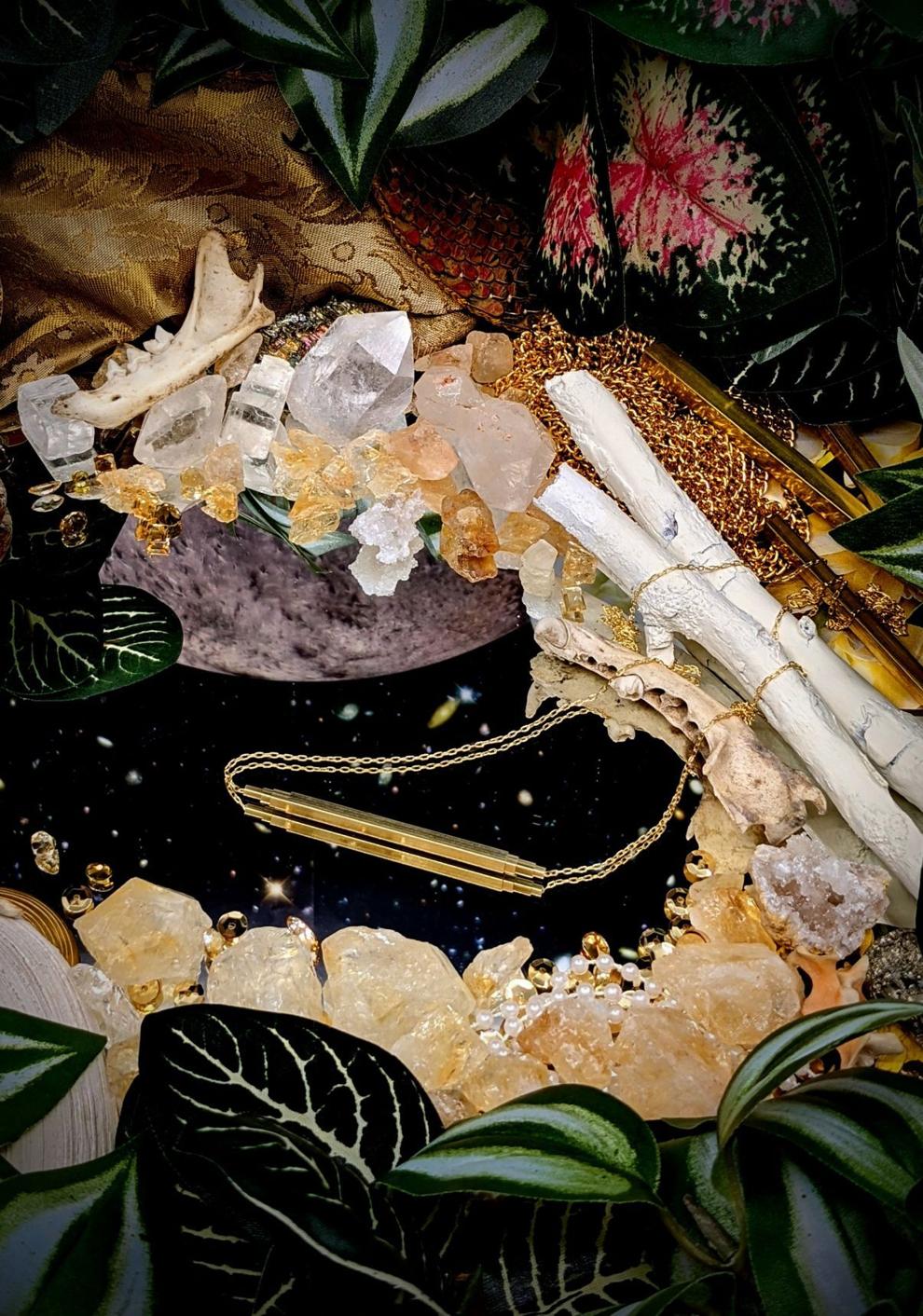 "Many pieces are 'multi-wear,' meaning that they can be worn multiple different ways," Worthington says. "My earrings are a single piece of wire and many of them are symmetrical meaning that they can be worn either side up. Many of my necklaces have telescoping brass shapes that nest as one piece and open up to three to five pieces and freely move and can be arranged on the necklace chain."
She jokes that her jewelry could be marketed for the stylish fidgeter. Having a multi-wear ability doesn't limit the wearer to one mode of expressing themselves and in fact gives them free range to wear the piece as they like on any given day.
Worthington's belief in the ability to express oneself with jewelry is why she continues to do so. In creating this jewelry, she's opening the doors for so many others to find themselves. Worthington had been wearing her own jewelry during a First Friday ArtWalk when the owner of the HeArt Box, Jill Sans, asked if she would like to feature her work there.
Worthington had just moved from Tennessee where she had attended art markets with her work frequently and missed that experience. Her newest line of jewelry, prominently featuring more gemstones, will be available at the HeArt Box in February.
When it comes down to whether or not jewelry is an art, Worthington takes the approach of intention.
"I was trained as an artist, not a jeweler, so when I go about making jewelry it's the same process as making art for me," she says. "I just have to take into consideration that this piece of art that I'm making is going to be worn and will be categorized as jewelry. It gives specific parameters to work within, but that's part of the unique design challenge of making objects that fit and move on the dynamic human body."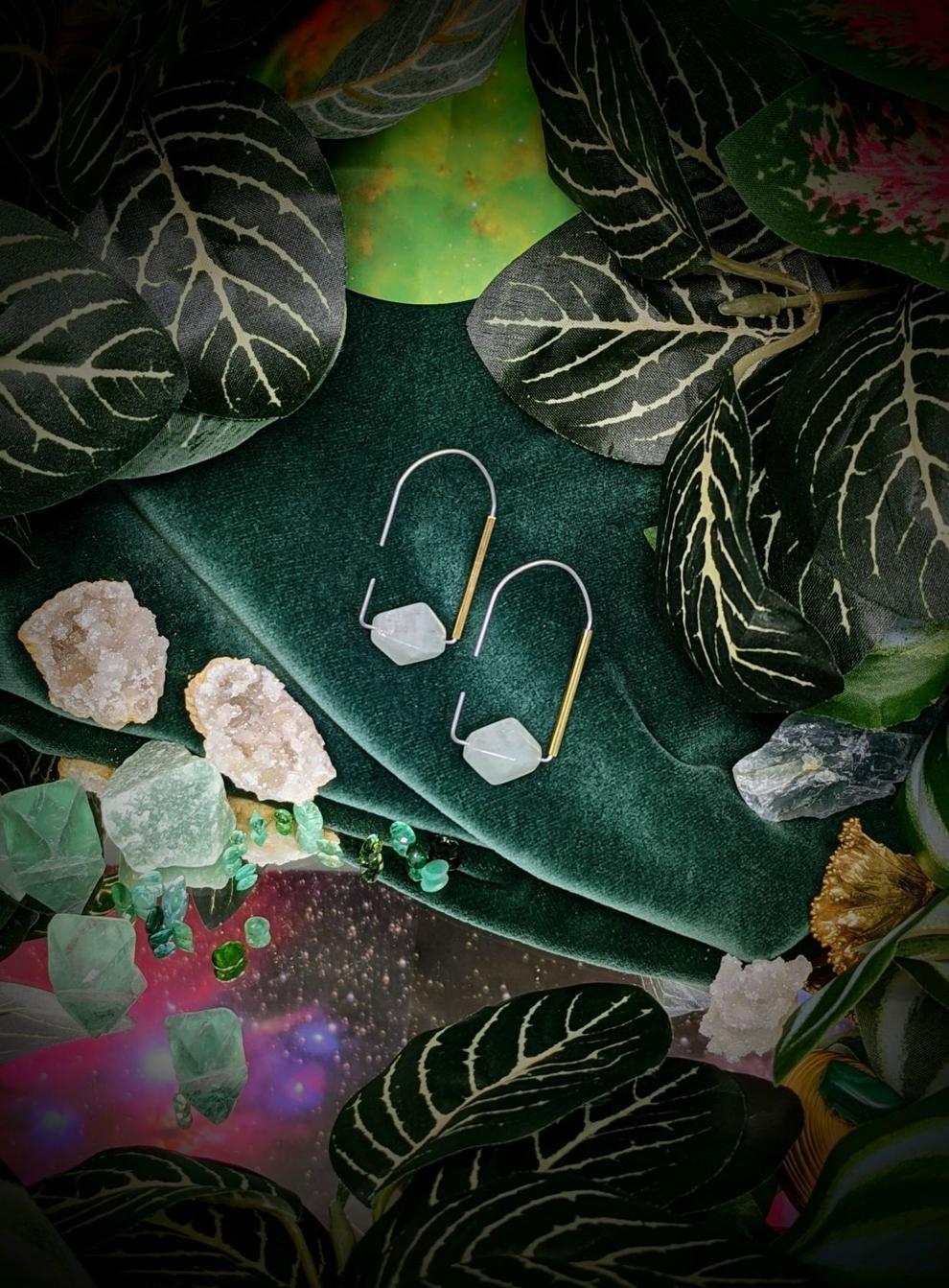 It's important to connect with a piece of jewelry, whether you are making it or wearing it. This is why Worthington would attend art markets, to sell her work directly to shoppers and help others understand it's importance. Jewelry is a wearable art. When it finds itself around someone's neck or on someone's ears, it becomes an extension of who we are.
"There are so many different kinds of jewelry, so many different techniques, sets of skills, necessary tools," Worthington says. "Jewelry is such a powerful and intimate communicator. Creating something that will become part of someone's story is part of what is so intriguing to me about being a maker of things meant to be worn."
For those looking to create jewelry themselves, she suggests starting small and working with what you're comfortable with at first. Do some research online, watch videos of how different kinds of jewelry are made, perhaps consider even taking a class to help guide you in the direction you want to go. After trial and error on her part, she began to find the materials that gave her joy.
Worthington suggests at the very least starting and finding a direction to head in that will "give you an idea of what your time and monetary investment would be in order to produce what you are eager to make."
Wear and create what makes you happy and eager to be yourself.