The Art of takes a look back at the past year in Flagstaff's art community. The first Art of Art appeared in February 2020. This year, a three-part series will focus on the community of resilient artists and the lessons learned throughout 2020.
Arts organizations and artists throughout the country felt the effects of having to close off their community spaces last March and April. During this time, Flagstaff continued to provide spaces for art to shine, for performance to endure, and forums of communication for artists, but it wasn't easy to navigate and it wasn't anything anyone had expected.
"The thing about the pandemic is that no one knew what was going on and so you could try anything," Jill Sans, owner and artist of The HeArt Box, says. "We were all just figuring it out. We're learning to use this space in a different way."
The HeArt Box, a gallery space and studio downtown, could not open its doors to the public and serve as a gathering space like it did before mandatory lockdowns. The gallery has since reopened, although with strict capacity limitations as well as mask and social distancing requirements. The gallery's current exhibit, Visiting the Anxious Ladies, features a series of distorted self-portraits by Dana Kamberg. Sans remarks that work like Kamberg's is what is needed during this time, as it opens up discussion on mental health.
"Art is often the thing that gets left behind when there's a recession or economic distress. It was most devastating to lose the space where people can walk in and experience things and share. Art is so much about sharing," she says.
Last year, MOCAF's board agreed to use its Blackbird Roost warehouse for the remainder of the year. What started as an exciting, momentum filled year following its acquisition of nonprofit status at the end of 2019 soon slid downward as the pandemic caused the world to rethink spaces used and the ways in which people gather. Luckily, the board members and volunteers are out-of-the-box thinkers.
"I was initially a little disappointed by the shock of being unable to continue the momentum through the year. Adversely, that turned into the challenge of wondering how you can make something creative," MOCAF Board President Andres "Dapper Dre" Adauto says. "How do you take this as an opportunity to think differently, to implement and engage differently? This gave us the opportunity to think about how we take arts to the people. How do we use the raw capacity of our cityscape, our landscape, to still be impactful and engaging?"
MOCAF launched two bicycle tours during the summer months last year that involved artists and organizations from across the city. The idea was to allow groups of people to see many different things while enjoying the beauty of Flagstaff. Collaboration was key to continuing, which many organizations also used to their advantage.
"This pandemic really forced us into the only way we could do it. We moved the stage and venues, instead of packing the venue and moving the audience," Adauto says. "If you don't have the arts, you don't have community. You have to have these places where people can gather, interact and experience each other."
Flagstaff Shakespeare Festival is one of those organizations that also sought community collaboration to continue forward. Hannah Fontes, Executive Marketing and Housing Manager for FlagShakes, recalls the first few weeks as pretty quiet, a time to feel the silence left from having to close A Lie of the Mind after its first weekend.
Fontes says, "We didn't want to just shut our doors or only churn out Zoom plays. There is so much merit in that, but we really wanted to think outside the box. We didn't know how long it was going to be."
During the 2020 year, the festival produced films and pushed the boundaries of traditional Shakespeare—going so far as to rethink As You Like It as a massive online role player game, creating video game characters in place of physical characters and web camera boxes for the actors.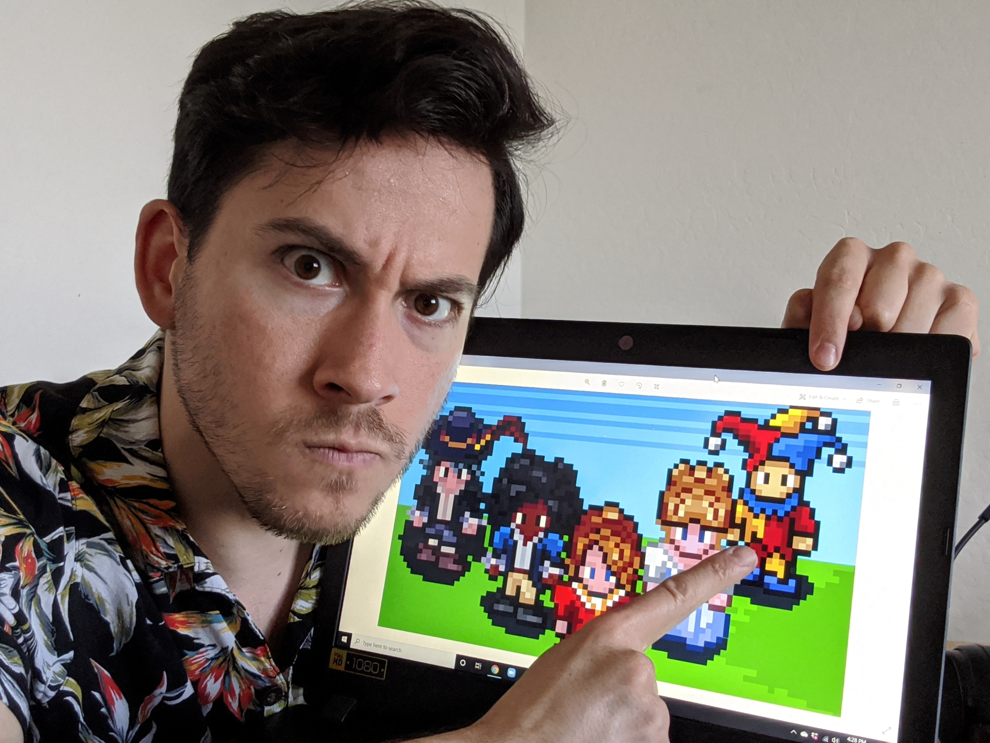 "There was a lot of pivoting for FlagShakes where in-person moved to film. It was something we loved, so we're going to continue to try to film the shows for the foreseeable future if it's possible because it makes it so accessible," Fontes says.
Both FlagShakes and Theatrikos Theatre Company plan to return to audiences this summer at outdoor venues around Flagstaff. While the companies produced shows through online platforms this past year, Theatrikos Executive Director Chris Verrill echoes Fontes' sentiment that Zoom could not have been the only way to continue; they had to create something new.
"There's a pent-up demand to see the arts again," he says. "There's a silver lining in all of this; it's launching something that will outlast the pandemic. Bracing yourself and readying to come back and figuring out what else is there that you can do is one way the arts have been resilient."
"This reset for everybody allows for collaboration," Adauto says. "If you have a community backing you, you're going to go further than just yourself. This gives us an opportunity to reach out to each other and create a supportive community within the arts."
MOCAF, The HeArt Box, Theatrikos and FlagShakes all pivoted efforts toward an online presence, resulting in long-lasting projects, collaborations and shared spaces. "Creative of the Month" is a MOCAF-produced monthly video highlighting under-the-radar and/or emerging local artists. Theatrikos produces "Live from the Theater Basement," an online podcast featuring interviews with local artists and performances "live" from the basement of the Doris Harper-White Community Playhouse in hopes that the basement will serve as a second performance space in the future.
The HeArt Box has really opened up its social media platforms and online presence to create an accessible space with art readily available. Walking into the gallery still feels special, even if just a little quieter. FlagShakes has tried a little of everything, working with other organizations to create walking tours, drive-in performances and online streaming.
All in all, the creative minds of Flagstaff have continued, despite the challenges, to invite us to see art in the mountain town we call home, whether from the insides of our houses or walking/biking under the view of the San Francisco Peaks.
"Art is resiliency, it's always going to keep going," Sans says. "It's who we are."