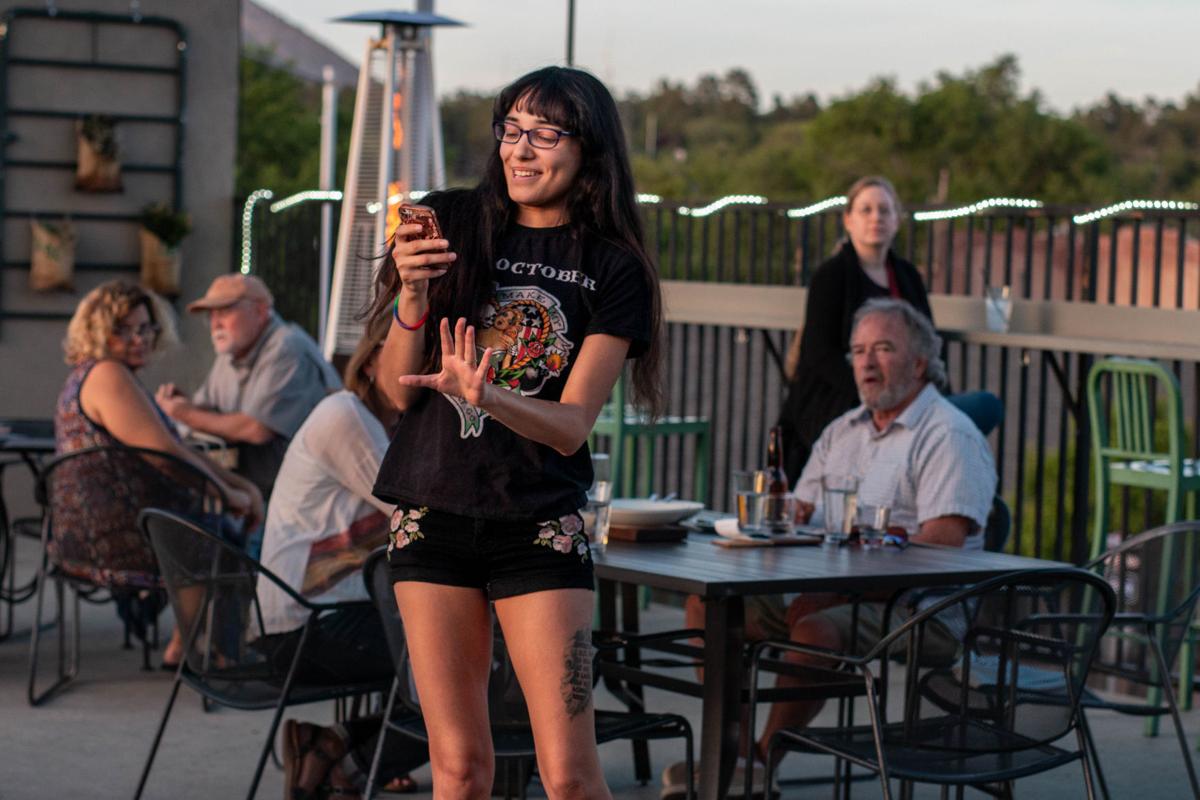 As we reach the end of the year, it seems that while the world is thrown into chaos one thing we return to so often is poetry. Maybe we're looking for something abstract to contain ourselves, but maybe we're also seeking something to shout about. 
Loud, expressive and trendy, slam poetry has become a hub for poets and writers looking to speak openly and create conversation around topics like mental health, identity and politics. Slam poetry focuses on these hot button issues and combines them with a performance aspect that engages everyone involved.
Playing poetry for the points versus poetry for fun creates another dimension of care for the words coming out of the microphone. Flagstaff Poetry Slam host Lydia Gates has been performing in Flagstaff for more than three years before taking over as host this year. She suggests that a slam piece be written less abstractly, with a focus on a narrative that can be followed within the allotted three minutes.
"Academics often write poems that are less grounded in reality, but slam poems, in my opinion, should have a concrete element that people can latch onto to carry them through the narrative," Gates says. "If you have three minutes your poem should have a beginning, middle and end. The listener's response should evolve as they learn new information."
While a host at this poetry slam is not involved in judging, Gates performs at slams across Arizona and has attended the National Poetry Slam. She's been part of the scene long enough to know what usually sparks the crowd.
"I love a good twist or reframe at the end of a poem. An extended metaphor that reveals its meaning at the last moment, an insight the reader leads you to like a trail of breadcrumbs. I enjoy a first-hand look at something I could never experience and get sucked into the cadence and movement of a performer's words and body.
"Generally I come up with one theme or 'hook' line that I really want to use in a slam poem, either to catch the audience's attention at the beginning or wrap up my narrative at the end," Gates continues. "Once I have that piece I build a story around it with verse, much like one would craft an essay or novel but in a much shorter form."
Poetry slams, which have their beginnings in the early '90s, have come to be well-attended, all-ages events in which competition can also bring people together. 
"The slam scene is a family. We honor those who spend their time with us and miss them when they move on," Gates says. "Everyone spreads their love for each other's work and we push each other to improve even without intending to directly.
"When someone steps off the stage after doing their newest, most vulnerable piece that they have put all of their hard won craft into, we cheer them and pull them aside to comment on a specific line or encourage them to keep writing, or offer a hug if they're receptive,"Gates says.
Even Flagstaff high schools participate in Poetry Out Loud, which is reminiscent of poetry slams. Students are required to memorize a poem and perform in front of audiences. 
More than memorization, your body and voice need to carry message just as importantly. Take past regular Rowie Shebala's "Love You Some Indians." A video of Shebala's performance of this piece during prelims at National Poetry Slam has received more than 90,000 views on YouTube and was shared by actor Mark Ruffalo on Twitter. She combines politics and emotions with voice, words and use of body language. A rise in voice, a theatrical tone to dramatize and portray the interpretation is almost always what it takes.
"Make eye contact with the audience and allow them to react. Don't speak over their clapping or laughter. Memorize your work if possible so you can engage fully with your work and your audience without a barrier," Gates advises.
Poetry is not always performance, but when the points matter so does everything on stage. Slam is a combination of theater, poetry and public speaking in a way that creates dialogue in a community and among each other. With competition and points at stake, every second matters and inspires others to become even better.
Margarita Cruz is a MFA candidate for Creative Writing at Northern Arizona University. She serves on the Northern Arizona Book Festival board and as editor-in-chief for Thin Air Magazine. Her work has been featured in The Tunnels and Susquehanna Review. 
Be the first to know
Get local news delivered to your inbox!