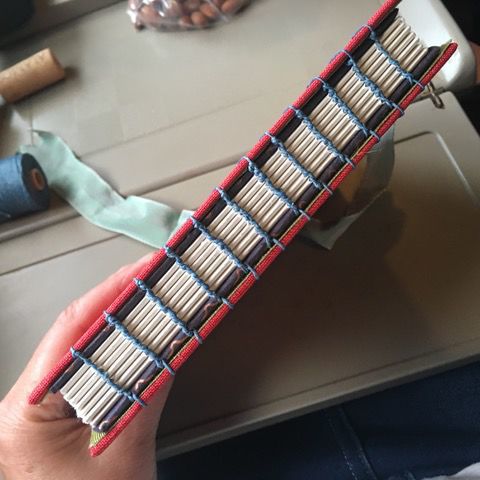 As I flip open to a new page in my journal, I hear the crack of the spine. I run my fingers across the thread that binds it together and think about the evolution of bookbinding and making. I own so many beautiful editions of books and journals, yet I don't know how they came into existence.
Bookbinding is an old practice with origins in India, where it was used for sutras. Later, bound books replaced scrolls all over the world, becoming widely used as early as 6 AD. An ancient craft, the art has found its way into the hands of creative people today.
"Once you make your first book, you will want to make more. It is very addictive. I think a lot of people get into book making, like any creative handmade process, as they want to be a maker," Barbara Ryan Gartin says.
Gartin is an artist, educator and former gallery curator, with both a bachelor and master of fine arts degree, who occasionally teaches book making classes at Northern Arizona University and around the community. Prior to living in Flagstaff, she also taught bookbinding classes in Oklahoma.  
"I feel like book making is a lot like curating an exhibition space. You have control of the cover, the pages, the form itself and anything you put inside. You want to create a space to inform the viewer as well as allow them to explore the work itself in a specific sequence and be brought to another place," Gartin says. "Opening a book or seeing a book art form is often that kind of transformative exploration."
The process of binding a book allows creatives full control of its look and purpose, whereas something mass manufactured might not portray an intentional message. Gartin is currently working on The Story of Our Disappearing, a collection that focuses on 27 monuments whose landscapes are disappearing or are being encroached upon, such as Bears Ears National Monument in Utah. 
"I am very interested in bringing subjects to people that leave the viewer with something to contemplate, and The Story of Our Disappearing books leave the viewer with the faded memory of the public places we once protected," Gartin says.
Bookbinding, too, might be considered a disappearing art. It's not as widespread as it once was, in part due to industrial-scale, mass production of goods.
You have free articles remaining.
"Book making and binding are one of the many rising cottage industries to have a renaissance in the last two decades. People want to do more with their hands than play games or send texts or emails. It is essentially human to make. To work with your hands and make something of need and substance is to make things from your heart."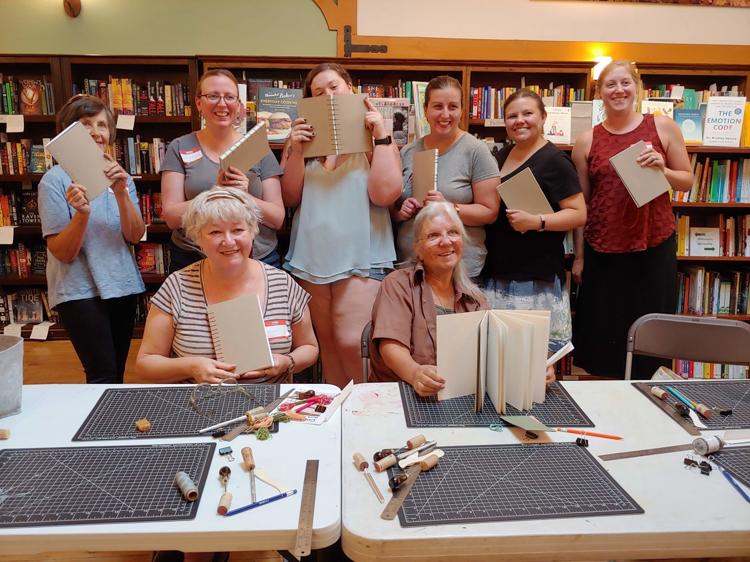 It's easy to begin bookmaking, Gartin says. She uses a coptic stitch to bind journals together. The technique, developed in the 2nd century AD, attaches the back and front cover of a book by way of threads pulled through the folds of the pages. Those interested in taking up bookbinding can find learning materials everywhere—on YouTube, in books from the local library and workshops held in the community.
Bookbinding is also considered a conscious effort to save the environment. If you're worried about the environmental impacts that some crafts have, bookbinding can be done in a way that's environmentally friendly.
"Artists are great scroungers as well as great at finding simple, planet-friendly solutions to their practice," says Gartin. 
Sam Butler, who attended a workshop taught by Gartin, now makes her own paper from the scraps she creates with her book binding projects. She also buys misfit leather scraps from furniture making stores.
"As I was learning how to make journals, you need to also be aware of the material you're using, like glue. Using archival glue is better than some other glues because it won't disrupt the storage of books or dye your hands," Butler says.
Butler says anyone can learn to create without years of schooling on the subject. Like many crafts, you can learn to bind books on your own; it just takes a little practice.
"A takumi, or Japanese master, takes 60,000 hours to hone their craft to the master level. I still am learning and seek out professional development and take letterpress and bookmaking workshops all over the country. Learning is essential to honing every skill," Gartin says.
Margarita Cruz is a MFA candidate for Creative Writing at Northern Arizona University. She serves on the Northern Arizona Book Festival board and as editor-in-chief for Thin Air Magazine. Her work has been featured in The Tunnels and Susquehanna Review.