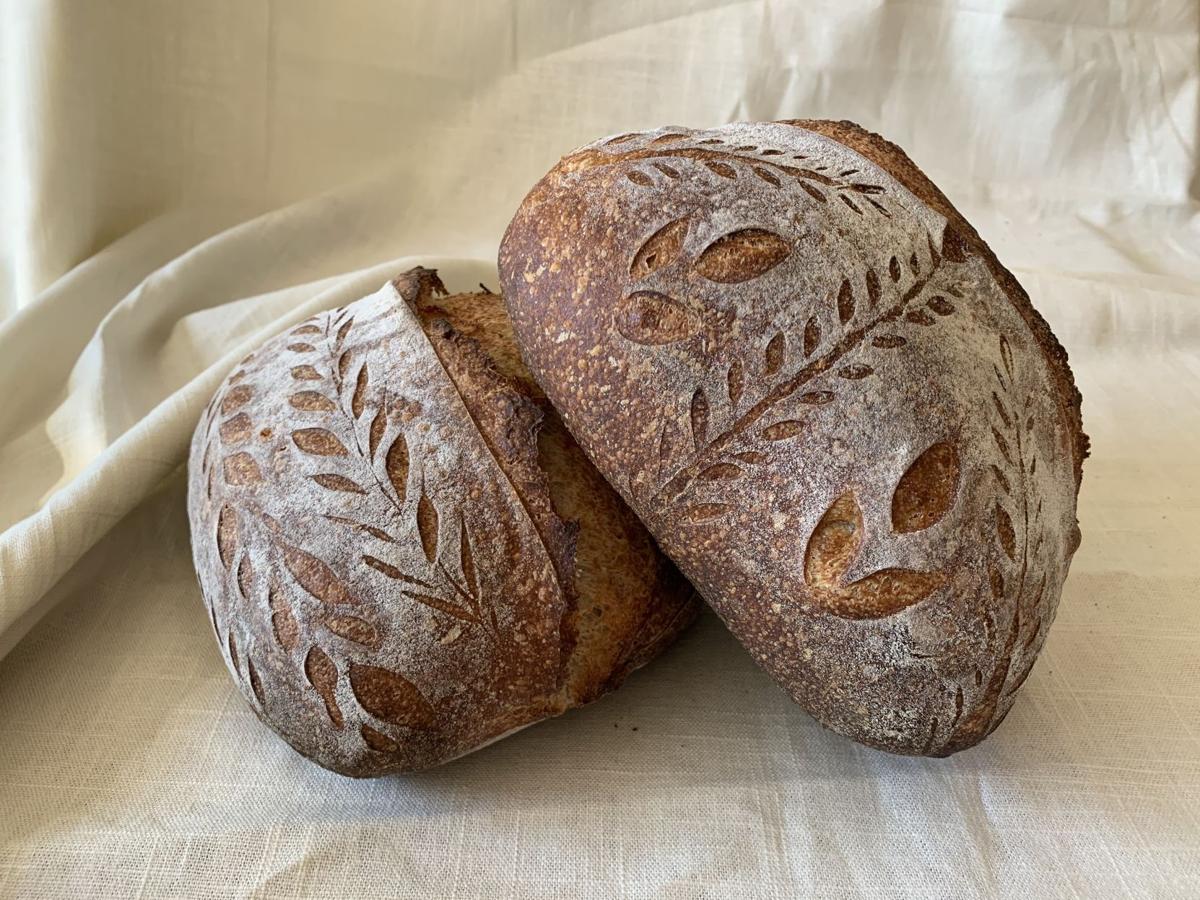 To quote Shakespeare, "They say the owl is a baker's daughter." In the Bard's Hamlet, Ophelia goes mad and begins spewing nonsense. In this particular line, she likens herself the baker's daughter who refused someone a piece of bread. Inspired by Ophelia and the dark that comes with being mad, local chefs/bakers Alicia and Max Motter named their bake shop after her. Ofélia Bakeshop, a quiet brainchild of the Motters, opened in 2019. Despite the namesake, they would probably never refuse you a piece of bread.
"I was a teenager and [baking] just clicked one day," Alicia says. "I started doing it and it just stuck. I was interested in the science behind it and how it works."
She recalls selling homemade chocolate bars from her locker in high school and remembers the joy that it brought others. She continues to bake for others to help spread joy.
"When we first started doing it, it was really fun. I love building relationships with the community. I was happy to see that people were interested and wanted to host us or purchase from us. A lot of people inspired and pushed me in this way," Alicia says. "But this year has pushed me back into research mode. I've really been focusing on the science and history of food."
Throughout 2019, the couple has found success hosting popups at local businesses and they have even sold their sweet treats in places like Proper Meats + Provisions and Stronghold Coffee. This past November, they came back to sell holiday pies through Stronghold.
Popups are currently on hold for Ofélia Bakeshop. Like many who baked bread during the hard lockdowns and quarantine, Alicia is allowing this time to be a period of growth.
"I miss popups, but it seems difficult to do them right now so I'm sitting this year out," she says. "I'm trying to hone in on my science. Once you build that up, you can play with flavors and go crazy. I'm trying to get back to the basics. My bread has been getting better since I've had more time to focus on it. It's one of those things you have to make a lot and become friends with."
Alicia's decorative breads and sweets are reminiscent of Ophelia's choices in flowers, looking for beauty in a dark world. The baker describes her inspiration as coming from the things around her, from a backyard garden to the edible plants growing in and around Flagstaff. And as she gets to the base of what brought her to baking in the first place, she's creating more and more food that brings joy.
"I try to make comfort food. I just want people to be happy when they're eating," she says. "People find so much comfort in food and nostalgia. I like creating new things but I think it's special going back to what you grew up with and what your mom made and so I ask, What are you going to eat that's going to trigger those feelings? That's what I make at home and for others."
There isn't a set standard for what bakers make. Whether it's sweet and small or large and intricate, baking is where the heart is. It can become a great outlet.
"I bake whatever mood I'm in. I love early morning hours. I get most of my work done in the morning. I love that first light. I really love the seasons and am a very seasonal baker—from the elements to what's in season," Alicia says.
She continues to take on requests during this time to bring others joy. While she's not doing popups, this year has still been a year for pies and cakes and soon biscochitos. She is still celebrating the sweet.
For bakers and food makers at the beginning of their journeys, Alicia recommends  learning the basics first. Once simple recipes and techniques are mastered, anything is possible.
"It is very much a science, but once you figure that out you can begin creating," Alicia says. "You can do anything with food and it's beautiful and makes people happy. I jumped into it and stuck with it, it's just evolving too. I've never stopped learning. It's a part of me at this point."
Margarita Cruz holds an MFA in Creative Writing from Northern Arizona University. She serves on the Northern Arizona Book Festival board and as editor-in-chief for Thin Air Magazine. Her work has been featured in The Tunnels and Susquehanna Review, among others.