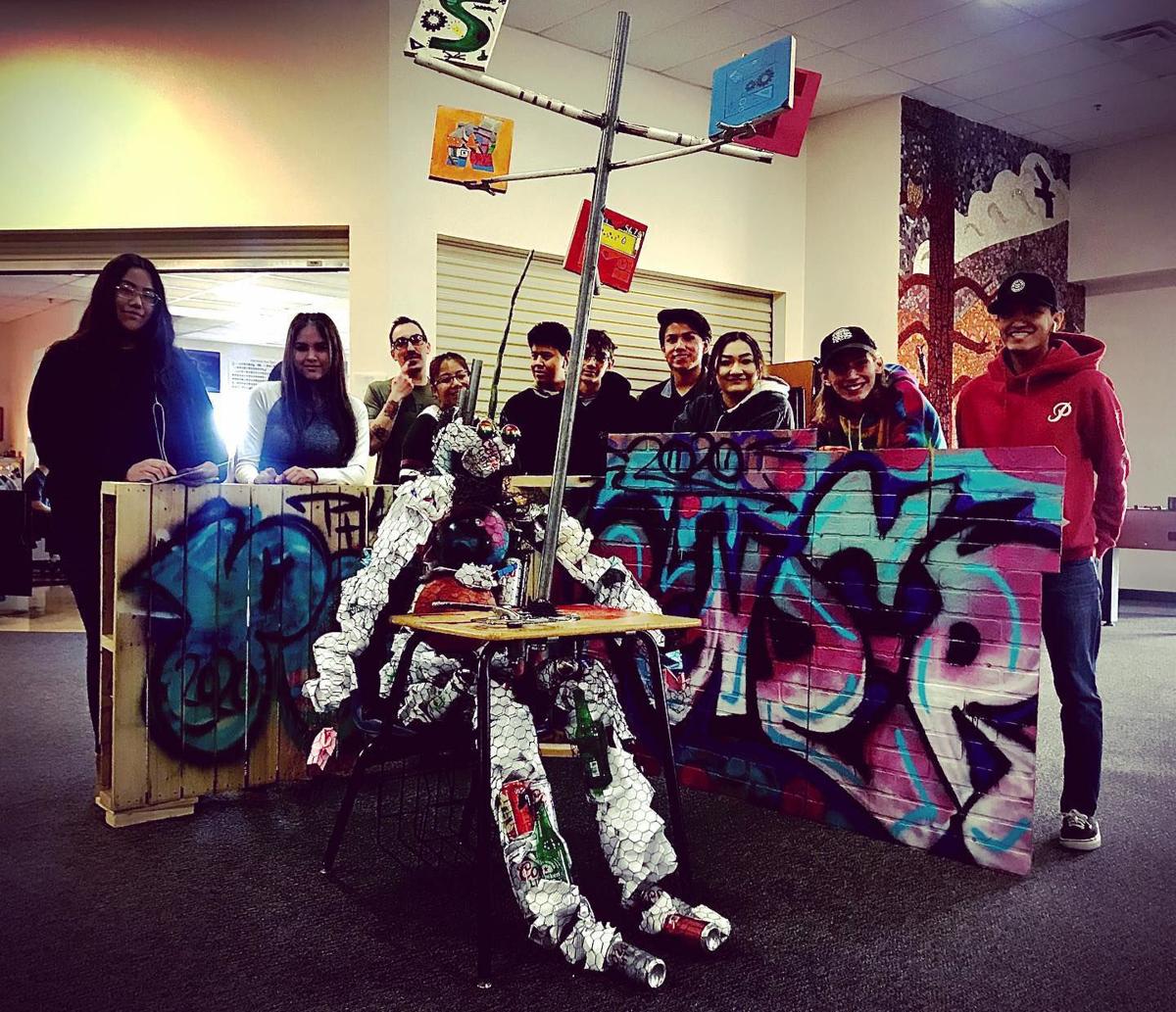 We are all born with the urge to create. At a young age, many of us utilized crayons and dry pasta to create masterpieces only family members could love. We often set art aside as we grow up, however, and are told to pursue other, more lucrative, fields in our lives.
But it doesn't take years of experience and professional training to make art if one happens to return down that path later in life. This inherent—and seemingly ubiquitous—joy of creating has been celebrated for the past 18 years in the Artists' Coalition of Flagstaff's annual Recycled Art Exhibition.
"You don't have to be an artist to be in the recycled art show, you just need an idea," Mike Frankel, executive director of the coalition, says. "I always say that."
With more than 60 contributed works made from at least 80 percent recycled material on display, the exhibit consistently shines a light on the importance of reusing what we can, when we can. Upcycling art has a positive impact on the environment and can be as simple as making a 3D collage from old magazine pages, buttons and scraps of fabric to refurbishing old furniture.
"We've seen a broad spectrum of artists contribute over the years, with the youngest artist being 5 and the oldest being 87," Frankel says.
When first-year art teacher Jonathan Peterson arrived at Ponderosa High School this past January, he was already considering ways to get his students involved in the community.
"I had a piece of mail in my mailbox asking if we'd like to be involved in the art show, and I didn't think too much of it, but I brought it in and on the first day asked the students if they'd be interested. They said, 'Hell yeah,' so I went for it," Peterson says.
You have free articles remaining.
He gathered materials found on the side of the road, wooden pallets and old bike parts, seeing potential in that which had been discarded.
"I encouraged a lot of students to find trash and bring it in to use it, but it also got much more meta in a way because they wanted to talk about the trash that fills their life," he says.
Students brought in empty beer cans donated by teachers and members of the community, and their own old vape cartridges, putting them together in a sculptural mass—a commentary on the rise of nicotine addiction among younger demographics.
"A lot of old reports and bad grades got rolled up and shoved in there which was really cool. We also filled it with origami and at the very end we had this beautiful cactus which was given to us by Terra BIRDS, which is the company that shares the building with us," Peterson says. "It shows that even through all the hardships [represented in the sculpture], something can still grow out of it."
Art provides a more palatable platform through which to explore issues such as disadvantaged youth, or even the life of Anne Frank as in last year's Recycled Art Show winner for Most Creative, an interactive puzzle titled "I Wonder" by Sue Wright.
The art students of Ponderosa High School worked hard to complete their sculpture and submit it to the show. Their contribution, which they titled "Ponder," takes objects that are not noteworthy on their own, but were able to transform into a work representative of the students themselves. Chicken wire shaped into the form of a student hunches over a desk covered in graffiti, pallets and a faux brick wall in the background similarly decorated. It won Best of Show in the student category and Best Use of Materials.
"It's interesting being an artist myself," Peterson says. "I had always felt pride for my own work, winning whatever awards, but it's totally different when you're teaching and your students work so hard on something. Seeing their effort pay off was incredible. I've never felt anything quite like it, there's so much pride. It feels really good, especially being a new teacher, to already have a big trophy under our belt."
The Artists' Coalition of Flagstaff will be moving the Recycled Art Exhibition online for viewing. Votes can still be cast for the People's Choice Award, which will be announced April 1. http://www.flagstaff-arts.org/
Be the first to know
Get local news delivered to your inbox!