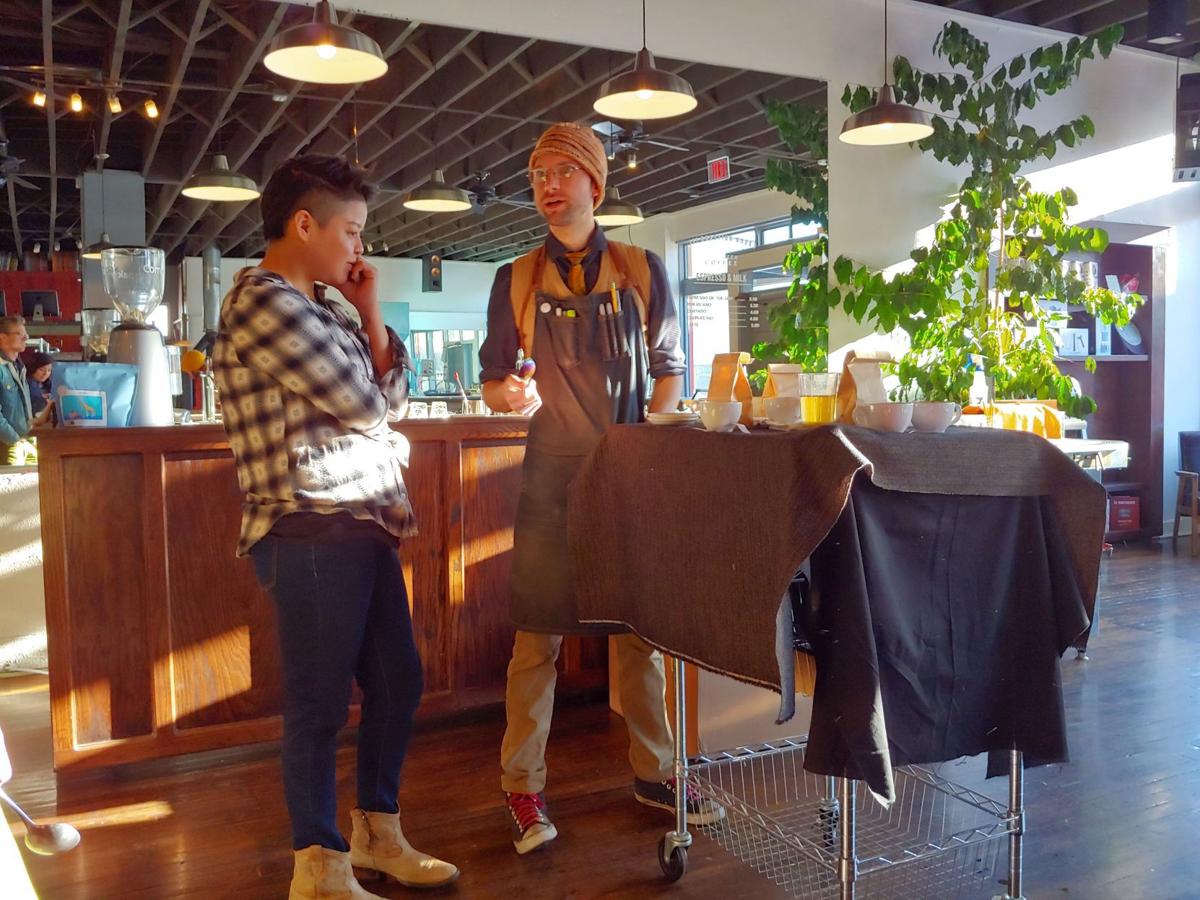 About a decade ago, Matthew Dupont had an almost religious conversion to coffee. While sitting down with a roaster from Jerome who served him one of his first pour overs of organic Ethiopian coffee, he tasted notes of strawberry and chocolate and decided this would be the cup of coffee he would spend his life chasing. 
"I want people to experience what I experienced when I had that really great first cup of coffee over 10 years ago after having worked in a coffee shop that didn't appreciate the nuances that coffee could have," Dupont says.  
There's a ton of science behind the cup of coffee sitting between your hands—the little beans you love so much have been through long processes to get it where it needs to be, and Dupont is one of those people who brings it to you. Dupont has been roasting coffee for nearly 10 years with Firecreek Coffee Company and designs trading programs for coffee professionals.
It starts with a coffee bush, usually 19 to 20 degrees north or south of the equator. Once picked, the raw, green coffee beans then go on a journey to a shipping port, generally in California where coffee roasteries make plans to transport those beans to their own roastery. At 111 Roasting Works, you can often see deliveries of these beans being made or see them through the large glass windows stacked near the roasting machine, the San Franciscan. Dupont can also be found here, as head roaster, turning these green beans into the Firecreek coffee you might find in your hands. 
 "[Roasting Works] acts as both a roastery and a kind of playground for coffee experiments and training to get the best coffee possible," Dupont says. 
Dupont holds coffee cuppings at the roastery for both fanatics and the uninitiated, explaining that the process the beans go through here, their origins and the methods in which they preserve is an art. It's a chance for people to see the measurements and tests that coffee goes through to become an enjoyable product. 
"It's a combination of art and science. When you look at music, poetry, art and other arts, it's the same. You need to learn the rules before you can break them, then you can get artistic with what you're doing," he says. "We start with the lexicon and the industry standards. From there you can branch out and begin to experiment. That's the only way the industry grows. It's venturing out, it's the journey that is the art.
"All coffee has its own magic point," Dupont continues. "We develop coffee profiles for every one [batch of roasted beans]. We map it on a graph and each one has to look specific. You have to understand your machine really well to get that graph to do what you want it to do. Coffee all reacts very differently, so you really need to be careful with how you play with your atmosphere."
The coffee lexicon is developed by roasters around the world and available through World Coffee Research, an online source that helps create higher quality coffee and works to create sustainable and dignified livelihoods for coffee farmers. Here, the lexicon works to achieve a collaborative tool box that roasters and sellers can reference when purchasing and cupping coffee. Think of a color wheel and the ways in which you can create different colors from matching them with different bases. It's like that but with origins and flavors. 
"I like to preach respect for the process, which is a lot of what third wave [the third generation of craft coffee roasters], is all about. It's this idea that coffee comes from some place, it has a long journey." 
To take away the experience of being able to taste the nuances and the hidden flavors found inside of coffee feels almost sacrilege to those who have found themselves, like Dupont, in the "religion of coffee." He says those "snobby barista" stereotypes simply want to share with you the magic they feel before all of the sugar and milk are added. 
"What I'm always striving for is that connection between where this [coffee] comes from and how beautiful it is, and I'm just hoping you will try this [coffee] before you cover it up." 
Roasting coffee is an art that involves believing. It's looking at a small bean, a real kernel of possibility, and finding the potential it has through learning the processes in which to bring out its beauty.
Margarita Cruz is a MFA candidate for Creative Writing at Northern Arizona University. She serves on the Northern Arizona Book Festival board and as editor-in-chief for Thin Air Magazine. Her work has been featured in The Tunnels and Susquehanna Review. 
Be the first to know
Get local news delivered to your inbox!