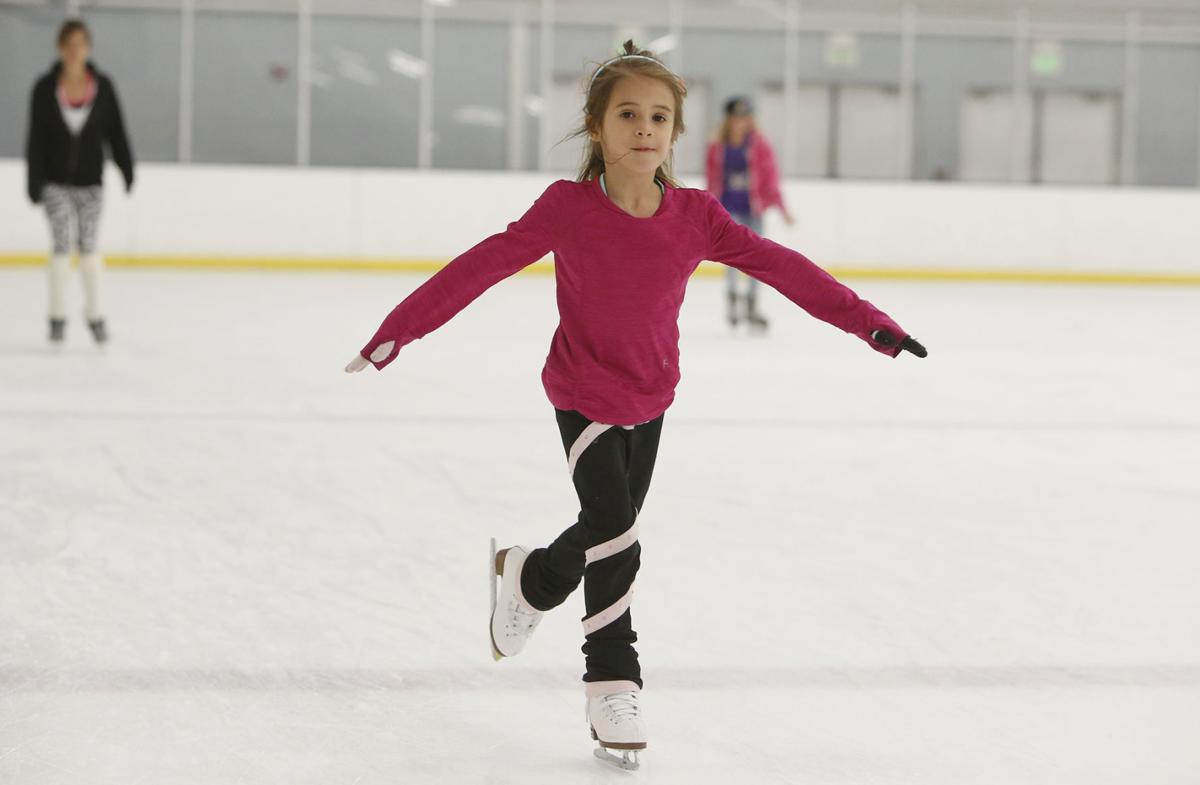 Near the Flagstaff Visitor Center, a small skating rink reminds me of the first time I discovered figure skating. Skate at the Station takes place every December next to the train station downtown. If you've missed it, you'll find that the Jay Lively Activity Center holds public skating, figure skating club and other activities. I grew up in Phoenix without ever thinking about ice on the ground.
Flagstaff opened my eyes to a sport that I'd only ever seen in movies. People here care about the environment, which allows them opportunities to play and live in the cold. They make art out of it, and I want to find myself inside of it, too.
I met Flagstaff local Courtney Cashman through her best friend while wishing out loud that I could learn to stand on ice. Cashman has been figure skating since she was 7 years old and began coaching the sport at 16, though she mostly finds herself on the ice for both competition and fun. A background in skiing made it easier for Cashman to find her footing in the precise sport.
Not all people who learn to figure skate compete, but those who do often dedicate much of their lives to the art. At the height of her skating career, Cashman was skating five, sometimes more, days a week for at least two hours, she says.
"Figure skating requires dedication and mental strength for those wanting to pursue it seriously. For those who do not, it is a great way to exercise and build muscle, regardless of level. Skating is a great thing to do on your own or with others," Cashman says.
As an art, figure skating requires practice, and practice makes perfect. The entirety of your body is thrown into dancing while balancing simultaneously on ice. Unlike other ice sports, the goal with figure skating is to memorize routines using moves like flips, axels and Lutz jumps. Your body becomes a source of the art. When competition is thrown in, it elevates the drive to become better.
You have free articles remaining.
"Competing provides a pressure, a drive and a goal. Something that helped me was not watching my competitors skate, that way I was really competing against myself and doing the best I could," Cashman says. "Skating for fun is liberating and enlightening. I believe you should be able to experience both aspects, that way you are able to appreciate both. As my days of competition drew short, I was still skating for fun, but mostly focused on coaching. Both competing and skating for fun have their advantages."
In a competition, figure skaters combine passion and technique. The outfits, shiny and beautiful, help express how well the performance comes across. It costs points if outfits are too distracting or not nice enough. Music is played, the rink is cleared of other skaters and the figure skater, sometimes within a pair, is given the floor to shine.
"I was more enthusiastic about the routines that had music I connected with. Although figure skating is extremely technical, the entire performance is enhanced when a routine is performed like you are telling a story. As I grew older, I was able to create more of these stories, but I was always nervous," Cashman says.
Figure skating is the oldest winter game according to the Olympics' official website. First contested in 1908, it has since become an intensely popular sport. However, it wasn't always a sport. Without competition, figure skating is still fun. It derives from ice dancing, an occurrence first recorded in 1862 London. The Vienna Skate Club decided to mimic the waltz and helped create what figure skating is today.
Even if not skating competitively, Cashman as a coach recommends that one recognizes how their body moves on the ice in order to improve their form.
"It's important to keep your head and eyes up otherwise you are more likely to fall," she says. "Having your arms up will also increase your stability. Finally, speed doesn't come from how fast you move your feet—bend your knees to generate momentum."
The oldest winter sport combines artistic elements of dance and technique, except on ice. If you haven't had a chance to skate at Skate at the Station near the train station, stop by the plastic skate rink and give it a go.
Margarita Cruz is a MFA candidate for Creative Writing at Northern Arizona University. She serves on the Northern Arizona Book Festival board and as editor-in-chief for Thin Air Magazine. Her work has been featured in The Tunnels and Susquehanna Review.