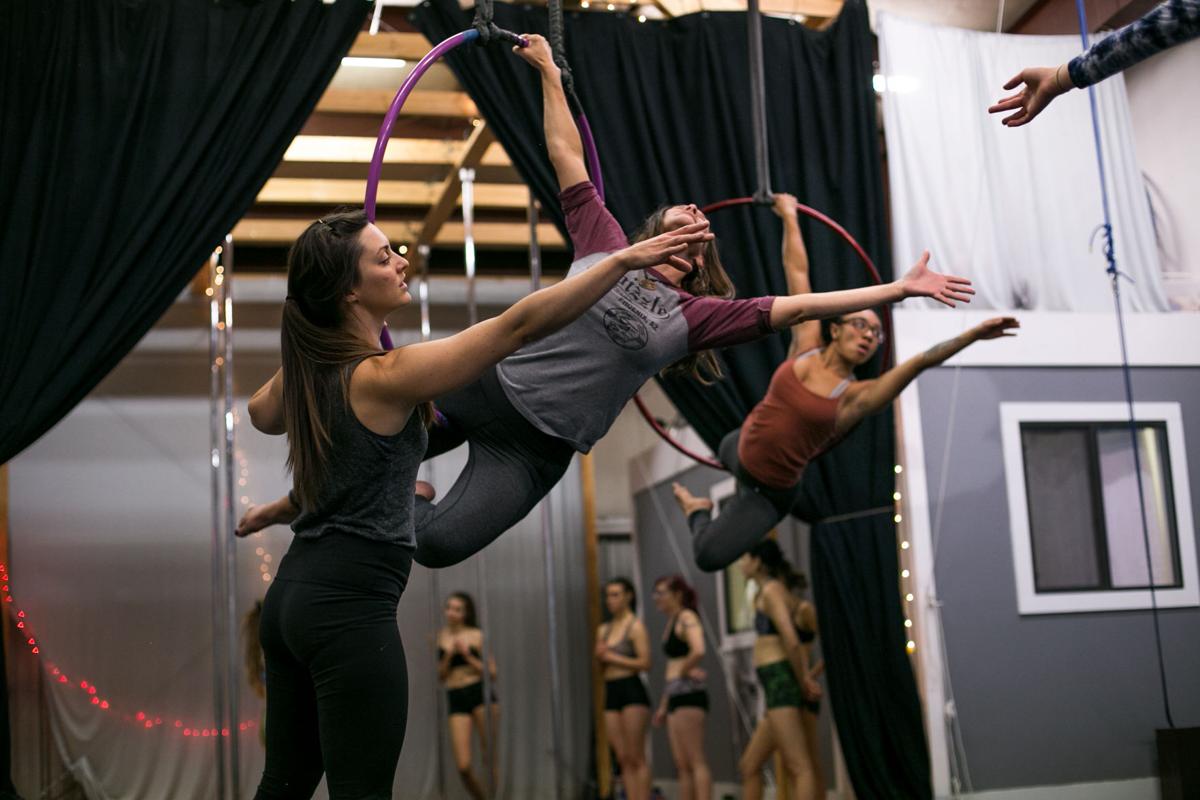 Is it a plane? Is it a bird? Look to the skies, it's aerial arts!
With a combined love of dance and rock climbing, Joanie Garcia found herself falling in love with aerial dance. Garcia is one of the co-owners of Momentum Aerial, a local women-owned aerial arts studio.
"In college I participated in a dance club. One of the productions had harness dance work. I fell in love with the ability to take dance and add the weightlessness component of being able to bound away from the walls and fly. It was incredible," Garcia says.
Aerial arts focuses on using different apparatuses that hang from a rig point—such as trapeze, lyra, silks, ropes, slings and so much more. There are many different inspirations for movements, including dance, yoga and circus arts.
 "Aerial dance in the US is built on a long tradition of things that have come together," Garcia says.
She explains that much of what we see in aerial art today has developed over time throughout different countries including Egypt where ancient juggling equipment has been found. It is one of the many skills that people like Garcia continue to practice and teach today.
"As an educator, I develop a lot of routines that are meant to reinforce skills through repetition and choreography and elements such as musicality and creativity. I usually use a curriculum to develop the feeling and mood based on what inspires me," Garcia says. "I search for music that inspires me and that helps me create choreography. I turn on music and dance and see what comes out of my body. The way that writers use a stream of consciousness writing style, it's very similar to how a choreographer could approach the creation of a routine."
And sometimes, it's everything coming together at once—music, ideas, opinions, the world. The movement of our thoughts can also become the movements of our bodies.
"Oftentimes, what's going on in the world either inspires me or is a call to action for me to use my art as a platform to share my feelings or ask questions of the audience." Garcia says. "I enjoy the exchange that happens between audience and performer."
Dark Sky Aerial, a performance group established by Garcia and other members of Momentum in 2015, focuses intimately on that interplay. During Dark Sky Aerial's first production, titled Opia, Garcia and the creative directors used the idea of vulnerability as the show's framework. They pulled from prompts from their personal experiences. The group wanted to create a variety of different human perspectives. Garcia focused on interdependence: how one artist could not move without another.
 "A lot of the apparatuses I used were on pulleys where one dancer was physically tethered to another dancer. The pulleys were then pulled up and down by other people," she says. "Aerial arts creates narrative through imagery. We can pull upon all of these individual experiences and tie them together in a way that can be really powerful."
At the beginning of the pandemic, the studio was often empty. Artists were now at home practicing and performing without an audience nearby. Many have shared their work with the world through social media, Museum of Contemporary Art Flagstaff bike riding art events and through the Flagstaff Foundry.
"Artists are always on the front lines for social change and political upheaval. I believe we have a responsibility as artists to share our opinions and ask questions. We're often cultural first responders. I know that no matter what there is always a place and a need for artists. I recognize the power artists have in their role as movers of narratives," Garcia says.
For those wanting to take to the skies, Garcia says that aerial arts can seem intimidating but are worth it. The practice is for all body sizes and strengths as it is incredibly adaptable. Challenge yourself to take on new means of expression, to move your body in ways you never thought possible.
For anyone unable to go in and practice the art, Garcia advises them to get upside down.
"Stay physical, continue thinking creative thoughts and do what inspires you. I dance almost all over my living room every day. The more we can stay in our creative spaces, even if that's in our mind, the more we can bounce back. Breaks are important and difficult, but sometimes it's needed," she says. "Our creative processes need to breathe."
The Momentum Aerial studio is open again for the fall class session this week with a limited number of spots for those who want to try an introductory class.
Margarita Cruz holds an MFA in Creative Writing from Northern Arizona University. She serves on the Northern Arizona Book Festival board and as editor-in-chief for Thin Air Magazine. Her work has been featured in The Tunnels and Susquehanna Review, among others.
Be the first to know
Get local news delivered to your inbox!