"Every story ends on a dark and raging river."
So opens the script to Anne Washburn's unconventional play, Mr. Burns, A Post-Electric Play. Beginning a few months after an apocalypse in which the electrical grid has gone down and nuclear power plant radiation is destroying the world and killing millions of people, Washburn's world is indeed dark and raging. In a desperate search for meaning, hope or even just a moment of solace from the destruction that has consumed this post-apocalyptic world, a group of survivors turn to their memories of pop culture. 
Under direction from Kathleen M. McGeever, NAU Theatre is bringing Washburn's 2014 Drama League Award-nominated play to the Clifford E. White Theater for two weekends. Performances are at 7:30 p.m. April 19, 20, 25, 26 and 27, and at 2 p.m. April 21 and 28. Tickets are $14 for adults, $12 for seniors and NAU employees, and $8 for youth and NAU students.
Washburn's play is separated into three acts, each centered on an episode of The Simpsons which spoofs the 1991 film Cape Fear, which is a remake of the 1962 film of the same name, which is based on the 1957 novel The Executioners. Just in its premise, Mr. Burns presents a layered, meta tale that looks at how stories manifest over time.
In act one, survivors of the apocalypse work together to recollect their memories from the famous episode featuring Sideshow Bob as he tries, yet again, to murder Bart Simpson. It's reminiscent of telling stories around a campfire, but McGeever says there's something deeper about this moment that guides us into the emotional weight of this new world.
"Metaphorically, that dark and raging river is a dangerous time, this post-electric devastating time for this play. It's a devastating beginning for the story but it brings people in, and that story is the light," she says. "One of the ways [the survivors] try to cope is to try to keep their memory alive and to tell story. So this play is really about the need for humanity to have a story. The story they think of is The Simpsons."
In act two, which takes place seven years after act one, the survivors have formed a theater troupe and have begun acting out a production based on their recollections from The Simpsons with musical numbers and even commercials to help them remember what certain foods tasted like, what certain experiences felt like. And in this act, the play turns its focus to something McGeever says is a great debate in theater and among storytellers.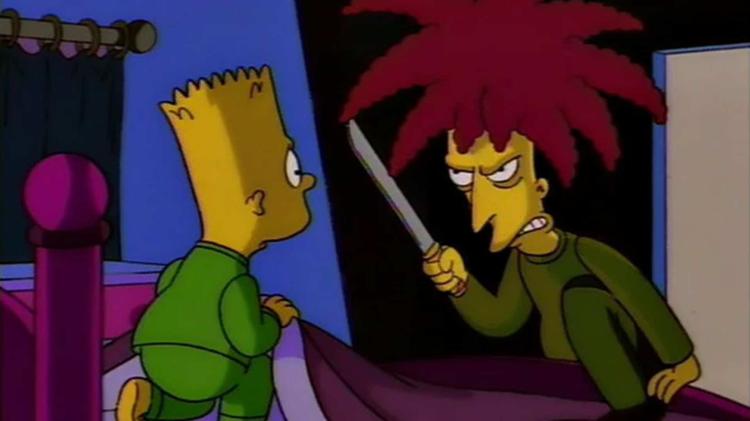 You have free articles remaining.
Register for more free articles
Stay logged in to skip the surveys
"Are we entertaining or do we have to teach? Do we have to create meaning? But the playwright doesn't answer that, which is lovely, and so we've left it unanswered as she did," she says.
By act three, 75 years later, that same episode of The Simpsons has shifted into something entirely different. No longer is it simply a silly spoof. Now it is something that finds metaphor and meaning in this new landscape. The characters have morphed into representations of good and evil. Sideshow Bob is now Mr. Burns, the eccentric evil billionaire and nuclear power plant owner, and the once-simple tale of Bart escaping somewhat of a clumsy foe whose worst enemies are rakes becomes a tale of humanity facing its biggest fear. While act one is straight drama, act three presents musical theater, depicting this story in a fashion that finds itself more like a Greek tragedy.
"It's a completely different style of play that I've never seen before, and I think it conveys a really important message about how something like this could happen any day, and that's kind of scary," says Kelsey Brown who plays Edna Krabappel in act three. "But that thing that's going to survive is theater and storytelling, and that's the message I get from it."
"I think that story and oral tradition are things that go back to the beginning of time. Those are the things that we value at heart," adds Kristi McCollough-Garcia (Quincy, Bart Simpson). "New events happen all the time, but it's the way that things are passed down, not just the context of, this is the story, or this is the episode, but how that makes you feel. There's something about The Simpsons that makes this group of people laugh and find an escape and find hope in this world that seems hopeless."
Adding to the post-electric feel is the production's focus on sound design. Theater major Adam Visconti and his crew, rather than using canned effects that are pumped through a speaker, are providing live Foley work with objects like wind machines, ratchets, water buckets and more.
"To keep the authenticity of the show 90 percent of all the sounds you hear from that point forward are happening live backstage with found objects," he says, adding that the performance begins with popular music, but when the grid goes down in the play so too does it in the theater. "We really wanted to take our audience on this journey with these characters."
With layers of pop culture references and meta aspects of actors pretending to be actors who are portraying cartoon characters who are spoofing a movie, Mr. Burns presents a complex tale of the human desire to tell stories and to create. It looks at the stories we tell, how they shape us and how, from them, we find meaning.
Catch performances of Mr. Burns, A Post-Electric Play at the Clifford E. White Theater in NAU's Performing and Fine Arts Building, 1115 S. Knoles Dr. Performances start at 7:30 p.m. April 19, 20, 25, 26 and 27, and at 2 p.m. April 21 and 28. Tickets are $14 for adults, $12 for seniors and NAU employees, and $8 for youth and NAU students.