Jayne Lee's blue eyes gleam underneath the yellow stage lights of the Coconino Center for the Arts. The light from her laptop glows across her face, and her hair is wrapped up in a sort of delicate mess, a fractured universe unto its own.
She and Paul Moore of Human Nature Dance Theatre are working on their third collaboration with the Flagstaff Dark Skies Coalition's month-long Celebration of the Night. At the foundation of this year's performance, River of Stars, is a quote by Albert Einstein. When Lee finds the quote on her laptop, she smiles and begins to read.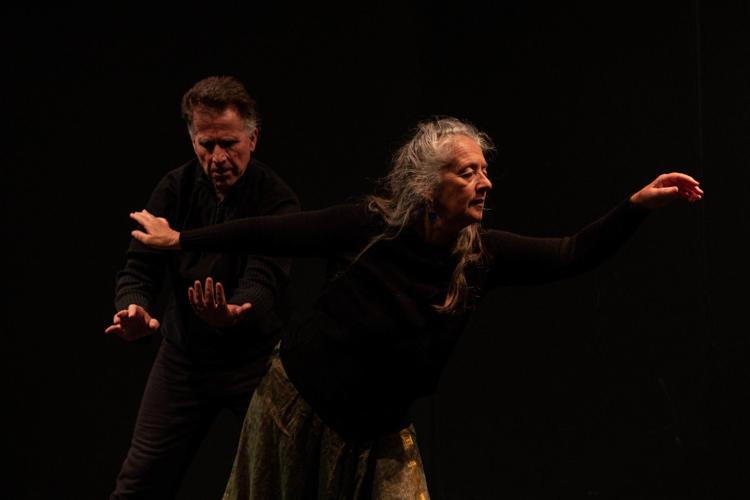 "We are slowed down sound and light waves," she says. "A walking bundle of frequencies tuned into the cosmos. We are souls dressed up in sacred biochemical garments, and our bodies are the instruments through which our souls play their music."
Lee says Einstein's words capture more than a beautiful sentiment about our place in the universe.
"I think it captures, for me, what we are trying to get across, that we are made up of the cosmos," she says. "In some ways, in the performance, we come from the nebula that you see spinning around. There we are. We look human, but are we human? Where are we? What are we doing? How did we get here? What does it mean to be human?"
"I also think of it in a literal sense," Moore adds. "As dancers and our art form, we use space and time and light and rhythm and energy. All those things are sort of the material that we use, and we're trying to make a connection between us and the larger universe."
While Lee and Moore will be the only two performers on stage during River of Stars, there's a small crew helping forge this experimental endeavor. Frederica Hall, an artist and musician whose artistic works are currently on display at CCA's NightVisions VII exhibit, is providing a score made up of melodies from actual recordings of the Earth and Saturn from space. During the performance, Hall will lend a vocal accompaniment while Lee and Moore move to her music. The performance also features animation and artwork by Rodrigo de Toledo, as well as help from Chis Luginbuhl and Eric Souders.
As much as the performance is an artistic exploration, River of Stars is guided by the words of Einstein and Carl Sagan, and real scientific understandings of the universe. From gravitational theory to the Fibonacci Sequence, science and art blend together, creating a comprehensive journey to the edge of deep space.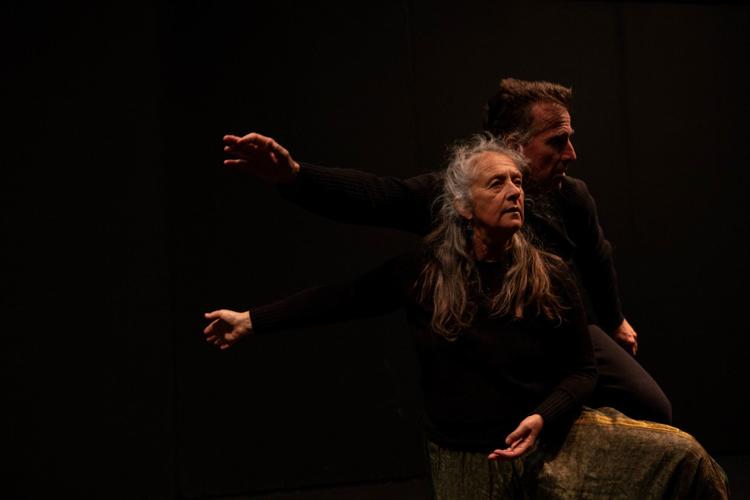 "It all informs this for me, in sort of thinking in that larger perspective and how we understand the universe," Lee says. "Our whole philosophy, if you can call it that, is: How do we as humans fit in with the natural world? Most of our themes are to do with that, how we affect it, how we relate with it."
Lee and Moore have been working together since founding Human Nature in 1994, and acting as the only two performers is easy because they already have an understanding of who they are as dancers and people. Like many Human Nature performances, River of Stars combines set choreography and improvisational, interpretive dancing. In those moments of pure interpretation, Moore says it's easy to get lost.
"In some ways, I think we've deliberately done that in order to have that sense that there is so much space out there," Lee says. "How do you convey that if you don't actually feel that in the moment? Sometimes it's not particularly comfortable. It's like being really lost."
"I try to think of it like the microcosm is connected to the macrocosm," Moore adds.  "And if you can keep that connection then you have something to work with. But if you get lost and you're just floating, you get overly self-conscious."
But even in that self-consciousness, there's something reflective about how we see ourselves in the universe. In addition to Einstein and Sagan, to prepare for the performance, Lee and Moore have been reading poetry by Mary Oliver and David Whyte who are both renowned for their observations on death, consciousness and awareness.
Through music and movement, Lee and Moore hope to portray humans not as something within the universe, but part of it, part of ever-expanding space.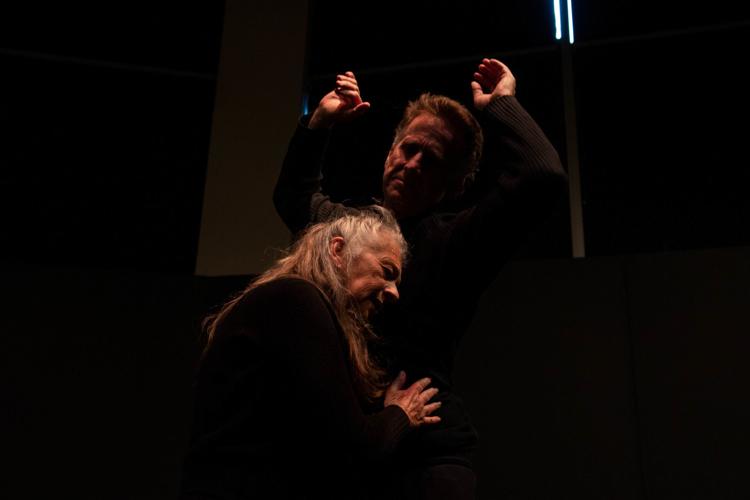 Human Nature Dance Theatre presents River of Stars at the Coconino Center for the Arts, 2300 N. Fort Valley Road, May 10. Tickets are $15-18. Doors at 7 p.m., show at 7:30 p.m. www.humannaturedance.org