Pickin' in the Pines is back following a two-year hiatus.
With musicians who journeyed to Flagstaff from every direction, the mainstage lineup was filled with Grammy-nominated musicians, local bands and solo artists starting Friday.
From artists like Missy Raines – whose "Royal Traveller" album was nominated for Best Bluegrass Album at the 2020 GRAMMY Awards – to two-time Telluride Bluegrass Contest finalists Stillhouse Junkies. Fireside Collective, a quintet from North Carolina, won the 2016 Band Contest at MerleFest and Ricky Skaggs has won 15 Grammys.
These are only a few examples of the experienced musicians who took the stage at Pickin' in the Pines this year.
Beyond the mainstage performances, Pickin' in the Pines' other priority was to immerse attendees in all aspects of the music. Under the campsite ramadas and workshop tent stage, mainstage performers taught group workshops for anyone who cared to join in. Some workshops focused on the teaching of specific instruments like banjos or fiddles, while broader sessions focused on songwriting lessons or served as jam sessions.
Pickin' in the Pines marketing director Lara Gomora said workshops are a chance for both amateur and experienced musicians alike attending the festivals to improve their own music and to collaborate with those playing in the festival.
"Our workshops are a big part of Pickin' in the Pines because our festival is based so much on music, learning music and jamming with others," Gomora said. "That's what bluegrass music is – having fun and playing with others on all different levels."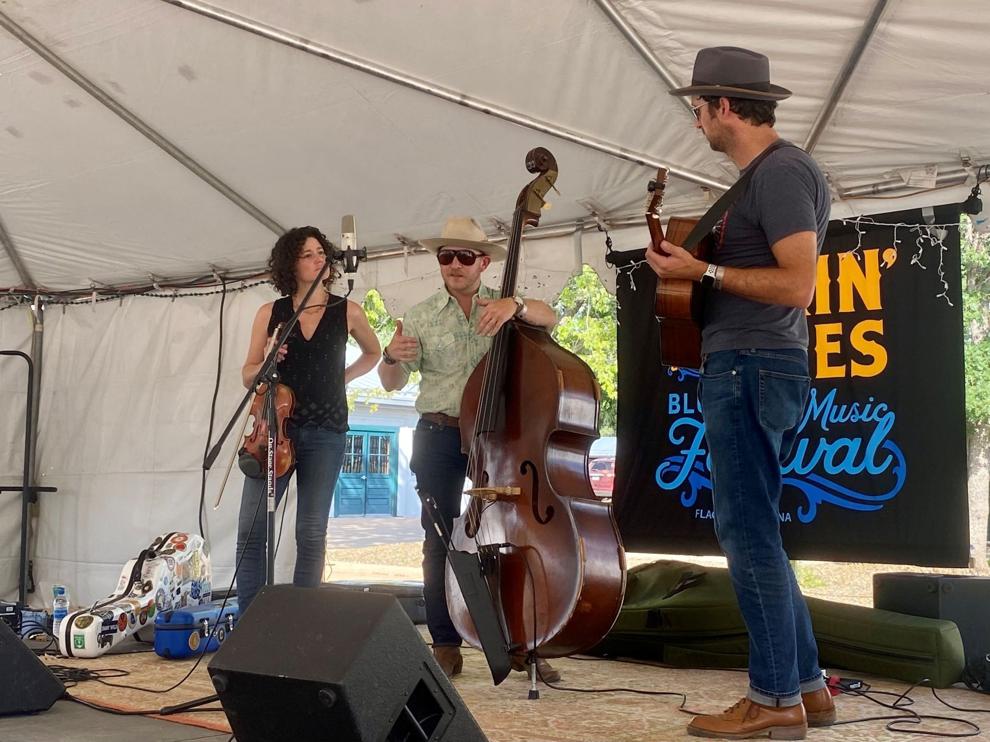 Along with the workshops was another fan favorite annual activity, the band contest. Gomora said some of the bands who have won the band contest in the past have gone on to win other contests and some have even returned to the Pickin' in the Pines festival years later to play on the main stage. The band contest gives up-and-coming bands a chance to show off their skills and play for an audience.
A bucket list-worthy festival
The annual three-day festival brought many musicians to Arizona for the first time. Artist Amanda Cook said her group had never been to the state of Arizona before and always wanted to play at the festival. Fred Kosak of Stillhouse Junkies said Pickin' in the Pines was also on their band bucket list.
"This festival has truly been a bucket list item for us as a band," Kosak said. "Many of our picking buddies and music-loving friends in Durango make the annual pilgrimage to the festival, and it has a reputation of being one of the best showcases of string band music in the country as well as a very well-run event with great opportunities for jamming, learning and listening to new bands. We are excited to be one of these new bands for a lot of festival-goers this year and can't wait to share our music with everyone."'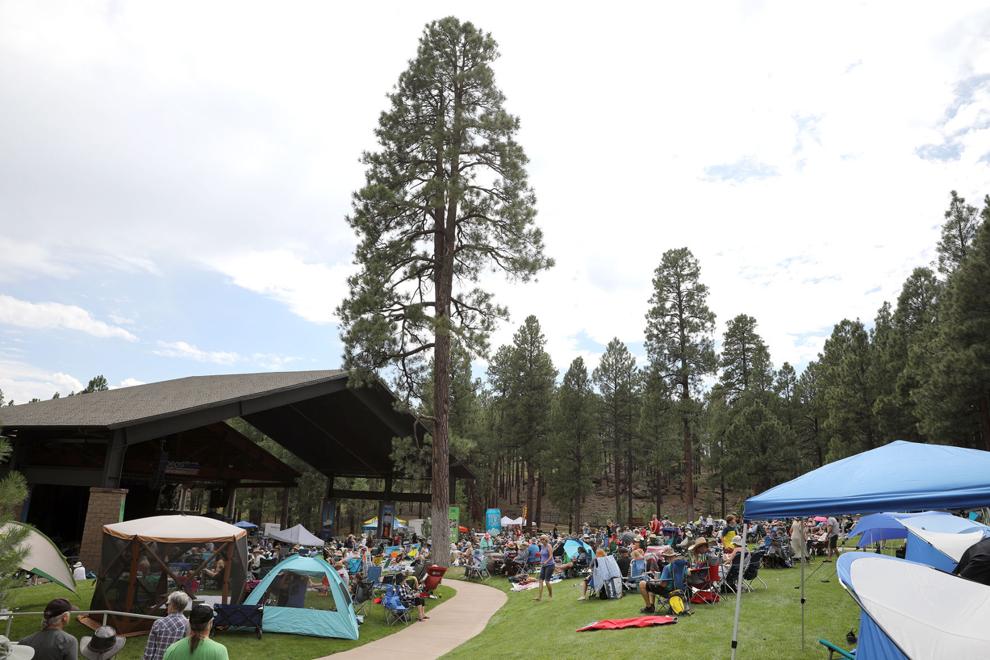 While some performers had never been to the state, it was like coming home for others, such as Nolan McKelvey & Muskellunge.
"Muskellunge performed at Pickin' in the Pines for the first five years of the festival, so this year feels like a homecoming of sorts," McKelvey said. "Our first recorded release was a live set from Pickin'. The festival has grown a lot since we were last there, and I am looking forward to playing again on the amphitheater stage with a festival audience."
Back to the stage again
After a forced hiatus due to the COVID-19 pandemic, many of the musicians were excited to return to the stage. Much like Pickin' in the Pines, which had to cancel its 2020 festival, other artists had also been in a performance drought. Fireside Collective mandolinist Jesse Iaquinto said coming back to live performances felt like a homecoming.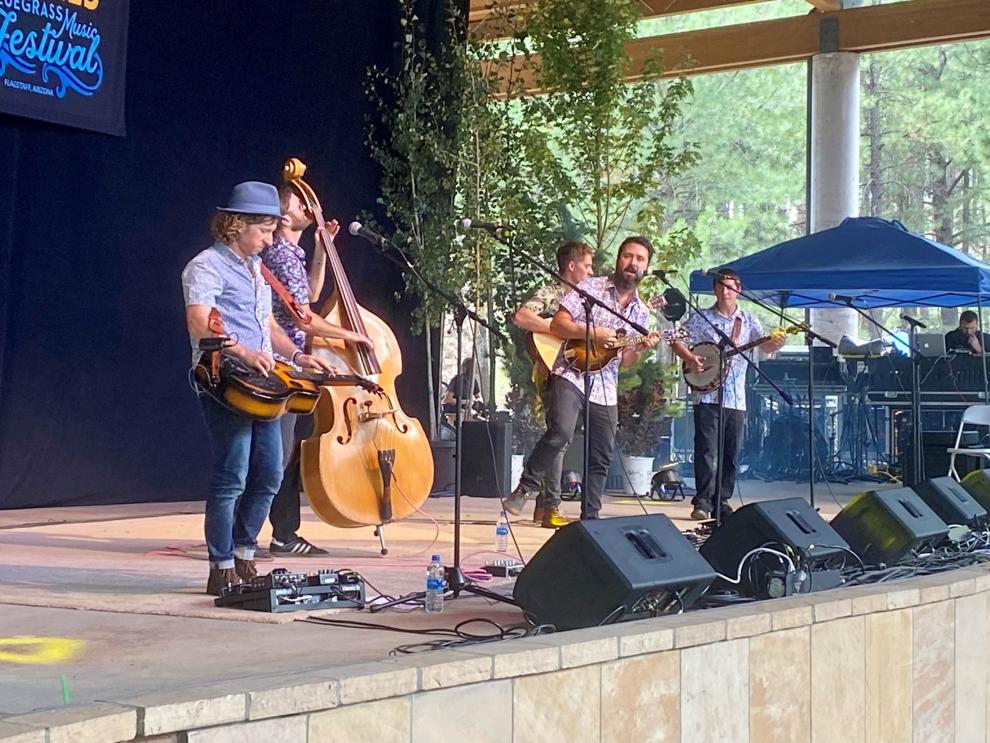 "We have this amazing ability to make people's days just a little bit better," Iaquinto said. "After taking that away for a year and a half we appreciate it more than ever before and have realized how sacred it is to be able to share our music with people. We've never been so grateful for the ability to do what we do."
Much like Fireside Collective, Missy Raines also noticed a big transition from not performing for the last 18 months to returning to live performances.
"The transition is both joyful and a little bit unnerving," Raines said. "Coming back out after not doing live shows for so long. You get scared and think, 'Oh gosh, do I remember how to do this?' And you do remember and it all comes back amazingly fast. But I also was joyful because it confirmed within me that this is truly what I love to do and want to do, playing music and performing. It confirmed within me that this is my calling and that this is what I want to do."
And attendees were clearly glad to be back too. Saturday was sold out and all the camping spots were claimed weeks before the festival. Tickets are still available for Sunday at https://pickininthepines.org/tickets/.