In cramped houses and all-ages venues, Ponies made their mark on Flagstaff in the early noughties. From 2002 to 2005, the five-piece punk outfit blazed through the independent music scene and even did a brief tour in California where they played to more underground audiences.
"We just really thought of us versus the world, at least in Flagstaff," says singer and bassist Bobby Carlson. He adds they wanted to avoid falling into the bar scene which didn't allow their younger fans to attend shows. "When we started playing shows we were not of age and we just found other places to play, and I think that was a kind of chip on our shoulder even as we got older."
Drummer Guy Ecklund, keyboard player and singer Hesper Petersen, guitarist Matt Dieckman and bassist Corey Dieckman found where they belonged in those crowded shows though, and performed with the same energy they might have if they were headlining a worldwide stadium tour.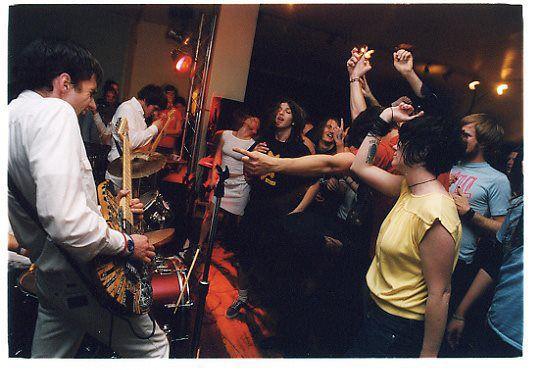 Their live-fast, play-loud music drew inspiration from other DIY bands and local groups like JETOMI (Jewel Encrusted Titans of Modern Industry) and Phil Buckman's solo project, I Hate You When You're Pregnant, as well as hip-hop and rap artists.
"I think that definitely influenced our attitude and some of our lyrics," Carlson says. "Not that we were trying to rap, just that there's a song about getting shot in the face. We didn't take ourselves very seriously."
"P is for Ponies" acts as an anthem for the band and the carefree atmosphere they created: "P! P is for party in your pants/ O! O is for oh, I wanna dance/ N! N is for in your face/ I! I love Ponies/ E! Endless party/ S! Start it all again!"
A 2005 Flag Live! article described their shows as "a veritable riot of spontaneity, dance mayhem, as well as a hot, sweaty catastrophe of hipster localism." In short, it was a guaranteed party, whether confined to your pants or spread all the way down to your socks as they struggled not to get rocked off.
Matching outfits created cohesiveness within the chaos, and the members would coordinate to wear all white, all black or in varying monochromatic schemes from each other, to say nothing of the opportunities Halloween shows offered.
"When we started, it was right after 9/11. You could get America stuff at any gas station and I wanted to go all out with American flag stuff, but I think I was the only one who was into that," Carlson says. "We definitely always planned our outfits at least to a certain extent."
Now 13 years since their last show, Ponies is reuniting for three performances. With only Ecklund and Petersen remaining in Flagstaff following the band's break up and the rest of the members spanning from Tucson to Portland, Oregon, it has taken time to plan and schedule rehearsals enough members could attend. Then there was also the challenge of reaching back into their memories to relearn those songs they had written so many years ago.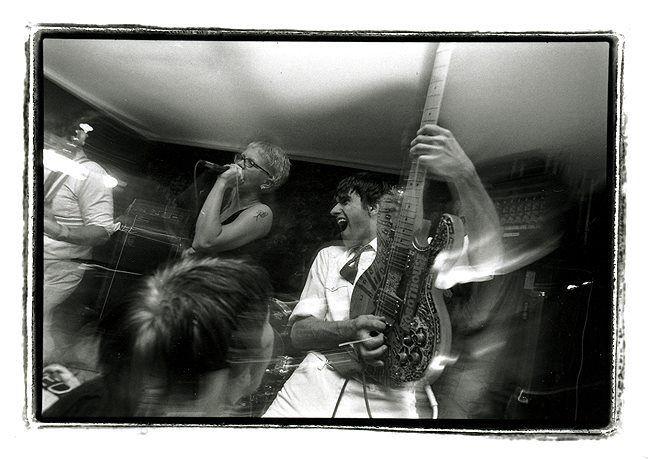 "Back then I didn't really know what notes I was playing and so learning the songs again and actually learning the notes I was playing was super fun," Carlson says. "Some of it was really easy but some if it was kind of a challenge. Matt and Corey definitely knew what they were doing and I wouldn't say I was a non-musician, but I didn't have training. I think that mix in a band is really good, a mix of abilities."
Although Carlson tried to start up a few bands post-Ponies, none stuck, and the rest of the members quit music to pursue other goals. But during rehearsals over the past year, he says it's all come back to them.
"A lot of the bands I've done since then have been different," Carlson says. "I don't think we realized how hard it is to put together a good band, young and dumb and all that."
He has recently joined Burger Records band The Exbats, which involves another Flagstaff musician from the late '90s-early '00s, Ken McClain, and his daughter Inez. They're planning a brief tour soon but as for Ponies' plans post-reunion, there are none. Each person has found another place where they belong, whether that's on the stage or in the classroom, and they're just happy to get back together to make more memories.
"We're just doing this for fun; that's really the only motivation," Carlson says. "Who knows what would have happened if Ponies didn't break up."
See Ponies live when they take the stage at the Monte Vista Lounge, 100 N. San Francisco St., on Sunday, Dec. 30. The free show starts at 9:30 p.m. with opening performances by Treasure Mammal, Sweaty Palm Trees—the newest project by Phil Buckman—and Vicious Chiller.