Where does one even begin to describe the music of Jerusafunk? Since 2010, the Phoenix-based nine-person eclectic ensemble has been blending traditional klezmer music and American funk with the likes of jazz, Afrobeat, samba, salsa, cumbia, bossa nova and just about anything else that piques their interest—all the while dressing in drag like it's the last Halloween we'll see for some time. All this makes for an explosion of wildly experimental, sexually tinged, world-inspired music that's as unabashedly groovy as it is technically driven.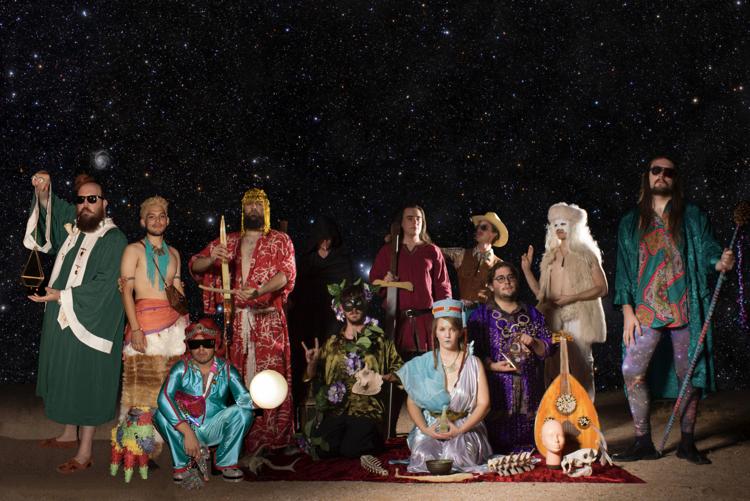 The band has been a champion of the Phoenix music scene since 2015 while also being critical of its motivations.
"Phoenix has a very strange identity," Clarinetist Jessie Demaree says. "Musically, we really only have a history of a punk and country music scene. Everything else is fair game. I just encourage bands that have a rock sound or an Imagine Dragons sound or even a Hiatus Kaiyote sound to just not do it. Just do something a little different, because Phoenix is finally getting on the map, and we should be paving our own ways and making more original sounds."
From early practices at the now defunct DIY music venue Parliament to sharing the stage with George Clinton & Parliament Funkadelic, Phoenix has helped establish the group as one of Arizona's must-see, must-hear acts, allowing them to realize their potential as a rather large outfit with a sound that defies classification.
But before calling the desert home, Demaree and guitarist Chris Del Favero lived in the La Plaza Vieja neighborhood of Flagstaff, studying ethnomusicology at Northern Arizona University. When a music teacher showed Demaree Giora Feidman's album The Singing Clarinet, klezmer music became the backbone of her musical interests.
"It's the epitome of human expression through clarinet, to me," she says. "I feel like jazz and even classical music, it's all been said over and over and over again. Even though a lot of my favorite jazz clarinetists are Jewish, too, just the way sadness and love and joy is expressed through klezmer music has more vibrancy to me. I just feel a much longer lineage through the songs and through the people that play it."
Early drafts of what would later become Jerusafunk could be heard on Leroux Street over by what's now Steep and Zombie's Smoke Shop—though in those days it was Animas Trading Co. and a CD shop, respectively.
"We wanted to write our own klezmer songs, but we really had to learn a lot of that style of music. So at least the first year, it was Jerusafunk studying a lot of klezmer standards," Del Favero says of J-Funk's busking days in Flag. "We were a lot more folky, stripped down and acoustic."
Living at "The Big House" with at least 11 other musicians—some of whom went on to form Whistlepig, Dragons, Happy Snakes and others—allowed Demaree and Del Favero an opportunity to experiment and explore.
"There was definitely an atmosphere that allowed us to be who we were with it. It seemed like everybody was just experimenting with their style of music," Del Favero says. "A lot of it was punk, a lot of it was rock, and I think that influenced J-Funk early on, but it also encouraged us to keep our psychedelic style."
Perhaps what inspired the band the most was a trip to South America. From 2012 to 2014, Demaree and Del Favero traveled to Guatemala, Nicaragua, Panama, Columbia, Ecuador and Peru, where they would "show up, find a cheap hostel, find gigs and stay for an extended time in each place," Demaree says. They mostly worked and lived on farms and boats, but where they made the most money was in restaurants and alleys, playing gigs and busking with strangers.
"That was always a really good introduction to getting to know the town we were living in. It always opened the door for us to at least understand the culture deeper," Del Favero says.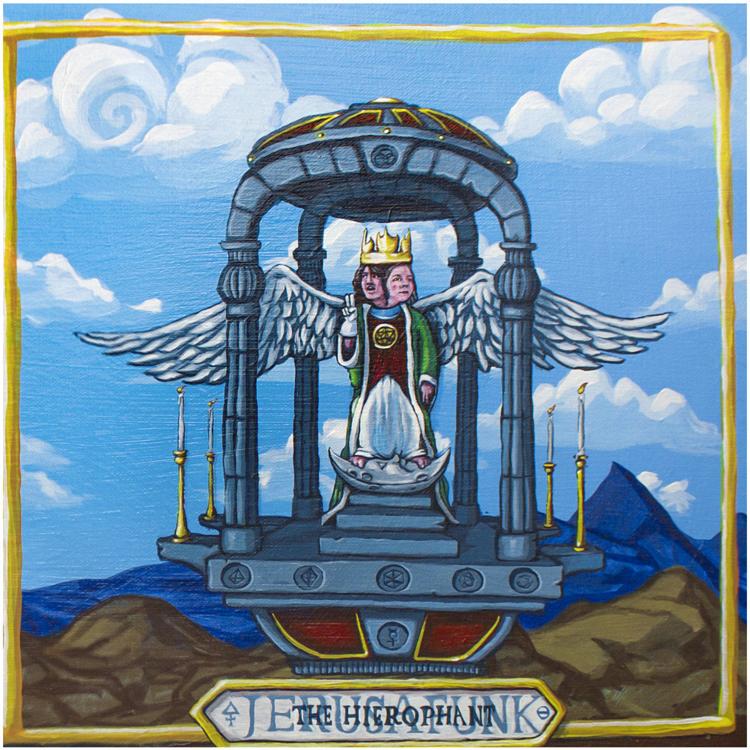 These experiences found their way on to Jerusafunk's album, The Hierophant, released in 2017—namely "Respect My Lust," which Del Favero says he started in Guatemala in 2012. Other songs like "Vulgar Bulgar" and "La Cumbia Bicuriosa" also trace back to their experiences in South America—the latter looks at machismo culture in Columbia and is sung in Spanish.
The album's artwork alludes to two cards typically found in tarot decks: the Hierophant and the Winged Hermaphrodite, placing emphasis on "this androgynous vibe that we have, visually and lyrically," Demaree says.
Funk has a long history of pairing suggestive lyrics with sexual rhythms, and Jerusafunk doesn't necessarily stray away from that distinction. Instead, in an attempt to combat sexy songs that can sometimes feel dubious, Demaree and Del Favero are open about their sexuality and all the questions that come with it. 
"The album, lyrically, it's like four years of me trying to understand and grow up into a more mature sexual being, trying to comprehend it, all the existential conundrums of it all," Del Favero says. "Can we sing about sex and it being confusing, and can the confusion still be sexy?"
This amalgamation of the sexual and the socio-political with a unification of genres spanning the globe, reveal Jerusafunk as musicians exploring themselves and the world around them.
"It's like doing math or trying to find a new theory of physics," Del Favero says. "If you start to listen and understand the fundamentals of all these different cultural sounds, and if you can pick different pieces of them and move them into another one and start formulating a whole different array of harmony and rhythm and melodic phrasing, I would hope that I would discover something new."
Jerusafunk will perform with Mesquite and Proud Mother at Firecreek Coffee Co. Friday, July 19. 7:30 p.m. $6. All ages.