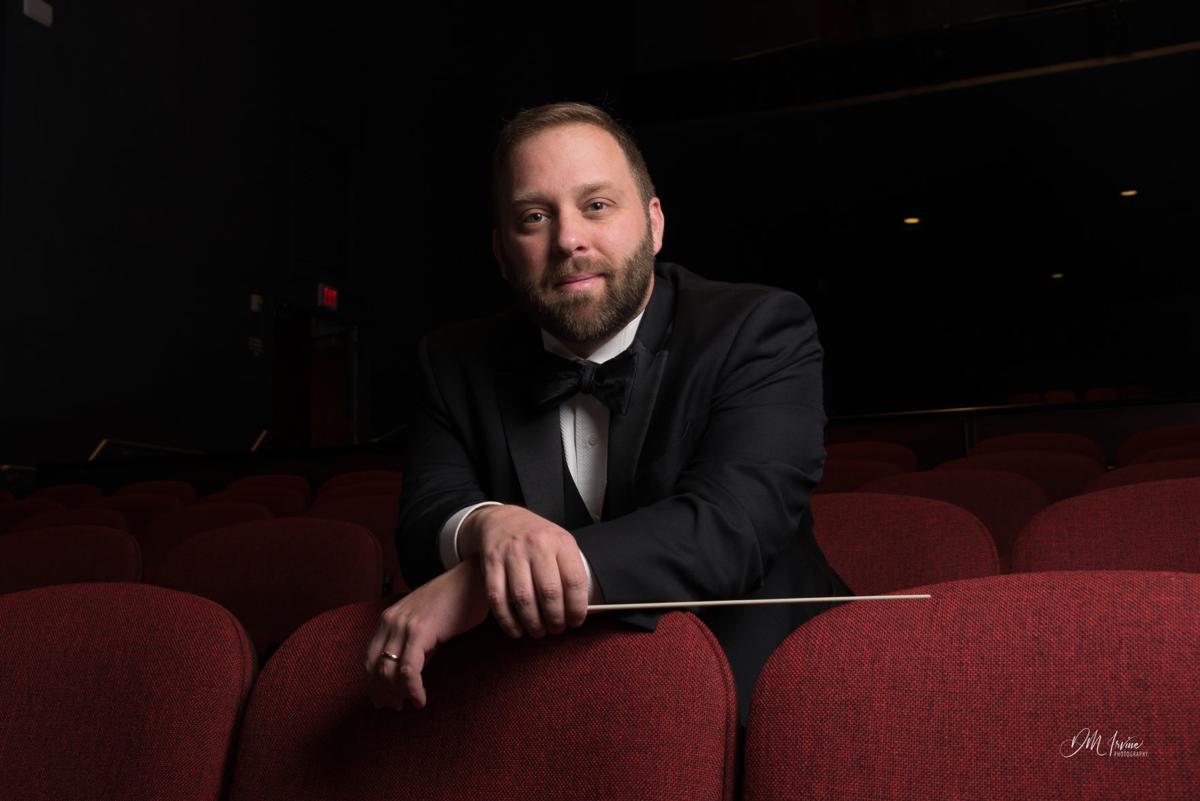 Editor's note: A version of this Q&A appeared in the Sunday, Jan. 12, issue of the Arizona Daily Sun. To read the full version, visit www.azdailysun.com
The new year brings new performances by the Flagstaff Symphony Orchestra. As the orchestra prepares for its upcoming performance Jan. 24 with PROJECT Trio, a Brooklyn-based beatbox/classical trio, we sat down with Latshaw to learn a little more about his background, the orchestra's 70th season and just what the heck he's doing up there when he's waving his arms like a madman. 
Gabriel Granillo: The Flagstaff Symphony Orchestra is celebrating its 70th season this year. As conductor of FSO, what does the milestone mean to you, and what can we expect moving forward in 2020?
Charles Latshaw: I'm only 40 years old. In the world of orchestral conductors, that's very young. Not only is the orchestra itself 30 years older than I am, but many of the musicians have been in their positions longer than I've been alive. It means that FSO has a great wealth of wisdom and experience on stage with me every evening at rehearsals and concerts, and I'm grateful to have the opportunity to benefit from it. I feel like I'm learning new things every day, and it's a privilege I don't take for granted.
[This year] is a big year for orchestral music. FSO, like just about every orchestra around the world, is celebrating Beethoven's 250th birthday. We've already got a big Beethoven bash planned for September, and we're getting started on that with a performance of Beethoven's first symphony this February. 
The upcoming Symphonic Beatbox performance features PROJECT Trio, an ensemble whose focus moves from Baroque to hip-hop. The performance seems vastly different from typical FSO concerts. How did this group come onto your radar and why bring them here?
I first encountered PROJECT Trio the same way millions of other people did—on YouTube. Greg Patillo plays flute with the group, and 10 years or so ago he started posting really remarkable videos of himself playing hip-hop-ified versions of classical music, beatboxing while playing the flute. I've been following Greg's postings ever since, and later he, Eric Stephenson and Peter Seymour put their trio together and started posting as PROJECT Trio.
You have free articles remaining.
I've been a fan since the beginning. They're all classically trained, extraordinary musicians, who've found a way to blend old and new, serious and fun, stuffy and approachable, better than any other musicians I've known. This concert, therefore, is a great mix of familiar orchestral favorites and new experiments. So if you're a traditionalist who wants to hear the William Tell overture, or you're a newcomer to the whole orchestral scene, this is a great concert to attend. Also, this is a program that is definitely a great one to bring young people to who haven't been to an orchestra concert before.
[Patillo] also had a recurring role on the Nickelodeon show iCarly, so many young folks, especially high school age, would immediately recognize him as the "beatboxing flutist" character from the show.
What were some of your early inspirations, and when did you know you wanted to be a conductor?
I had never even heard an orchestra until I was a teenager. The Russian National Orchestra came through my hometown of Toledo, Ohio, on tour. My mother asked me if I'd like to go hear them, so we bought last-minute tickets and sat in the front row. They began the concert with the first movement of Sergei Prokofiev's Romeo and Juliet, and from that first moment I heard the power and might of a full orchestra, I knew I wanted to be a musician for the rest of my life. We played the Prokofiev last season with FSO, and it remains my favorite piece in the whole world.
Why conducting, specifically? Because it's the most challenging job I can imagine. It's the first thing I ever felt inadequate at. I'm a reasonably smart person—school was never difficult for me. I was a solid professional trumpet player without putting a great deal of effort into it. I even had a decent career as a theater actor in New England, almost by accident. But conducting is the first thing I ever encountered where I felt like no matter how hard I worked and no matter how much I improved, there was no ceiling. I could continue to challenge myself forever and would probably never feel like I'd fully mastered it.
Sometimes we recognize conductors for their flailing arms and crazy gestures, but certainly there's more to conducting than that. What are some misconceptions about your profession?
My job is a bit mysterious, isn't it? I'm the last person to walk on stage, and I'm the first person to leave the stage. I make none of the sound that people came to listen to, and at the end of every concert I turn around and take all the credit.
Perhaps the most common misconception would be that I'm completely "in charge" of every note that gets played in a concert. That's just not how it works. The musicians are in charge of their own performance, and it's actually my job to organize, guide and shape the overall direction of the music. Non-musicians ask me often, "How come it looks like nobody's watching you most of the time?" That's because they're all doing their own jobs and they only need to glance at me when they need instructions on how to proceed. Really, when things are working at their best, the musicians are looking at each other more than they're looking at me.
Learn more about Charles Latshaw and his role as conductor at his talk, Behind the Symphony, Jan. 22, at 6 p.m., at Ardrey Memorial Auditorium, 1115 Knoles Dr., ahead of FSO's first performance of the year, Masterworks III, featuring PROJECT Trio. The Jan. 24 concert begins at 7:30 p.m. Tickets are $20 to $74 based on seating. For more information and a full list of events and performances, visit www.flagstaffsymphony.org