"We like to take people on a journey through our show, to travel a little bit," says Annette Morrison, bassist and one half of Flagstaff world music duo FoxyKoshka.
She and guitarist Vincent Ziegelbaum sing songs in English, French, Spanish, Italian, Portuguese and Russian, and the name of their duo itself combines both English and Russia, "koshka" being the Russian word for "cat." They've both traveled far to end up in Flagstaff too as Morrison grew up in Wisconsin and Ziegelbaum in Aix-en-Provence in Southern France.
At any given show, attendees can find the two singing to each other as much as to the audience, Ziegelbaum's deep baritone blending seamlessly with Morrison's clear, sweet voice, and the chemistry doesn't end when they leave the stage either. After they recount a brief history of how the duo came together, Morrison says to Ziegelbaum, "You forgot the part where we fall in love."
She had been a dancer with the Gypsy Chicks when Ziegelbaum approached the belly dance troupe to inquire about a potential collaboration.
"The first time we met there was a connection, when he first came to meet our troupe," Morrison says. "He just showed up with his guitar and started playing this incredible gypsy music, and all of us were dancing, but there was something between the two of us that was very powerful."
While the partnership with the troupe didn't pan out, Morrison continued to show up at Ziegelbaum's solo shows until eventually he asked her if she wanted to work with him as a duo. They had their first official business meeting to discuss each of their visions for the project in October 2013.
"And then our relationship started December first," Ziegelbaum says.
FoxyKoshka began as a guitar and dance duo, then a duet with Ziegelbaum providing the music before Morrison taught herself how to play the bass two years ago. Now, nearly five years since their first meeting, the two have honed their act to offer songs ranging from mellow blues and swing to soulful cumbia and rumba pieces.
"We're really attracted to all different types of music; we don't want to just do one," Morrison says. "You never know what's going to come next which keeps it interesting for us too."
That means nothing is guaranteed at any given show and, with a repertoire of nearly 100 songs, they choose what to play next based more on the feel of the room in which they're playing than a written set.
"We usually don't have a list," Ziegelbaum explains. "The experience is if we use a list—"
"We don't follow it," Morrison finishes with a laugh. "We just go with the flow and we try to vary the mood."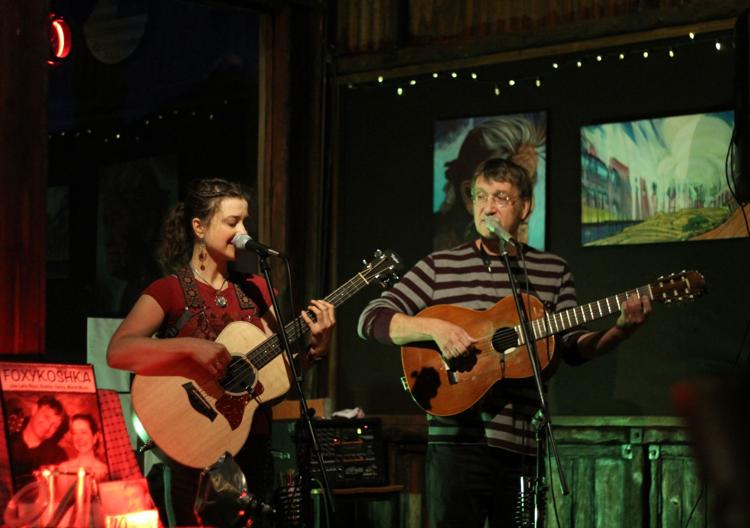 You have free articles remaining.
By introducing people to new sounds, they hope to connect with many different types of fans. Morrison says while most people might not know what cumbia sounds like based solely on the name, if they hear a couple measures they tend to start nodding their head along as they find some form of familiarity inside the notes.
"If you don't like a song, don't worry; just go to the bathroom, come back, maybe you'll like the next one," Morrison says as they both laugh.
The duo tries to book at least three performances a week at various venues around town, providing either gentle ambiance for diners or a soundtrack to get attendees' evenings started.
"The idea is to provide music that would be very present but not invasive, so it's a lot about finding a tone to basically wrap each and every table if it's a restaurant," Ziegelbaum says. "But also, if you catch us in a bar, we try to make people dance. We can definitely let lots of energy out."
During some of their more energetic sets, Morrison likes to return to her roots as a dancer.
"I still bring elements of dance to our shows, but I show up first as a musician," she says. "It's almost like the dance part is a secret until it's spontaneously revealed in the moment."
"It's quite an experience because she cannot just stay on stage," Ziegelbaum says.
At their performance last month at The State Bar, after making their way through a multi-lingual set that included a cover of Sonny and Cher's "I Got You Babe" and Osvaldo Farrés's 1947 song "Quizás, quizás, quizás (Perhaps, perhaps, perhaps)," Morrison describes a scene in which an energetic crowd arrived and began dancing along to the music before she joined them. She called it a magical moment that almost seemed like it hadn't really happened once the crowd trickled back out into the windy night.
The two agree they are both performers first and foremost; Morrison has been a dancer for nearly 20 years while Ziegelbaum has been making a name for himself in Flagstaff for almost 25 years and has performed as an established musician both in solo acts and with previous duos or trios before settling down here. While he has the stage presence to entertain a room on his own, he says he enjoys playing off of the energy other people bring to projects.
"I love playing with musicians that are better, stronger than I am and I'm lucky that it's happening [with FoxyKoshka]," Ziegelbaum says as he and Morrison smile at each other.
"We just have really joyful energy," she adds. "We're happy to be doing what we're doing and we want to share that with others."
FoxyKoshka plays Thursday, May 17, and every third Thursday of the month at The State Bar, 10 E. Historic Rte. 66, from 7-10 p.m. Other upcoming shows include Friday, May 18, at Hops on Birch from 9 p.m.-midnight; Saturday, May 19, at Mother Road Brewing Company's Butler location from 2-4 p.m.; Sunday, May 20, at Tourist Home and Market from 10 a.m.-1 p.m.; Friday, May 25, at Blendz Winery from 7-9 p.m.; and Saturday, May 26, at Whole Foods Market's Switchback Bar from 5-7 p.m. They also perform every first Friday at The McMillan. Visit www.foxykoshkamusic.com for more information.