Up on North Leroux Street sits a quiet single-family home. It blends right into the historic neighborhood, never calling any attention to itself.
But the house holds a secret. It knows what happened inside its walls on the night of July 22, 1937. It's the only surviving thing that holds the answers to the questions that haunt Susan Johnson.
Johnson never met the former owners of the home, JD Walkup and his wife, Marie Green Walkup. Nor does she know how their love story began or what exactly plagued Marie while her husband fought for his place in a rapidly-growing Flagstaff.
But she knows the awful ending – a note nailed to the front door and the bodies of four dead children inside, each smothered to death and pierced through the heart with an ice pick. Marie's nightgown-clad dead body found splayed out on the backseat of her car near the old Country Club in an apparent suicide.
Her only semblance of an explanation was lost to time, with a few excerpts preserved in an article from The Coconino Sun:
"Because of my lack of discipline, the children are happier to go this way. Only grief would come to them," Marie wrote in a final letter to her husband.   
But Johnson wanted more. She needed to know what drove this mother to the unthinkable. Johnson is the author of the non-fiction book, Flagstaff's Walkup Family Murders: A Shocking 1937 Tragedy, set to publish Monday.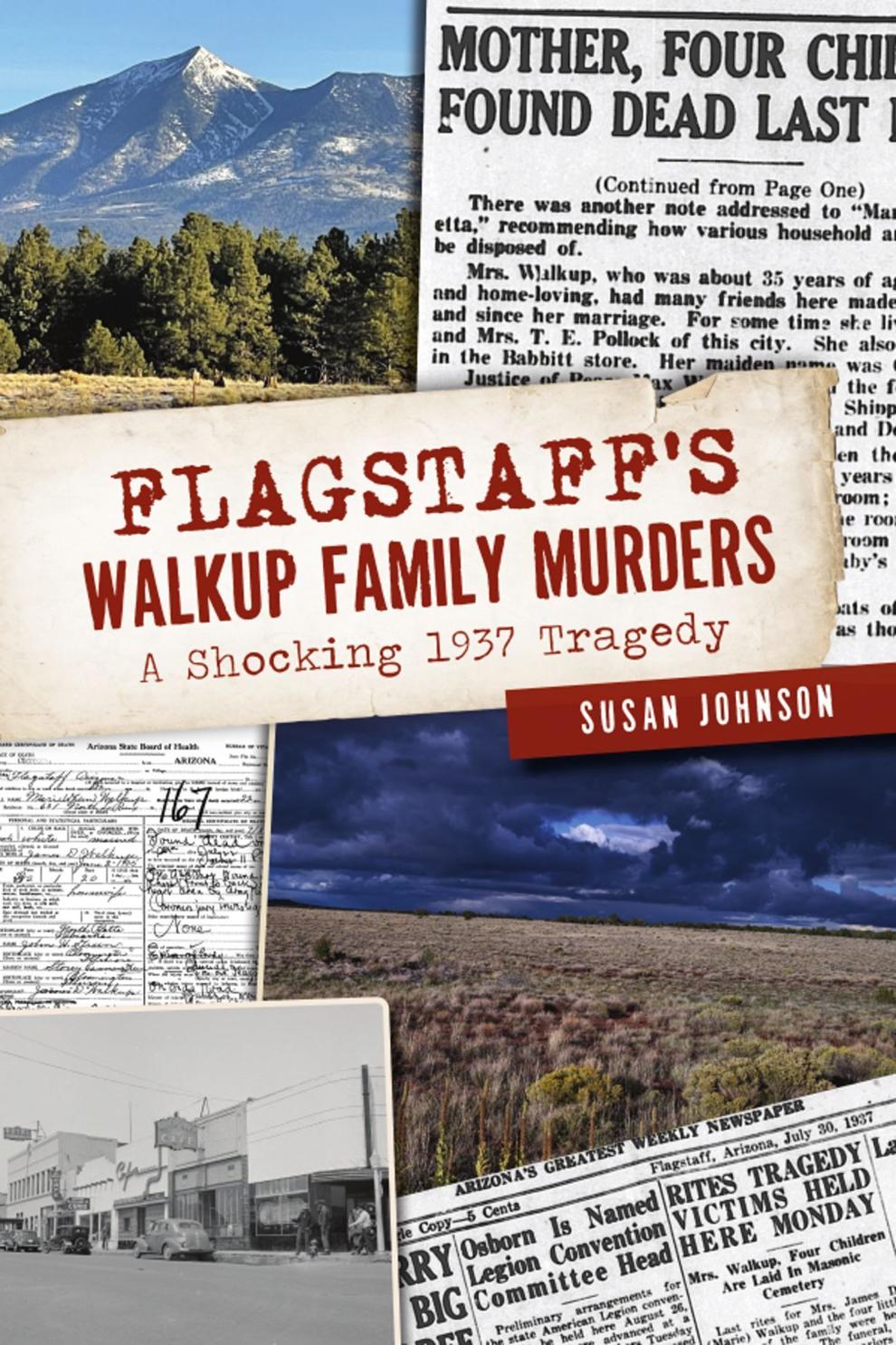 "It was an absolutely horrific crime," Johnson said.
And, yet, the town forgot – or chose to forget.
A horrible crime lost to time
Johnson first encountered this forgotten chapter of Flagstaff's history during a tour of the city's historic Citizens Cemetery years ago. It was the double plot of Marie and her children, accompanied by a message from a tour guide that no relatives survived those buried beneath the markers there.
The story was brief – the mother systematically smothered her four children while the father was away before ending her own life. The affluent Walkups (no relation to the later university president) were one of Flagstaff's more notable families at the time as James was on the Coconino County Board of Supervisors and quickly rising in the growing town's ranks. The rest was seemingly lost to history or, depending on who you ask, taken out with the rest of Flagstaff's dirty laundry.
She was immediately intrigued and soon embarked on her own research. Johnson isn't a trained researcher, but a retired nurse with a keen interest in her adopted hometown's history. She moved to Flagstaff in the late 1980s with her husband and son and always enjoyed poking around old cemeteries and buildings.
She dug through old microfiche and newspaper clippings in search of something – anything – more during her time off. Instead of concrete answers, she found a unique insight into Flagstaff's own sordid history. Soon, her findings were incorporated into Freaky Foot Tours, the haunted walking tour of downtown she gave each year alongside her son, Nick Jones. With each retelling, the grisly story was met with disbelief that something so terrible could have happened here and hardly be remembered.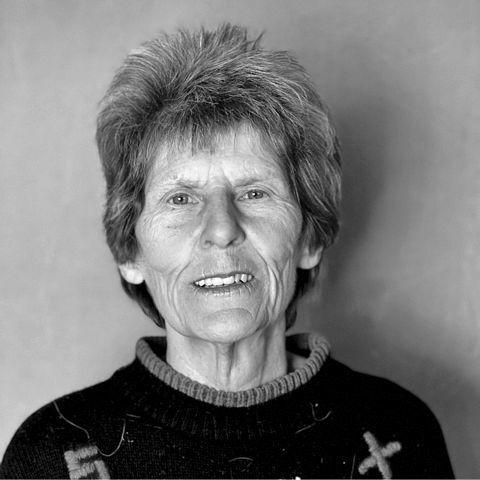 Johnson dug into The Coconino Sun's Personals pages for a better understanding of Flagstaff in the 1930s. Marie Walkup and her children were notably absent from the detailed notes of who attended what events, health updates and the coming-and-goings of the town's residents. JD Walkup was noted at times, but never in the company of his family.
"I think those kids were kind of running wild – just in the sense that she (Marie) didn't know how to discipline them," Johnson speculated. "I think she was drowning really."
Marie Walkup's final note to her husband seems to confirm this to some extent. She indicates the kids were – at least in her eyes – out of control and didn't have the support she needed, likely leaving her feeling overwhelmed and like a disappointment to her husband as he quickly grew to prominence in the community.
JD Walkup may not have fully understood the scope of what was happening at home as he was consumed by his new roles. There's no knowing what was happening within the family of six behind the closed doors of their LeRoux home.
"My pet theory is she was fragile," Johnson said. "He was probably an overpowering personality and may not have realized she needed help.
Marie Walkup's actions in the day leading up to the murders may also hold the answer, according to Johnson. The mother of four complained to her doctor of a stomach ailment, pleading for help. The doctor later stated she called him on the day of the murders concerned. Johnson speculated that maybe Marie Walkup thought she was pregnant with a fifth child. No autopsy was conducted, so it's unknown if this is true, but Johnson said the thought of yet another child could have been overwhelming for an already struggling mother.
Her husband's absence likely didn't help either, Johnson said. JD Walkup was away in Phoenix on the night of the murders.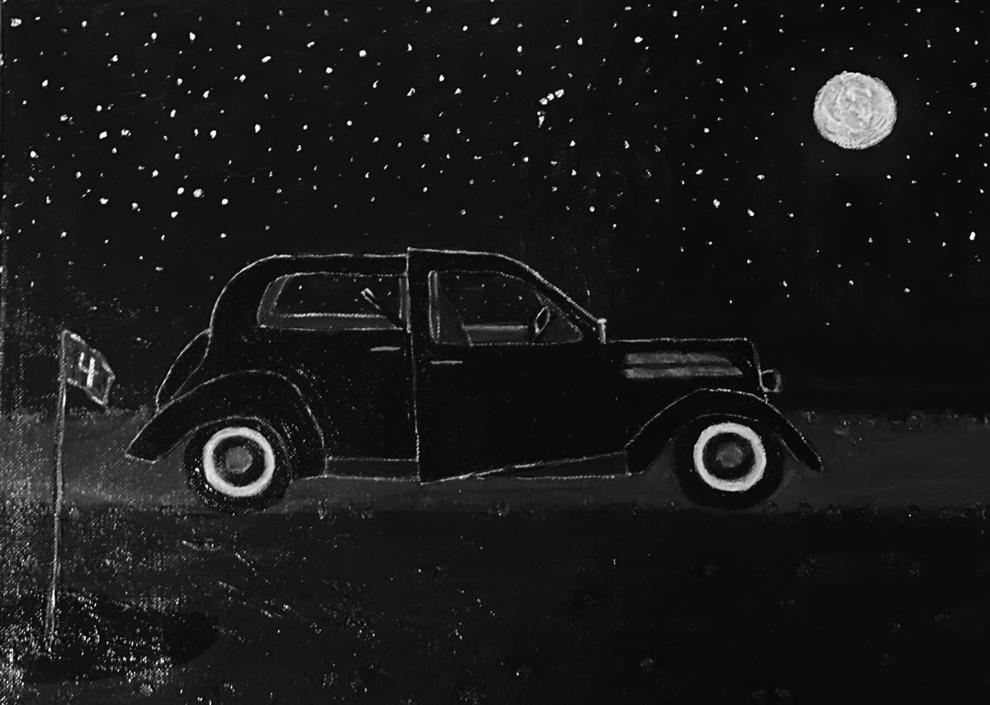 No one will know what exactly happened in the hours between the last time the children were seen playing outside the home that day and when Marie Walkup was found dead of a self-inflicted gunshot wound on Schultz Pass Road right along the golf course of the then-Flagstaff Country Club. Maybe the location meant nothing, but Johnson thinks it may have been the woman's final message to the town she was never quite welcome in.
She was desperate, alone and overwhelmed, but Johnson said it still doesn't excuse the killings of the four children – 10-year-old Daniel, 9-year-old Rose, 4-year-old John and Elizabeth, who was barely 18 months.
"To kill everybody instead of just killing yourself," Johnson said. "That's the part that got me."
To forget
The crime dominated the front page of The Coconino Sun the next day, as well as in The Arizona Republic and other papers throughout the country. There were some sporadic follow-up stories ahead of the funerals, but the coverage stopped entirely soon after. This was not a whodunit. Everyone knew Marie Walkup was the culprit between JD Walkup's well-documented absence from Flagstaff that night and his wife's final notes.
Officials were likely keen to put the case to bed as no investigation was needed.  Johnson speculated that the community may have stopped talking about the murders so quickly out of fear of copycat incidents.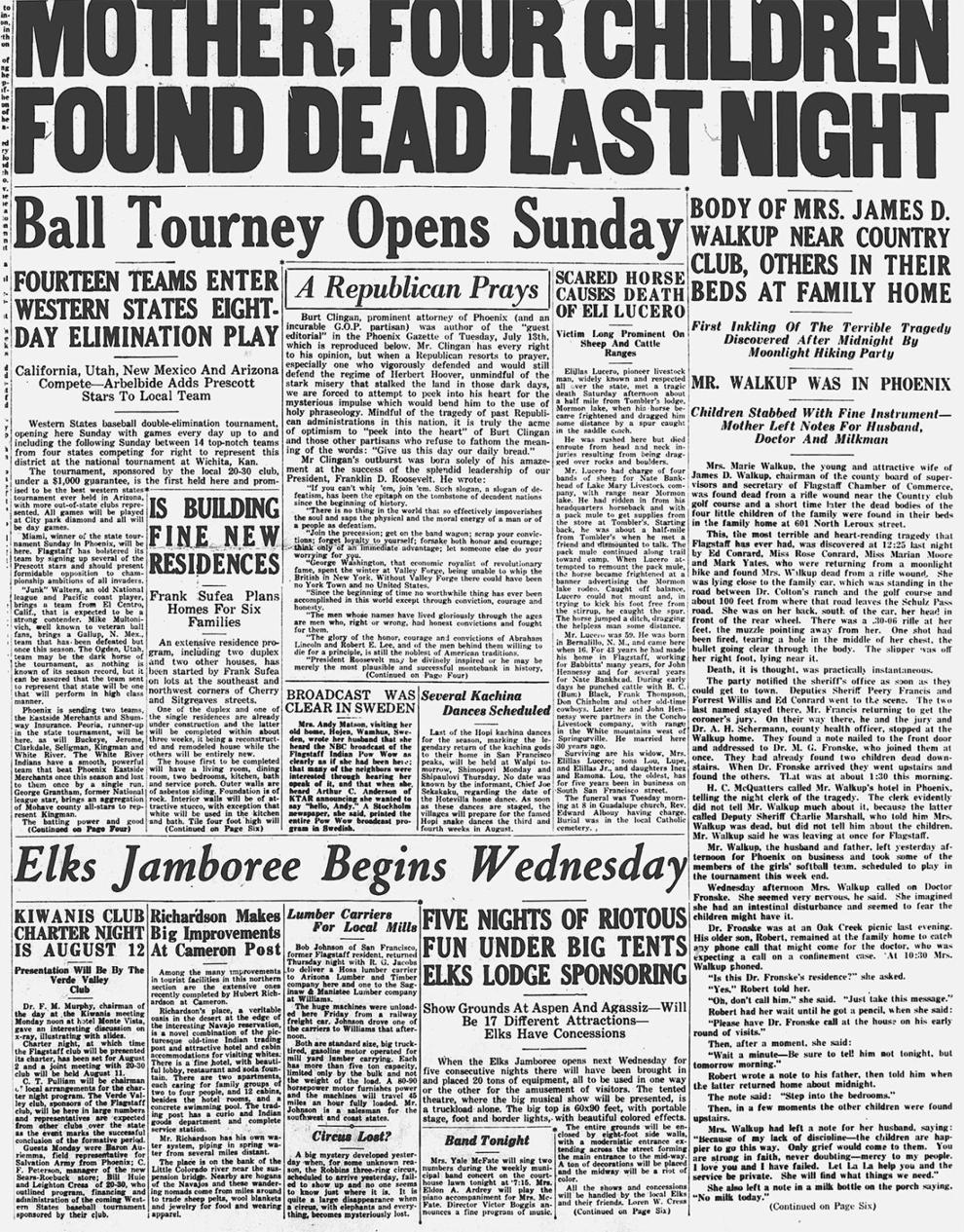 Then again, maybe it wasn't exactly a surprise to the community. This was a woman who never found her place beside her husband in their world of social engagements and gatherings.  
"I'm sure the town thought, 'She's got a great big house and she can't pull it together or take care of the kids,'" Johnson said. "That's what I really think her life was like and it likely didn't change after she died."
JD Walkup eventually moved on. He remarried two more times in the following years and later relocated to Phoenix, seemingly taking the story of what happened that night with him. A new family bought the old blue house on the corner of LeRoux Street from him and still own it to this day. JD Walkup died in the 1970s and the story of what happened to his first wife and four children was shelved away, along with all the other gruesome tales in Flagstaff's history that the town was more than ready to forget.  
That is, of course, until Johnson.
Flagstaff's Walkup Family Murders: A Shocking 1937 Tragedy will be available locally wherever books are sold and on arcadiapublishing.com on Sept. 27.
You can also learn more about the Walkup family murders and many other parts of Flagstaff's macabre past by attending a Freaky Foot Tour. The tour runs nightly 7:30 p.m. except for Monday. Visit freakyfoottours.com for more information.