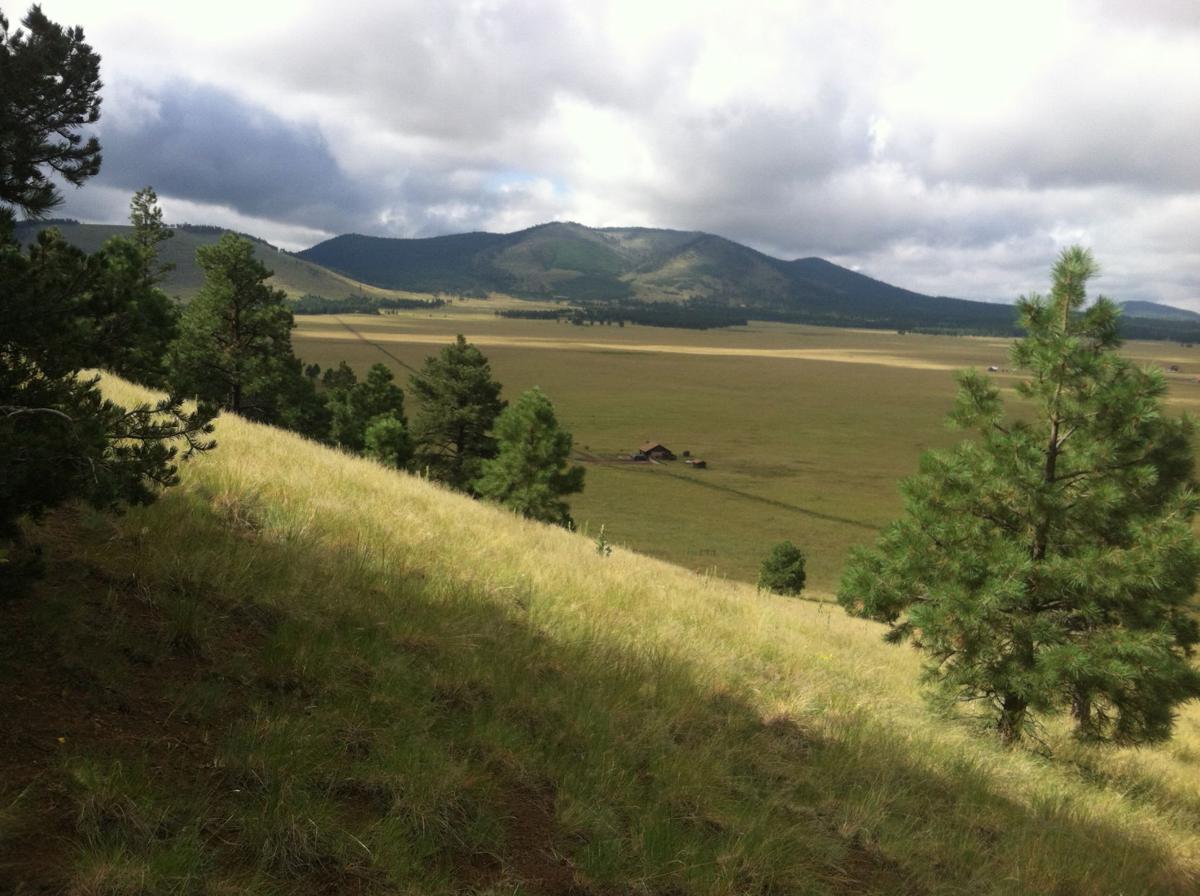 Stroll through a mountain meadow.
Feel the morning sun's warmth on your face. Smell the richness of wildflowers in bloom. Hear elk bugles, birds singing, and the pines and the aspens moving in the breeze. Taste the sweetness of a blade of freshly plucked grass. See mountain peaks scrape the belly of a vivid sapphire sky.
Plug into that – then write about it and turn it into a story.
Annette McGivney, author and environmental journalist, will be sharing what she's learned in her career writing about wild places during a workshop hosted by the Coconino National Forest as part of its new Artist in Residence Program. The workshop is Sept. 18, 9:30 a.m. to noon, at the Kendrick Park Watchable Wildlife Viewing Area. The workshop will feature hands-on writing exercises and an open forum for questions and answers as well as offer participants the chance to help with a mural planned for the area in the future.
"I believe creative writing is one of the pathways to developing a deeper relationship with the natural world," McGivney said. "When you are writing in your journal about the sounds and smells you notice in a beautiful meadow, it brings you closer to the heartbeat of that place."
McGivney is a recently retired, longtime member of the journalism faculty at Northern Arizona University who now lives in Cortez, Colo. She is an award-winning journalist, and her writing appears regularly in outdoor-focused publications. Her latest book, Pure Land, won the National Outdoor Book Award in 2018. She also founded the non-profit, The Healing Lands Project, which takes child survivors of family violence on clinically-supported wilderness trips.
During the workshop, McGivney will lead a conversation on a broad spectrum of topics that include how to hone observational skills when outdoors to be able to write about a place. She will also help participants understand the elements of narrative to turn their outdoor experiences into a story.
For her, the outdoors is the ideal classroom and healing space.
"When I taught at NAU, it was always very gratifying to hold class outside when possible because students were much more relaxed and also focused," McGivney said. "It seems like barriers that inhibit learning come down when you are surrounded by natural beauty. In my experience, creativity and curiosity come more easily when you are outdoors."
Her passion for writing about the outdoors started early in her life and revolved around coping with family disfunction. From a very young age, she discovered "wild nature provided great comfort, and it is where the world makes sense to me." So, when other children were out playing sports, she would be sitting by a pond writing poetry.
"I want to communicate my passion for wild places to others in the hope that my stories may help enrich people's lives and also help protect the Earth from human-caused destruction," McGivney said. "I want people to have a relationship with nature the way they do with immediate family members."
McGivney said humans are wired to be outdoors – plain and simple.
"If we are not connected to this larger lifeforce, there is this huge void, and I believe our bodies and minds feel that longing," McGivney said. "... the only way to fill the void is to spend time in nature surrounded by silence and beauty and feel the Earth seep back into your bones."
As part of the Coconino National Forest's new Artist in Residence Program, McGivney will be staying at Kendrick Cabin, which is a very special place for her.
"It is where my son and I stayed before he left for college, and I also stayed on my 50th birthday," McGivney said. "The mountain is my true home. Being able to sit in a meadow and stare at the Peaks for days will be very comforting to me."
The workshop is funded by the Love Our Byways Grant available from the National Scenic Byways Foundation and is presented by Toyota.