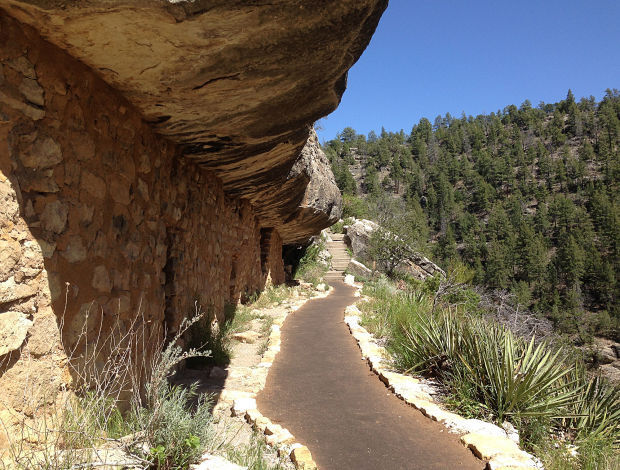 Beginning around 600 AD, the first permanent inhabitants of Walnut Canyon settled along the canyon carved by Walnut Creek over the course of 60 million years. These families worked closely with the land, constructing cliff dwellings into the limestone alcoves and farming symbiotic crops of corn, squash and beans.
Later dubbed Sinaguans by archaeologists, these populations eventually moved on to richer lands around 1400 AD. Echoes of their existence remain, providing present day visitors with a window into the past, but more than just trails once trod by their feet, there remains much to be discovered about the land and oneself.
As the Museum of Northern Arizona's poet in residence for 2018, Jodie Hollander began looking for a way to bring poetry to more people. Following the success of the programs she hosted at the museum, she went on to partner with the National Park Service to test out poetry workshops at Walnut Canyon and Wupatki National Monument.
Participants who attended the Walnut Canyon workshop were immersed in the place they were writing about, surrounded by the same flora and fauna used by the Sinagua people, which provided them with a nearly endless well of inspiration.
"It allows for a more immediate experience and to really capture the rawness of what one experiences in the moment," Hollander says. "It can be really interesting as well to blend the history of a monument or park with one's own personal history and make that into a poem too."
Though not a requirement, many chose to share the epiphanies they stumbled upon during the immersive writing exercise.
"I think the momentum started to build when people shared their poems and other people got inspired and wanted to share what they had written," Hollander says.
Hollander is carrying this creative momentum forward. For National Poetry Month in April, the poet will once again partner with the National Park Service to provide four workshops across the state of Arizona.
The workshops will draw from the interpretive theme of each monument to explore its cultural significance. During the workshop at Casa Grande Ruins National Monument, participants will focus on the poetry of place. In Camp Verde, the workshop at Montezuma Castle National Monument will focus on the idea of home. At Flagstaff's Walnut Canyon National Monument, writers will explore the idea of sacred spaces, while the session at Sunset Crater Volcano National Monument's will focus on the interplay of humans and their environment.
Richard Ullmann, chief of interpretation and education for northern Arizona monuments, encouraged Hollander to pursue this project during its initial run in 2018. Ullmann says he enjoys seeing these historic places used to draw forth new ideas.
"So much of my work is bureaucratic, I look forward to refreshing as I ponder the landscapes of these monuments," he says.
Hollander emphasizes that as long as one desires to connect to the land and has an interest in creative writing, they will be welcomed to the workshops.
"This is not just for established poets," she says. "Kind of in the same way that the national parks are for everyone, poetry is really for everyone too."
Prior to exploring each monument, participants will meet with Hollander to talk about the basics of poetry, how to form musical cadence with their words and how to strategically place line breaks for emotional impact and flow. They will then work with writing prompts to find examples of death or rebirth as well as various other natural occurrences that can be transformed into literary art. The final step will be to take what they created from these prompts and craft a first draft of a poem.
NPS encourages people to visit public lands in other ways such as taking yoga classes with The Yoga Experience at Walnut Canyon. Future collaborations will possibly include working alongside breweries to create a beer that captures the feeling of northern Arizona parks and monuments and hosting local artists such as landscape painter Gwendolyn Waring and indigenous activist/artist Ed Kabotie.
"There's tremendous opportunity to partner and collaborate with the good people of Flagstaff, celebrating our monuments and using them in innovative ways to connect," Ullmann says. "National parks only work if people show up.
"Walnut Canyon is 10 minutes outside of town, but it's a world away. If that's what people want and we can provide it, why not?"
Participants can sign up for the free Poetry in the Parks workshops regardless of prior writing experience. Space is limited, with admission on a first-come, first-serve basis. Email Krystina_Isaac@nps.gov to reserve a seat for the workshop at Montezuma Well National Monument on April 24 from 9 a.m.-noon, Ryan_P_Carpenter@nps.gov for Walnut Canyon National Monument on April 25 from 1-4 p.m. and Case_Griffing@nps.gov for Sunset Crater Volcano National Monument on April 26 from 1-4 p.m. Visit www.jodiehollander.com for more information.