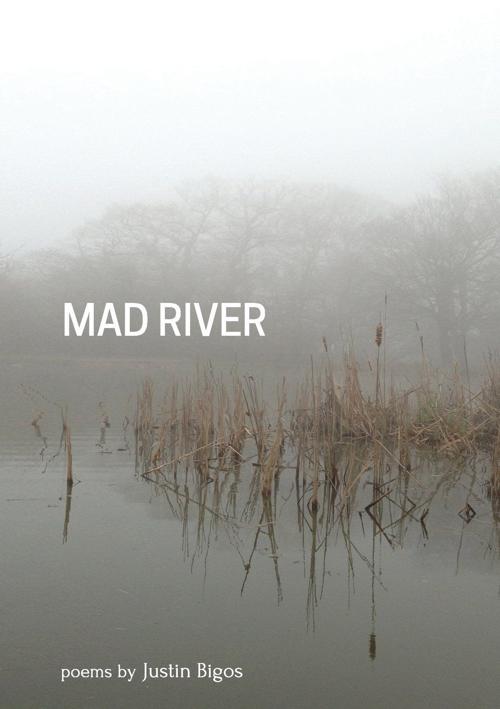 Toward the end of the first section of poems in Justin Bigos' Mad River is a longer prose piece spanning two and a half pages. Devoid of all punctuation except for commas, it is addressed to "Patron Saint" and titled the same. In this poem, the author writes, "memory as hot as the vinyl seats in the Pontiac, or screw / memory, let's go with a Corvette, Patron Saint of stolen cars / and junk shops..."
If I had to select a line that best describes this collection, it would be this one. Not because it's the most beautiful line, as those who are acquainted with Bigos' work can vouch for with its gritty images, complex sounds and rhythm and unforgettable storytelling. It's also not because of the details, which set the scene and transport readers through the poet's mind like a commuter train destined for the heart. No, this line sticks out as memorable because it centers on the power of memory, how it can trigger emotional as well as physical responses and how memory is subject to change and even embellishment, especially after trauma and time and the trauma of time.
In his follow up to 2014's poetry chapbook Twenty Thousand Pigeons, published by iO Books, Bigos, a former creative writing professor at Northern Arizona University, considers the modern-day implications of Father Time as well as his own late father. In 30 poems and 78 pages, he depicts memories as portraits and faded photographs; memories as lists and recipes; memories as alleyways, mountains and flowing rivers; and, most importantly, memories as quiet prayers for a better future.
Mad River is structured into five parts with religious imagery and themes of homelessness and parenthood as primary connectors. The first piece, "Prayer (After Refusing to Pray)," is addressed to "You" with a capital "y," not unlike God. After "[refusing] to pray/ all summer," the speaker holds space for his father, who recovers after being attacked by adolescent boys alongside "the car/ that was his home." Meanwhile, the "You" in question "did not lift a finger." Memories of his father's faith invite the speaker to gaze above toward "what my father,/ barely breathing on his back,/ calls the heavens." Swept up in an ocean of anger, shame and guilt, the lost son seeks his troubled father—not in the sky but somewhere in the forest.
The scene Bigos creates in the opening poem finds companionship in other poems. "My Father's Car" asks the reader to "squint at his briefcase—/ it sits in the passenger seat, half open;/the corner of an eviction notice." As an instructional guide, the poem cautions against "scanning for whiskey bottles, cigarettes,/ or any vice you can hold in your hand…stand back from his car …you will be forced to admit/ there is such a thing as bad luck." Bigos changes the vantage point from the son to onlookers in order to capture the father's humility as well as his home of Styrofoam cups, spare change, lottery tickets and a bookmarked Bible.
Prose poem "The Good Life" characterizes the father according to what he values as right, the title poem "Mad River" shares a violent narrative featuring a homeless man known as "preacher man," "Hood" takes on the point of view of a cruel boy and "Portrait of My Father as John Clare: 'Common Loon's Nest'" is told from the perspective of the father, who remarks on humanly struggle with the wit of a Romantic poet: "Some of us, like the brown mallard,/ can only fly against the wind./ Most of us can't fly at all, and so we turn/ away, pray for a mighty gust." In these linked pieces, the poet confronts violence, belief and regret, and he speaks to pain as well as resiliency.
Even though Bigos pens "my father who art in every poem I write" in "Patron Saint," not all poems in Mad River are outwardly concerned with the father/son dynamic. For example, "Fassbinder," which won the 2010 Ploughshares' Readers Choice Award, explores persistence—the desire to "squeeze/ it all in and keep it up"—through the lens of German director Rainer Werner Fassbinder. "The Superintendent" and "Twenty Thousand Pigeons," also from the chapbook, provide commentary on casual racism, ghosts of past wars and the ever-present search for belonging.
But my favorite poems, which appear at the end of the collection, are softer. "Feral," a poem about allowing one's yard to grow wildly and feeding stray cats, connects to homelessness when a husband asks his wife, "Why love a thing less when there is/ more of it? Why find it less beautiful?" The same is true for "There Will Be a Future," which is addressed to the author's daughter. It is comforting to know that, in the future, beyond the past and predictions made at present, there will be abundance: "so many books…there will be a future…there will be water to search for…smoke rising from bread over an open fire." Despite the dark recollections Mad River confronts, it is one of the most hopeful collections of poetry in years. Emotive, empathetic and conscious, it sticks to the mind like memory itself. 
Emily Hoover is a widely published journalist, poet and fiction writer living in the Southwest. She earned an MFA in Creative Writing from Northern Arizona University in 2015. Her book reviews have been most recently featured in Southern Literary Review, Fiction Writers Review and Ploughshares.
Be the first to know
Get local news delivered to your inbox!