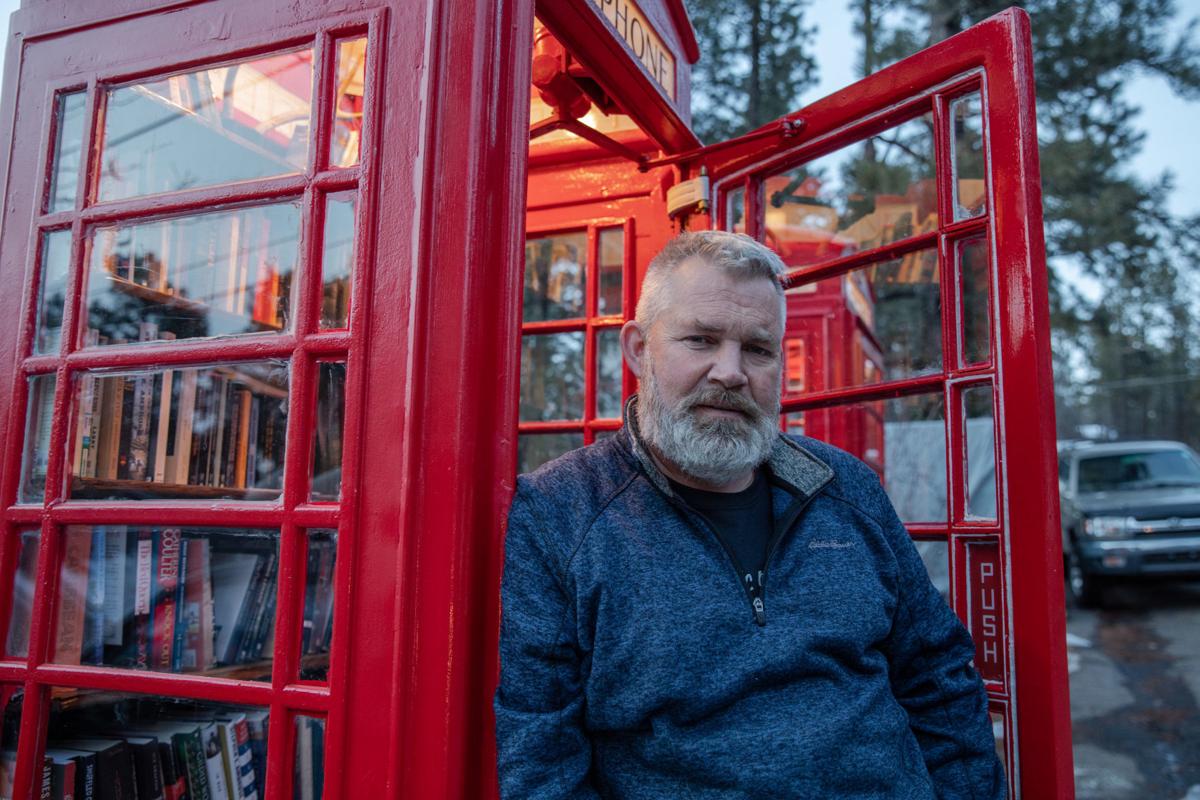 Like two gatekeepers, a pair of English telephone booths—cherry red and gleaming in the sun—jut out into the sky above North Rim Drive, where the small home of Arizona Daily Sun photographer Jake Bacon sits. Over the course of eight months, several miles and a number of setbacks, Bacon turned the once rusty relics into two tiny libraries.
One booth for adults and one for kids, each red chamber is a 25-year dream realized. For the past two decades, Bacon had been searching for one of these iconic pieces of Britain, as symbolic as its black taxi cabs and double-decker London busses, but it wasn't until last year that he found one.
And then, he ended up finding two: One in South Carolina, which had been sitting under an old willow for the last 29 years, and the other in Pennsylvania, where its owner had flown it from a junk yard in the north of England. Now, one monsoon season and 200 cans of "Sunset Red" spray paint later, the booths are quickly becoming a Flagstaff institution, filled with books and a great deal of significance for the architect, too.
We sat down with Bacon recently to learn more about how the booths came to be.  
Svea Conrad: Tell me a little bit of the story behind these phone booths.
Jake Bacon: These two were listed at $5,000 each and they were in the worst condition. They were rusty, their paint had peeled and all the windows were smashed. But the cast iron [frame] was there, all the really heavy difficult stuff was there.
S: How did the phone booths come into your possession? One came from South Carolina and the other from Pennsylvania, right?
J: Yes. So I called the guy in South Carolina and said, "Look you've got it listed for $5,000. I will buy it from you, but I really think it's worth $1,000." Finally he said $1,500, so then I called the guy in Pennsylvania, and he was like, "I think it's a great project. I will charge you what the other guy charged you." It's all about having that conversation with people. And I was serious enough about this project and stupid enough that I was ready to strap a car hauler to the back of my truck and drive a 5,000-mile round trip and send half the money in advance. I think I managed to convince people that I was crazy enough that I would do it.
S: Tell me more about the intention behind it.
J: The whole idea is getting the community involved, and for me community is everything. So it's not, "This is Jake Bacon's project," it's, how can I bring the community together and get the community excited about a project that, yes, I shepherded along, but most of the books in here are donated. The community put their money into this when they could have put it into lots of more worthy causes because they believed in what it could be. And that's really rewarding, to say, "Hey, I've got this crazy idea. I think this would be really fun and this would be an addition to our community," and people were like, "Yeah, absolutely, that does sound awesome, I want to be a part of that."
S: How long did it take you to restore the booths and turn them into libraries?
J: [March 2019] was when we drove to get them. It was a nine-day trip. From Flagstaff to Pennsylvania to South Carolina then to east Atlanta and back to Flagstaff. So it was 4,777 miles from door to door, and that's in a Toyota Landcruiser towing a 1,400-pound car hauler. I think the gas mileage was six to seven miles a gallon. It cost $1,200 dollars in gas alone just to make the drive. And my youngest daughter [Charlie] and I slept in the truck. Out of the nine days we were on the road, we stayed one night in a motel. Then I opened [the libraries] just before Thanksgiving. So eight months. And that was eight months of every spare moment that I had.
Gabriel Granillo: So it was just you and your daughter on the trip?
J: Just me and my 12-year-old. She was 11 at the time. And I had a photography client whose daughter was graduating from a liberal arts college in east Atlanta…And so basically that photo shoot paid for all the gas. The whole project was about 50 percent community funded. There was a GoFundMe that's actually still active. And I didn't want to do that. People were getting so excited about it that they kept saying if I didn't start a GoFundMe, they would start [one]. And so I started this GoFundMe called Tommy Needs a Kidney Jake Wants a Phone Booth because I was really conscious about this being a want, not a need, and about people tending to use GoFundMe just for jollies rather than as an urgent thing.
S: Did you paint the booths yourself?
J: I did it all by hand. And I had, like, pink hair, pink feet. I mean, all through the summer I would be out here all day long… One big thing about this whole project is, and it sounds a bit grandiose, but one of the big things is doing something insane and trusting that it will work out. So I came up with a crazy idea, I did a whole bunch of internet research, spent a whole bunch of time emailing people, trying to communicate with people… Trying to reach people and establish relationships and trust. Getting in a car and driving thousands of miles believing that at the other end the phone booth would be there. You know, they weigh 1,600 pounds each, they are as a heavy as an elephant and as fragile as an egg. 'Cause they're all made of cast iron. So the minute that you bang them, they shatter. But I strapped the first one down and then drove through rush hour traffic from Pennsylvania down through the middle of Washington, D.C.
S: That's a terrible stretch.
J: Yes. And it all worked out perfectly. And then when we got home there was finding all the parts, getting it sand blasted. There was an awful lot where it was two steps forward, one step back and it was like, "Why am I doing this?" Like, this is such a huge project and there are so many other things that I maybe could or should be doing, but I was so invested in seeing the finished product and knowing what an impact it would have. The goal was not to just have it be a tiny library, but was to have it be a stand-alone literacy project where people would have an experience based upon getting a book.
G: The uncertainty of not knowing that these [phone booths] are going to be waiting for you, did that weigh on the mentality of the trip, and what was that experience like, going just you and your daughter, way on the other side of the country and then coming back?
J: I grew up between Australia and England and my dad was an Air Force officer. My mother and my father and I were living in Singapore in Southeast Asia and he died when I was 3 months old and my mother and I went back to England and then we went to live with family in Australia. One of my earliest memories is being in a pickup truck with my mother and driving across Australia on a road trip. We went from Adelaide at the bottom of Australia to Darwin, so we went from the south coast in the center of Australia up through the middle of the country, which the Aborigines call the "Never Never." It's the outback, the bush, the wilderness. That was my first experience as a human that I have a conscious memory of—is being in a truck with her. She was 24 [or] 25 at the time, a war widow with a tiny baby.
So for me [my trip] was a hell of a lot less heroic than that. I was traveling across America and it was a lot more certain what was going to be at the other end, and it was easier. Still, I would hope that my three daughters grow up with that sense of adventure. Clearly they think I'm insane, but I hope that they grow up with a sense that amazing things happen when you do insane things.
S: Why a British phone booth in particular?
J: It means the world to me to have them. But I'm more American than I am British. I've been here 30 years, so when I go back to England, it's very familiar but I don't really know how things work anymore. So it's nice to have a piece of home here, but Flagstaff is home. I grew up traveling all around the world but when people ask where is home, I don't say England or Australia, I say Flagstaff.
Be the first to know
Get local news delivered to your inbox!