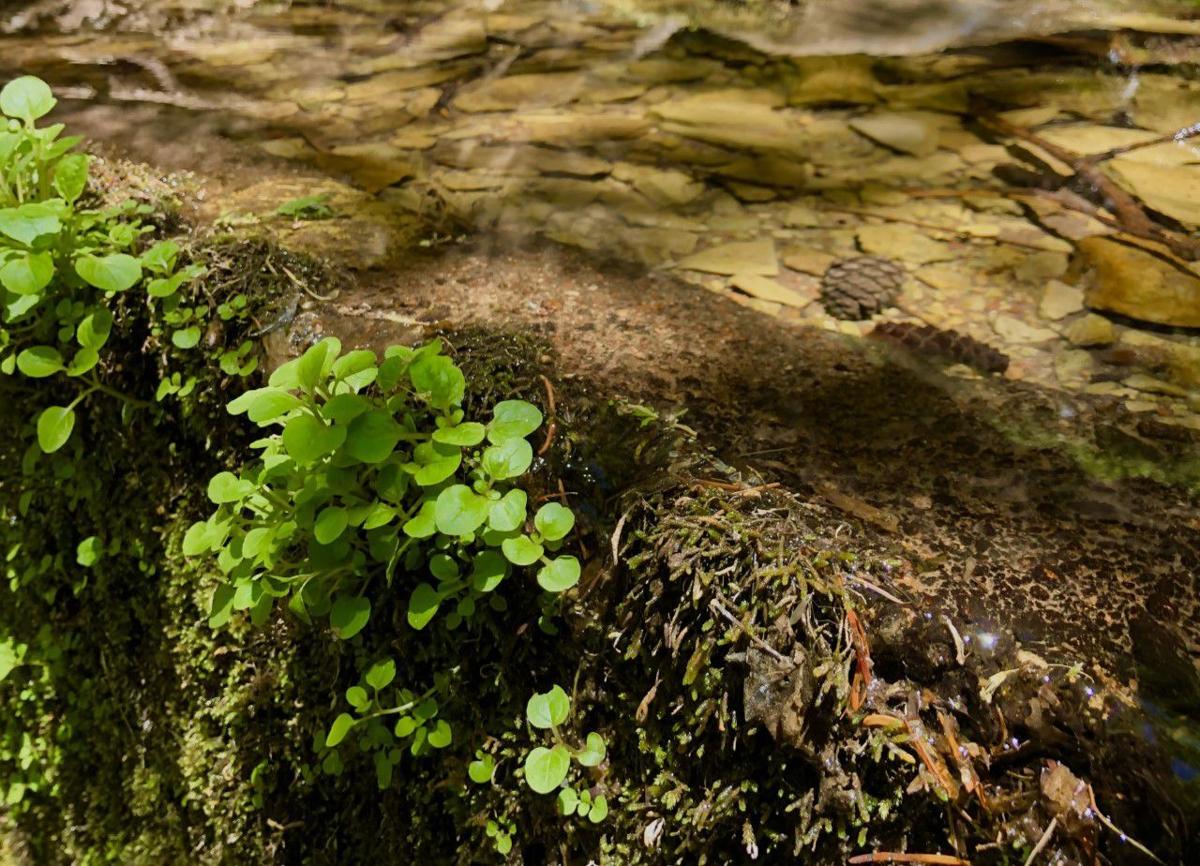 One of the ongoing narratives about my explorations of Arizona remains how I am both deeply familiar with its best trails and incredible features and somehow continually miss or forget about some of them — occasionally for years at a time. This is not surprising in a state with so much public land and so much natural diversity that ongoing travel constantly beckons.
One such place often missed remains the Mogollon Rim and the pulsing streams that erupt below its cliffs. How could I forget about the verdant flow of Tonto Creek? How could I consistently pass up Ellison Creek and locales such as the Water Wheel and nearby branches of the Verde River — especially in a landscape of so little water?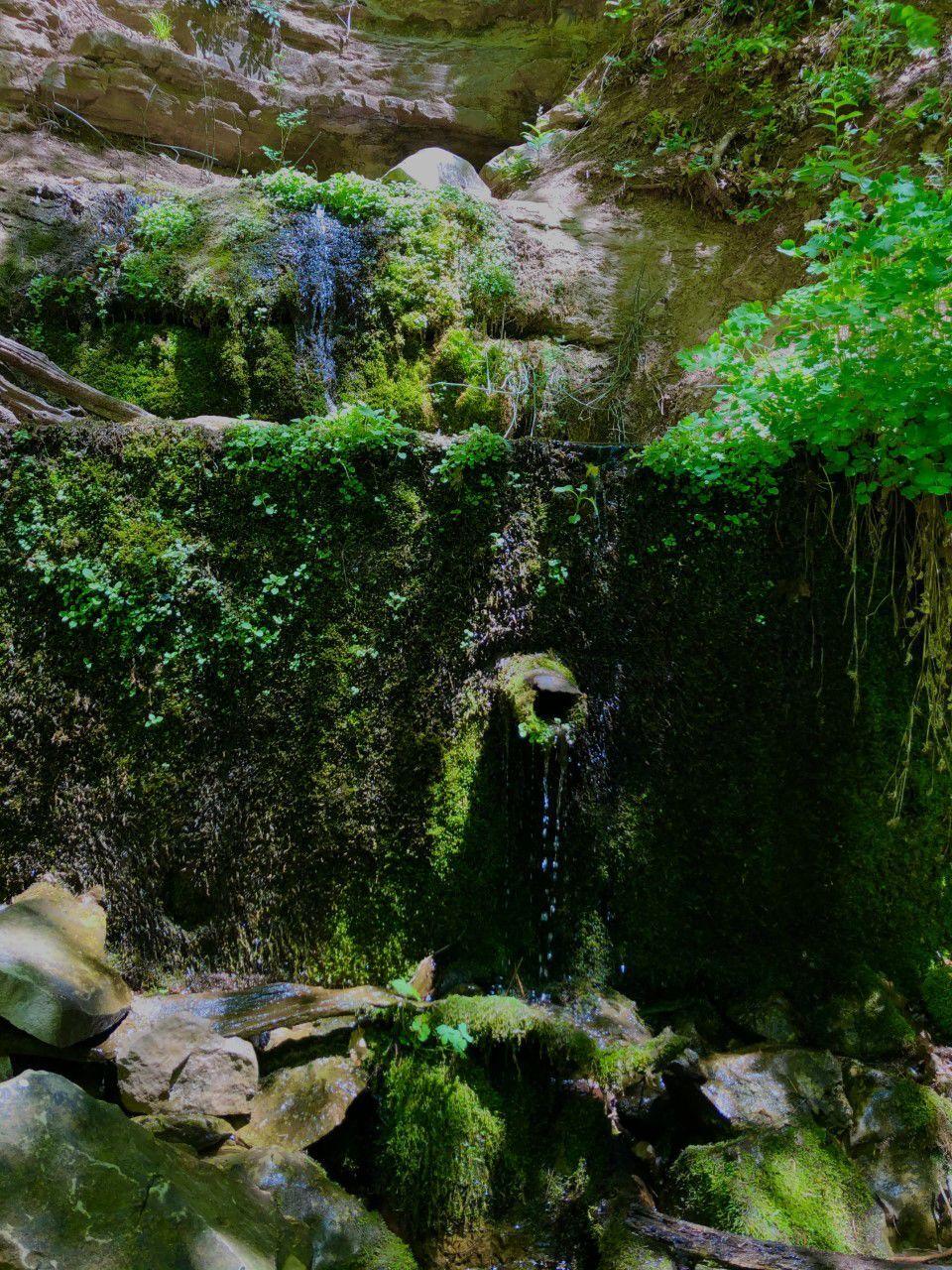 Among these Mogollon gems stands Horton Creek. The family and I plotted a late-spring camping and hiking adventure that involved a reconnaissance mission to stake a campsite at Upper Tonto Campground. From there, we spent two days to experience the day trek to Horton Springs and intermittently ramble and discover hidden pools and cascades along nearby Tonto Creek.
At 5,500 elevation feet and a two-hour drive from Flagstaff, it serves as an inviting three-season destination with a curiously different ecosystem below the sheared-off edges of the Colorado Plateau. It turned into one of the best weekend adventures for our family in recent memory.
A different forest
My wife Jane and I first noticed the trees on our start along the Horton Spring Trail for our eight-mile, full-day ramble along the creek. Though the forest featured stands of ponderosa pine much like the woodlands surrounding Flagstaff, the trees and plant life of the rim country made it noticeably different.
Among the ponderosa were scrub oak, manzanita and yucca. The riparian area also fostered spruce near sycamore near maple. Large-girthed alligator juniper appeared on the flanks of the trail and joined other species of juniper and piñon.
We observed the wild array of this forest before we even took a break at the creek and its immediate environs — the main attraction. The first half-mile of our late-spring hike followed the dry creek bed. But shortly beyond a fence line the flow of the spring waters appeared. We kept our pace and followed the trail as it curved away from the creek 0— only to return to it 30 minutes later to find it fuller. We found a section of pools and cascades for the perfect snack break.
As we moved into the second half of the hike up, our children and dogs struggled with the climb and switchbacks. The coolness and the breeze, joined with the tree shade, helped us along as we neared the top of our elevation gain. When we reached Horton Spring, we found the icy waters on our feet a wonderfully jarring sensation.
A steady crowd of hikers moved along — many at this point following along a route of either the bisecting Highline Trail or the circular route that involves the Derrick Trail, Highline and Horton Spring. However, it did not appear as crowded as what we might see on a given day along Oak Creek.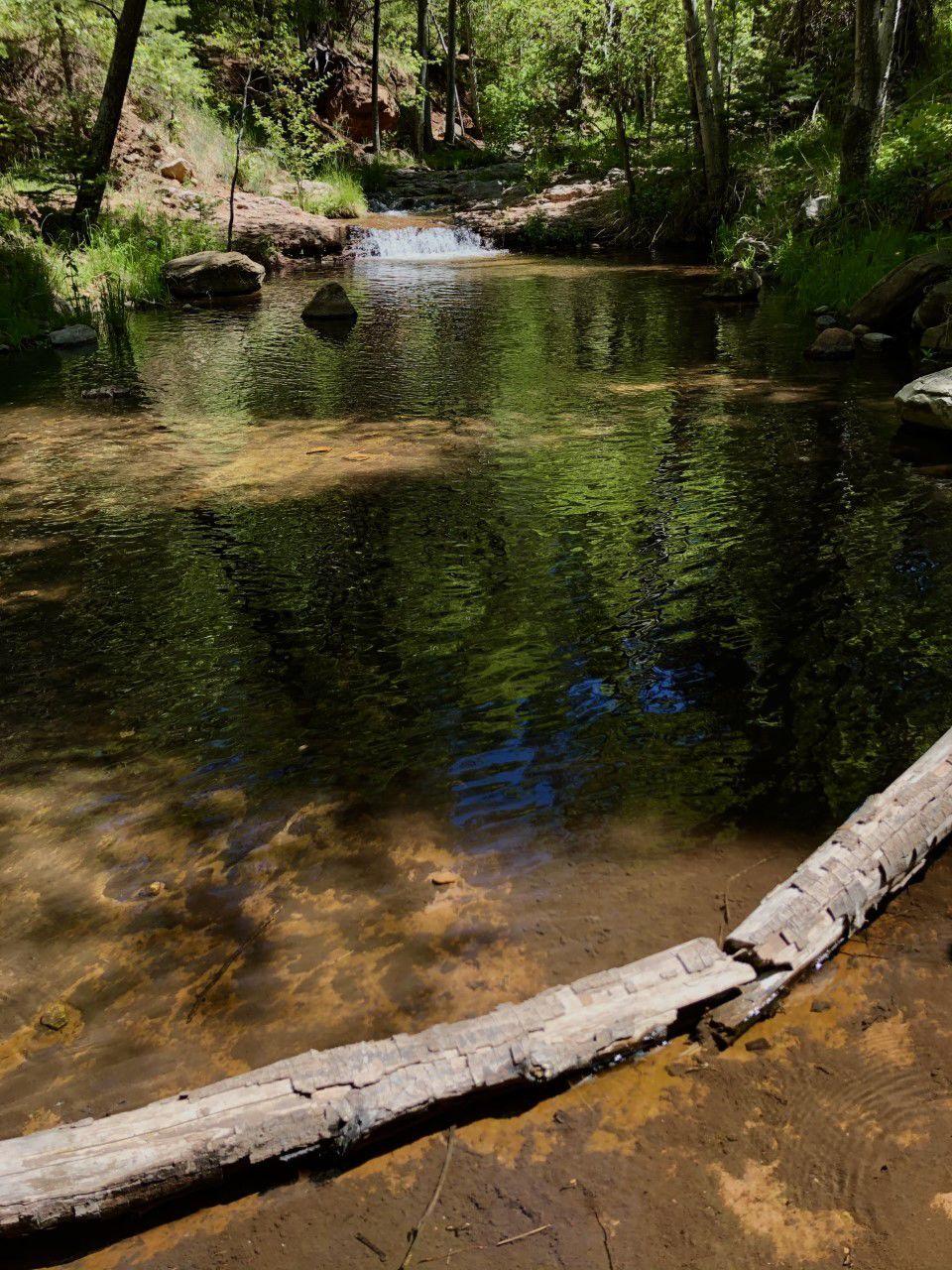 Water abounds
A small, primitive loop took us to the main springs of Horton, where a cascade bursts and rushes out of a flank of rock. A second, smaller spring appears in an alcove. This spring drew me to sit and listen to its dripping and trickling among carpets of maidenhair and moss. A small check dam kept a small pool as clean and smooth as a mirror. I sat and pondered the alchemy of water — how strikingly a water source could create its own ecosystem in the middle of a high-desert forest. The scene indulged us with all shades of green.
After six hours of trekking, exploring, relaxing and basking in small creek-side moments, we returned to Upper Tonto Campground for a lazy afternoon. The campground — near the confluence point of Tonto and Horton creeks — provides the perfect base camp for soaking in this riparian area.
Our children Grace and Ezra could not stay still for long, not in a place where spending time at a creek is involved. They ventured on their own to the nearby run of the Tonto. We joined them later for a chance for more splashing and soaking.
These trails and this area of the Tonto National Forest are no secret gem. In fact, the Upper Tonto Campground has been around since the 1930s when the Civilian Conservation Corps first built it. It also carries notoriety as a frequent hunting ground for author Zane Grey.
And I was sure as the waters were cold that these springs have attracted humans for centuries. I was equally sure we would be back again. It might take a few years to circle back, to remember — though I hoped it might happen sooner.
The Mogollon Rim's Horton Creek provides a lush escape full of pools and cascades.