A sandwich — it's a simple, portable handhold with all the necessary ingredients for a meal buttressed by bread. In other words, it's the perfect luncheon invention. In fact, it was the brainchild of John Montagu, the 4th Ear of Sandwich, who crafted the phenomenon in order to eat and remain at the gaming table. The splendid creation bears his title.
There is an art to assembling this veritable feast between crusts. Bread is the canvas. It is also where art becomes architecture. Whether one prefers rustic ciabatta or a granary slice, the bread should be substantial, not sloppy — a foundation upon which to build. Spreading a condiment provides a barrier to mushiness or adds moisture. Next, cheese imparts strength as well as sharp, nutty or velvety appeal. Meat often showcases, and greens cap it off. The British Sandwich Association — now, there's an organization worth its salt and pepper — actually crowns champion sandwich makers annually at the Sammies Awards.
Premium ingredients differentiate and drive customers to their favorite deli for the real deal. Aspen Deli utilizes Boar's Head meats and cheeses to handcraft sandwiches on Village Baker breads, kitted out with homemade sides. Situated across from city hall in downtown Flagstaff, they draw a steady fan base with a casual approach and novel options.
"We mix it up to keep regulars coming in," said co-owner Carlos Turrieta. His goals are, "Making people happy — their smiles — and exceeding their expectations."
Aspen's lunch box option contains a sandwich, side salad and cookie and won't break the budget at $12.95. Downtown workers edge a 10% discount.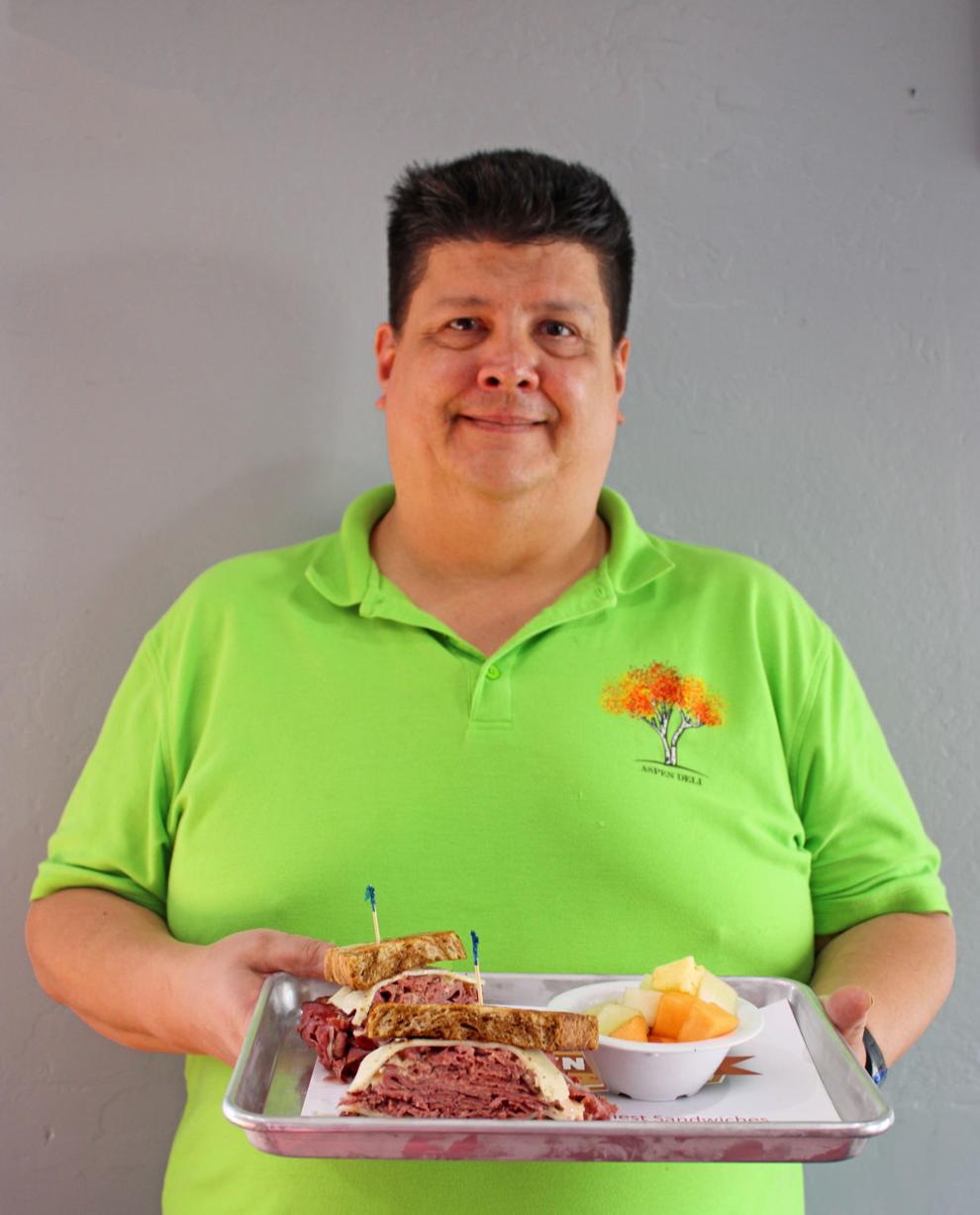 Carlos and Kris Turrieta bought the flagging shop more than two years ago to fulfill a dream. The couple has extensive food industry experience, working in San Jose for Microsoft's many food campus stations with daily menu changes, then NAU food service, plus a stint for Kris with Albertson's deli. Carlos always wanted to run a little deli in a mountain town, and the swap from full-service to a manageable menu fit their goals.
After major changes and swift decisions on how to open and prep food, they made their mark, despite the pandemic. Fortunately, deli food lends itself to quick pick-ups.
"Sandwiches are great for trails, forest adventures, picnics and anything outdoorsy," Carlos said. "Last year was a blessing, too, giving us more time with locals, our base."
On weekdays, nearby workers are regulars. One gentleman orders Aspen Deli's specials, such as fried bologna or deviled ham, six days a week. On weekends, tourists stop in for a bite, while the dog-friendly patio appeals to all.
Aspen aims for full flavors in a variety of scratch spreads, like pesto or chipotle mayo as a twist on standard sandwiches. A variety of sides are changed up weekly to keep it, "new and different or old and classic," Carlos explained. For instance, there is always potato salad, but it may vary from the simple stuff to barbecue or lemon rosemary.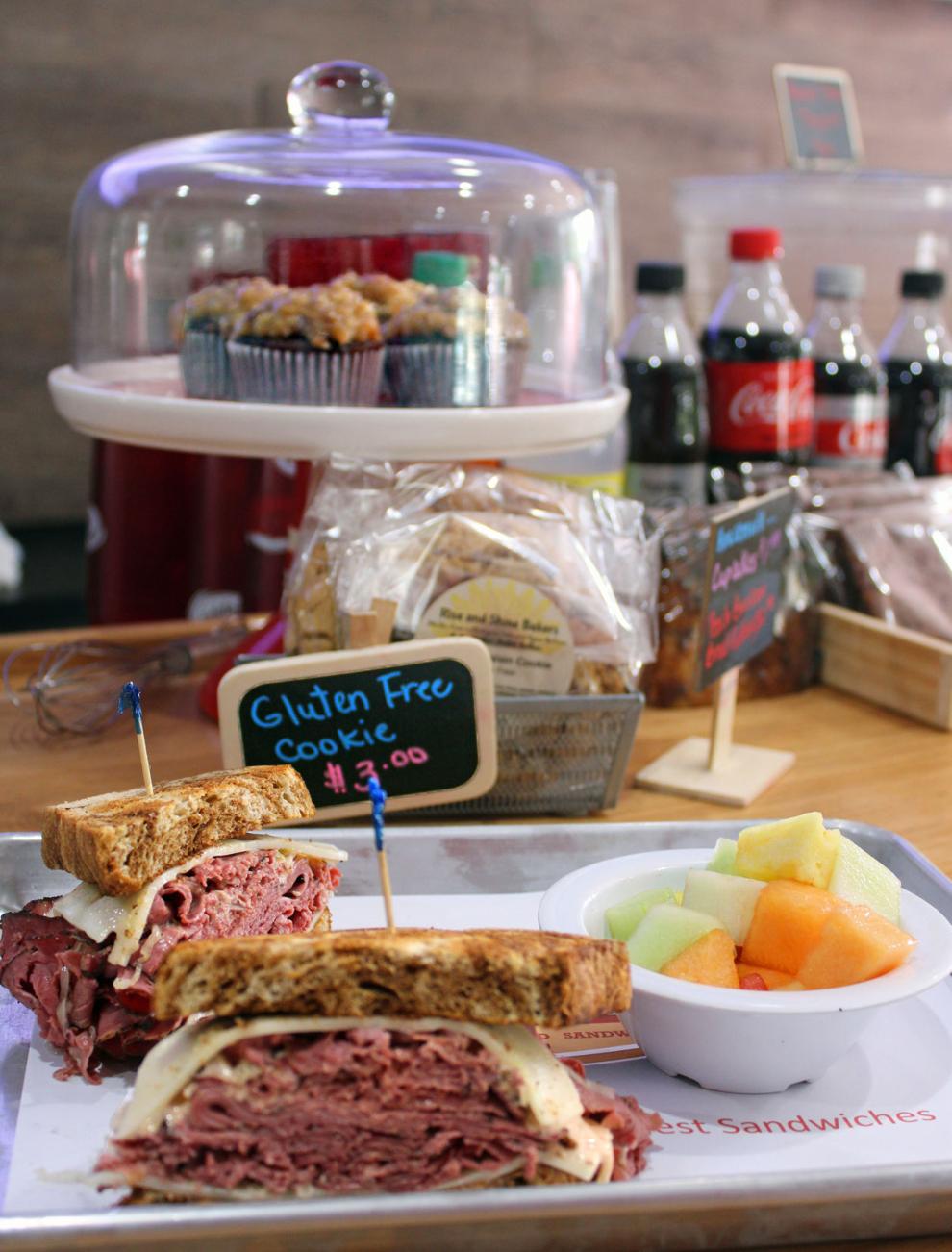 The Reuben sandwich stacks lean, shaved pastrami with sauerkraut and house Russian dressing on marbled rye for a mammoth meal, but there is room for a side of freshly fried chips. The California turkey wrap rolls up layers of thin turkey with bacon, avocado, Swiss, lettuce, tomato and pesto mayo and toasts it for a cool lunch crunch. The chicken panini features Red Bird's plump product — with no steroids and community give-back — with pesto cream cheese, roasted red pepper, tomato and provolone for a satisfying hot option.
The scratch-made soups change daily with choices like broccoli cheddar, spicy chili steakhouse or Hungarian mushroom with a cream base and smoked paprika. Botted beverages or house tropical tea and lemonade serve as sippers.
The salad bar boasts 50-plus items that rotate seasonally. It begins on a bed of spring mix, romaine or spinach. Vegetables, such as Brussel sprouts, cauliflower, sweet potatoes or asparagus, are roasted in-house, and proteins include baked chicken, shrimp, imitation crab, diced ham and beans. Cheeses range from feta to blue to parmesan, and seeds, like sunflower, pepita, and almond are roasted for topping. Oil from the local Olive the Best creates the base for dressings Kris blends daily: lemon, mango and balsamic vinaigrettes, pesto ranch and more.
As a sweet treat, Kris bakes cookies and cupcakes, rotating flavors like German chocolate, plus bread pudding. A deli certainly has plenty of leftover bread! The egg custard may tend to peach bourbon or cherry white chocolate or whatever her whimsy.
Carlos enjoys working with Kris, sharing the day with someone who shares his vision.  Kris credits her partner as the brains, and she handles the personality side of things at the front of the house. "The highlights of my days are my customers," she said. "They put a smile on my face."