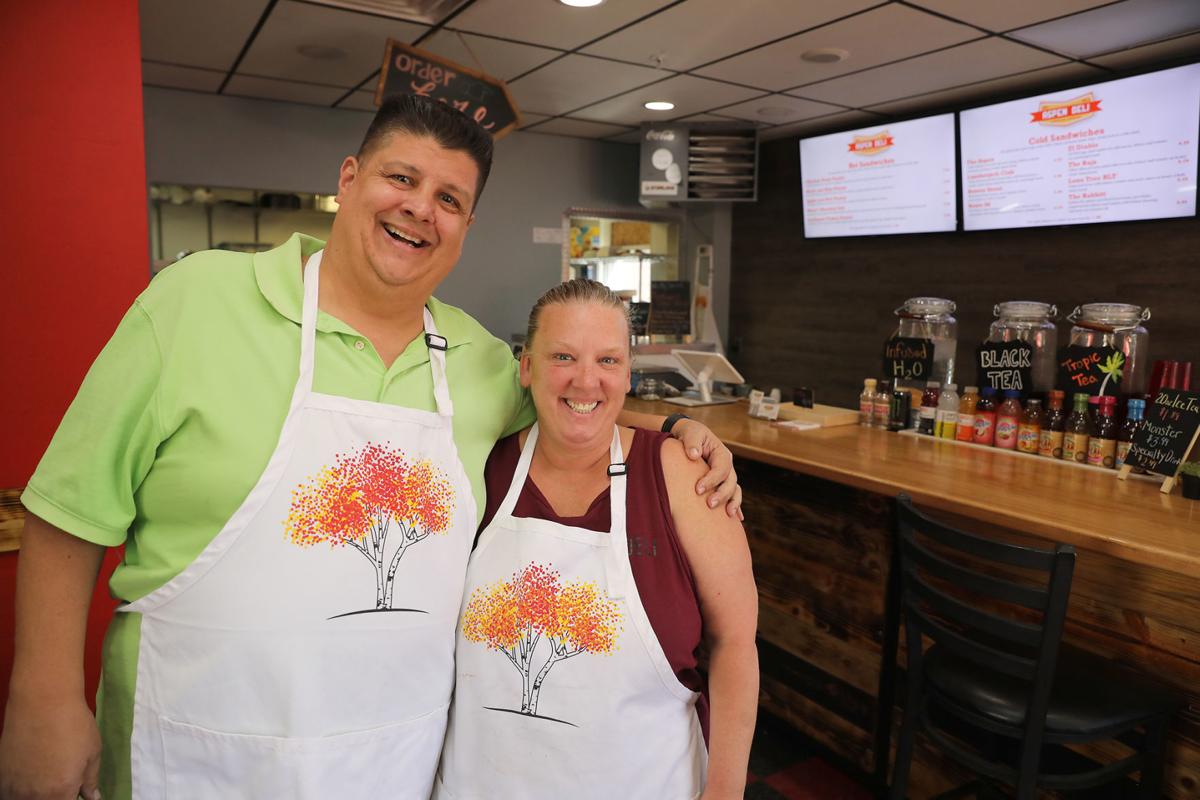 While some may consider the corner of Route 66 and Beaver Street to be one of the most congested spots in Flagstaff, Aspen Deli's new owners Carlos and Kristine Turrieta don't see it that way.
"Flagstaff's actually really great. It reminds us of the Bay Area 20 to 30 years ago without all the traffic, without all the population," Carlos says of their hometown.
The couple knew they wanted to eventually retire in a mountain town and moved to Flagstaff a year ago. While Carlos worked as the retail manager for Sodexo at Northern Arizona University, Kristine worked in the produce and meat departments at various grocery stores in town. But when the opportunity presented itself to take over Aspen Deli, both of them handed in their notice.
"It's always been our dream to own a sandwich shop in a small town," Carlos says. "We said, 'Let's do it; it's time.'"
Aspen Deli had been closed for four months when they saw it was for sale in April. They first set eyes on what the building had to offer when they peered through the windows of the empty storefront.
The building was originally used as storage for the Orpheum Theater, and was revamped into Stage Left Deli by the concert venue in 2010. New owners took over the spot in 2014 and changed the name to Aspen Deli. The shop is no longer associated with the venue, except for the fact that current Orpheum owner Charles Smith is the landlord.
The Turrieta's began renting from Smith in June, and reopened Aspen Deli in mid-July. Although the name is the same, the menu items are completely different.
"It used to be an East Coast-style menu and now it's more of a West Coast-style menu," Carlos says. "East Coast is more pastrami, corn beef, salami—heavier meats. Whereas the West Coast [style] is more about the flavors inside the sandwich, not just the meat itself."
Aspen Deli also now boasts the only downtown salad bar and a rotating menu.
"Before we came out here, we worked in Silicon Valley doing corporate food service out there [for] all the high-tech companies," Carlos says. "So we had a set population already coming in so they wanted something different every day. We're used to doing different things, to mix it up for people."
You have free articles remaining.
Menu items rotate two to three times a week, except for the staple sandwiches, the fruit salad and the house-made chips. Sides rotate between various pasta salads, Mexican style coleslaw and variations on potato salads.
"[If] you come in on Tuesday, it's going to be different than if you come in on Saturday," Carlos says.
At Aspen Deli, Carlos and Kristine are able to vary menu items and have the freedom to experiment, something they weren't able to do much of while working in California.
"The dynamics of the job changed because of the tax laws out there," Carlos says. "It's all standardized now, it's a lot less creativity, and that's why we wanted to open our place—so we can be creative."
While the couple has brought a West Coast flair to the shop, they still embrace Aspen Deli as a Flagstaff staple, and say they are grateful to be here and that the community has welcomed them.
The new logo on Carlos and Kristine's aprons is a painted aspen tree with its signature yellow and red leaves. The menu and business cards also feature the tree, while bright paintings and photographs of northern Arizona landmarks are interspersed on the walls. The patio has also been expanded and revamped so more customers can sit outside.
"I just wanted some fall [colors] because the outside is a little darker with the browns and the deep purple so I wanted to change it up," Carlos says. "Give it a lighter, more airy feel—like the food."
At the salad bar: items for deli-goers to top their greens with change depending on the season. In the summer, there is an abundance of local fresh fruit and local vegetables, while in winter, grilled root vegetables like turnips, carrots and parsnip will be available.
"We're trying to attract the workers who are already down here to the salad bar. A lot of the city workers, county workers and your local business people come in for a salad 'cause its quick, it's easy, it's nutritious. It's healthier than a big heavy burger or something," he says.
Of the hot sandwiches, Carlos says the Southwestern Turkey and the Chicken Pesto paninis have been the most ordered since opening. As far as cold sandwiches, favorites among customers are The Aspen, made with turkey breast and avocado, and the hefty-sized Lumberjack Club on sourdough bread, which includes turkey breast, black forest ham and bacon topped with lettuce, tomato, Swiss cheese and pesto mayo.
Carlos' go-to is the Route 66 cold cut (roast beef with avocado, cheddar cheese, lettuce, onion and tomato with chipotle mayo on jalapeno cheddar bread), while Kristine opts for the Black and Blue Panini (roast beef with caramelized balsamic onions, tomatoes, spinach and blue cheese cream cheese).
Aspen Deli is located at 20 N. Beaver St. Hours of operation are Monday-Friday from 10:30 a.m.-5:30 p.m. and Saturday from 10:30 a.m.-3 p.m. Diners in a hurry can also order food for delivery through Seamless, GrubHub, Postmates and LoDel. Call (928) 440-5176 for more information.