Welcome back to the Masters of Brewtality craft beer crypt, boils and ghouls, you're in for a treat! We loaded up the usual gang of creeps, geeks and freaks into a jacked-up 1962 Cadillac Hearse monster truck and laid rubber all the way down Old Route 66 this month to check out the ever-growing Kingman beer scene just a couple hours west.    
For Flagstaff locals, Kingman has always been the spot where we stop for In-N-Out on the way to pretty much anywhere and lament the lack of one back home (it's coming, right?). But, in 2013, brewer Tim Schritter took his love of homebrewing and opened up their first craft brewery right in the heart of old town, Black Bridge Brewing. Over the years, they've won three awards at the legendary Strong Beer Fest and grown to a facility with seven fermenters, two massive bright tanks and more than 500 barrels in their inventory. They're still a completely local family-run establishment and make it a point to work with other hometown businesses. The coffee for their immaculately executed stouts and porters comes from Beale Street Brews Coffee Roasting one street over and their barrels come straight from Kingman's new distillery, Desert Diamond. Tim is exactly the kind of guy we love here at Masters of Brewtality: funny, unpretentious, deeply passionate about the beers he makes and willing to break out his secret stash of limited editions. We can proudly say we sampled everything they had on tap, plus a few, and there wasn't a beer tasted there that didn't knock it out of the park. It's always inspiring to see a brewery take such care to respect traditions while still striving for innovation in their flavors. Our personal recommendations are the Wicked Poison, a brutally potent 14 percent ABV Imperial Wheat that somehow manages to go down smooth with just a whisper of lime, and Chocolate Hooley. This intensely chocolatey oatmeal stout comes in at a reasonable 6.5 percent and would pair amazingly with anything dessert related. For a hot summer day, their Blood Orange Wheat was a hit as well, with crisp, sweet orange notes and a pleasant backing flavor. Black Bridge is, hands down, one of our favorite breweries in the state and absolutely worth a stop.
Naturally, we wouldn't be the column we are without checking out some of the haunted stops and Old Town Kingman is chock-full of them. We met with Becca Parks, owner of Black Sheep Ink Tattoos, for an impromptu tour of a few the apparitional attractions in the area. Our first stop was Sportsman Bar right off the main drag, where specters are sighted constantly. The rum drinks are cheap and cold, the decor is that of a classic dive bar and it's right next to a ghost-infested hotel filled with original Route 66 memorabilia still visible through the dusty glass. From there, we wandered over to the site of the very familiarly decorated underground tunnels that snake under downtown. No kidding, the glass circles used for lighting the tunnels on the sidewalks look exactly like those here in Flag and, like ours, tales of spooks from the seedy past abound from pretty much anyone who's been in them. The heart of Old Town still has the tree used in Kingman's only hanging and the building where the old mortuary ferried the departed off to The Next Step has gained new life as an antique shop.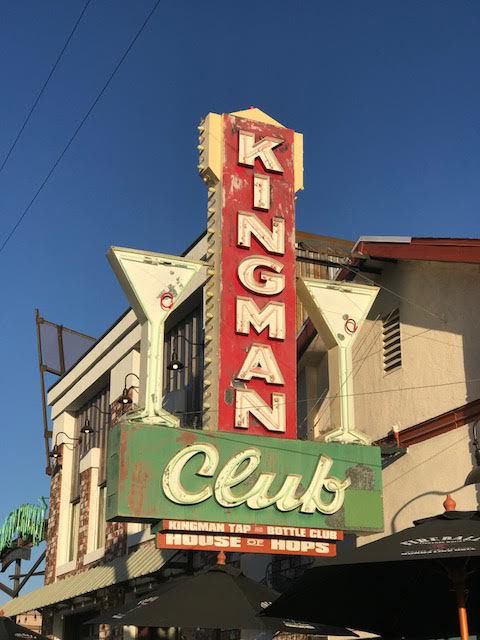 From there, our motley crew made our way to the newcomers on the block, Rickety Cricket. This place was MASSIVE! Its beginnings were humble enough, starting out as the House of Hops pub in what was formerly a gentleman's cigar and cognac bar in the 1940s. Now, they're running a full pizza kitchen, brewery and vintage arcade room. And they've got the classics, too! Mortal Kombat, Ms. Pac-Man and 1991's groundbreaking Spider-Man: The Video Game all brought back fond memories of teen years spent spending quarter after quarter, but the real star, as it should be in any brewery, was the beer. Their peanut butter stout was a surprisingly approachable take on a style that usually tends to just punch you in the face and their Anaconda Squeeze was a crisp take on a classic IPA. If you're looking for a morning beer, the Wake and Bake Coffee Porter, coming in at 5.1 percent ABV and a light 22 IBUs is just what the doctor ordered. We'd suggest the mozzarella sticks to keep the hangovers away!  
Next time you're headed to Vegas, make a longer pit stop and check out this small town gem of Route 66, and tell them Masters of Brewtality sent you!