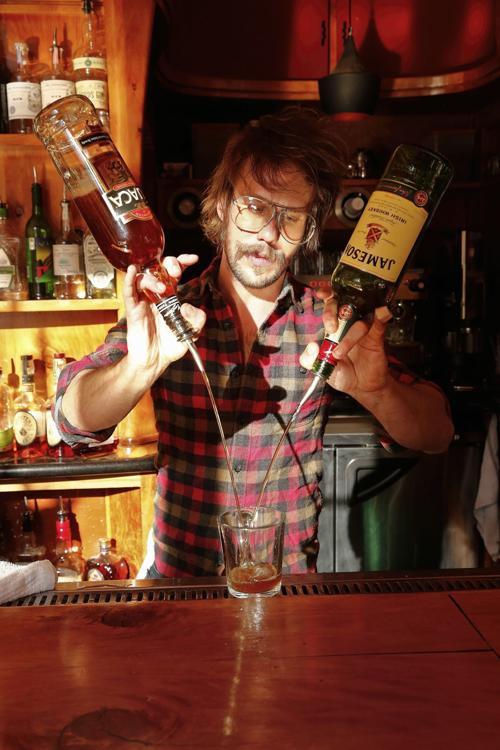 With a phased-in reopening of businesses looming in Flagstaff and across the state this week, we wanted to take a look at the past month or so of quarantine. It's been quite a ride, hasn't it? If you're anything like the staff down here in the Masters of Brewtality crypt, you've been hitting the bottle harder than a coffin nail, which is just fine. We all cope with stressful situations in our own ways and, apparently, we here in the crypt cope with stress the same way we celebrate and fly planes: with copious amounts of drinking. While our livers may be calloused, our hearts certainly are not, so this month we're going to give shout outs to some real heroes of the quarantine. With a little luck and smart social distancing, perhaps next month we'll be back to our standard format.
Beer: Our first and favorite, we've been crushing the Founder's Centennial IPA with a vengeance. Money is tight and this one has it all: complex flavor, just the right ABV to be sessionable while still getting you numb to the dire straits of the world. It is also a few bucks cheaper for this 15-pack versus a 12-pack of a comparable beer. The light color shines brilliantly in a pint glass and the subtle hints of citrus and hops bring that summer sun indoors. Plus, the can design is delightfully art nouveau, making each sip practically a trip to a museum. That's how that works, right?
Rum: Before any rum snobs freak out, we're well aware that Sailor Jerry's isn't great. It's not even that good. But, it is directly marketed to the heavily tattooed, rock 'n' roll lifestyle we live and die by down here in the crypt. Add a dash of Cherry Coke and a slice of lime and it goes down just fine. Fun fact, Sailor Jerry was notorious for deliberately putting a design flaw in his flash, which he sent out with the idea that if other tattoo artists weren't smart enough to fix it, then they weren't worth anything. Next time you've got a pint or bottle in front of you, take a few minutes and see if you can find it.
Whiskey: Not so affectionately called "Argument Fuel" down here, we did make it through a fifth of Peach Street Distillery Five Year Aged Bourbon. It was delicious, but, like all good things, it should be used sparingly.
Weed: We don't really smoke much anymore. Most of us used to be cool, but with the mind blowing increases in the potency of the Devil's Lettuce, a lot of us old potheads started getting weird and paranoid. More power to you if you're still able to enjoy smoking with a calm headspace. It's just a plant. A couple of the ghouls thought it'd be good to pick up a strain of the artistic stuff in the hopes that it would inspire some groovy art, but it pretty much just put them to sleep—which wasn't bad, either.
Psychedelics: A few of the creeps and geeks down here tried the microdosing thing to pass the time, but just wound up tripping their faces off for three days. They say getting the portions right and still being able to function is the hardest part, so if you wind up waking up in a cartoon at 3 a.m., enjoying a Grateful Dead documentary, it's safe to say you took too much.
Hard drugs: We didn't dabble in these; you shouldn't either. Or do—what are we, your parents?
Finally, all absurdity aside, the Masters of Brewtality Favorite Hero award goes to the folks still working at the liquor stores. Of course, we tip our hats to the doctors, nurses and other medical staff bravely putting their lives on the line every day during this terrible crisis, but those are the folks you buy a drink for, not from.
We've been near daily patrons of Majestic Marketplace. Huge props to Sam and the rest of the crew for being one of the first and most consistent liquor stores to adopt masks, gloves and curbside pickup. Our friends at Beaver Liquors have held it down fabulously with some sweet deals, too. And, if you're looking for a perfect way to completely annihilate an entire afternoon, Lumberyard's Yard Jars are straight dangerous.
Our optimism is low, like most everyone's, but the knowledge that we can order giant to-go containers of irresponsibly potent margaritas and Long Island Iced Teas shines like a candle in the dark. Stay safe, Flag. We'll get back to it soon enough, and, to our beloved bartenders, we miss you all so much.
Be the first to know
Get local news delivered to your inbox!