This month, boils and ghouls, the team of creeps in the Masters of Brewtality crypt are heading above ground to tackle one of the most important aspects of craft beer culture: pizza. 
Pizza and beer have long been recognized as the two most important things ever created by our species. In celebration of that undisputed and in no way exaggerated fact, we had a sit down with Pizzicletta's owner Caleb Schiff to talk about the history and inspiration behind one of Flagstaff's favorite pizza joints.  
MOB: First off, we love your pizza and we love the fact that the two locations are closely tied to two of our favorite breweries, Mother Road and Dark Sky. How'd the whole thing get started?
Caleb Schiff: 2011 was when we first opened and we just celebrated our eight-year anniversary this month. The idea and the name started around 2007 when I built a wood-fired oven in my backyard. The name was the root of the business, though, coming from the Italian word for bicycle, which is bicicletta, and, of course, pizza. It harks back to a trip I made earlier in 2007 when I biked through northern Italy for two weeks and had my first wood-fired pizza. I was floored. That was the initial spark and from there, I built one up in my backyard.
The inspiration adventure gives us. What city?
It was in Verona, famously where Romeo and Juliet was set, and it was after my first day biking. Long day, too. I went from Milan to Verona and got, like, 120 miles in. I know I was very, very hungry, but the pizza was very, very good (laughs).
Obviously, there have been some changes since that first oven. Are you still using your own design?
That one took me about three months to build over the summer and was a really fun project. Even then, I wasn't sure what it was going to turn into, as far as a business or anything like that. Looking back, there were definitely some things I could've done differently. When I started putting the business together, I looked into Stefano Ferrara ovens which are made in Naples, which is kind of the birthplace of pizza. He's a third generation oven maker and his family has been at it for about 100 years. So that's what we've been using.
How did you go about getting started?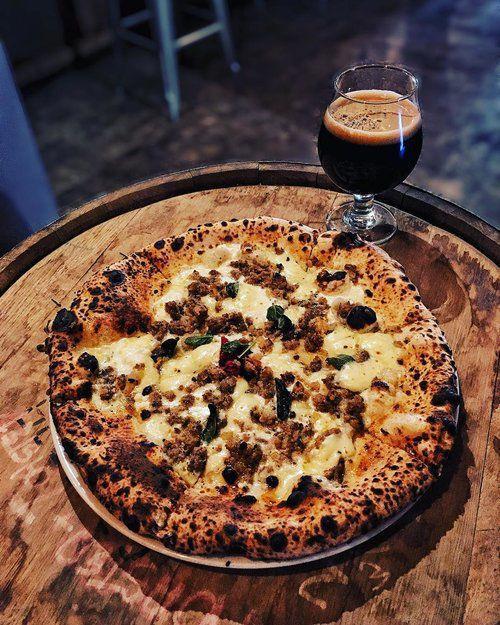 I didn't know what the heck I was doing (laughs). I've got a master's in geology. I didn't have a business degree and hardly any culinary experience, but I've got critical thinking skills and can solve problems. I just wanted to keep things very small and our menu simple. Our first space was tiny because that's what I thought I could manage initially. We opened about four months before Mother Road, but they were already doing construction when we signed the lease. A lot of people think we got the Pizzicletta name since we're next to door to Bike Revolution, but it was just a happy coincidence. Bikes, beer and pizza all in one building is a pretty rad building. 
These are a few of our favorite things…  
But, at that time, the Southside was not what it is now, which was good in some ways. Rent was dirt cheap, but it was a little less kept and a little rougher place. Around 2013 or 2014, Mother Road reached out to us to ask if we'd like to serve pizza in the taproom and of course I was like, "Hell yeah!"  
You've got separate menus for each location. For Mother Road, what's your favorite beer and pizza combo?  
I usually lean toward lighter beers and like their session IPA, Daily Driver and a red-based pizza.  
And you've just cleared two and half months in the new location inside Dark Sky.  
And had signed the lease just five months before that! It all happened so fast.  
Has this second location taken any pressure off the other location? It just seems like you all are slammed all the time.
Maybe a little. We did 300 pizzas on our anniversary at the first location.
What's your recommended beer and pizza combo over at Dark Sky? We're hooked on the watermelon sour and the Bee's Knees.  
What was interesting about developing the pizza menu at Dark Sky was that every night at location one, we've had a special. We knew what sold well and one of the most popular flavor combinations was something sweet, typically honey, heat and a meat. And the Bee's Knees is definitely our best seller there. I'm a fan of sours with pizza, too.