The excitement was palpable at Wee Scotty Sewing & Craft Boutique in downtown Flagstaff as Amelia, 11, and Selah, 10, neared the end of their eight-week sewing course one late afternoon in May.
"Oh, it's beautiful," Amelia said as she held up the flowy blue blouse on which she had just completed sewing buttons. "This is the best shirt I'll ever wear. Ever."
"Yeah, that's 'cause you made it," Wee Scotty owner Lynne Gallagher said.
Selah drew inspiration from an Audrey Hepburn dress she found in a design book, working with a dark fabric with a reoccurring abstract pattern. A touch of whimsy finishes the outfits with the addition of woodland critters on both the young designers' outfits—a mouse in the pocket for Selah and a squirrel on the skirt for Amelia.
"I'm gonna wear this every day!" Selah said upon trying on the completed dress.
"I'm gonna wear this on picture day!" Amelia responded, also wearing her brand new custom clothes.
"Eight weeks ago, they didn't even know how to wind a bobbin or how to thread the machine," Gallagher said after the two left. "We're just happy to see people interested in sewing and designing and developing. I mean, you could see the joy on their faces."  
Gallagher's own interest in sewing began when she was young. Growing up in Buffalo, New York, she gravitated toward the Schwob family who lived next door and had a daughter her age, but it was the matriarch's constant projects that drew her curiosity. And Mrs. Schwob must have seen the spark of creativity inside her, as she took the young Gallagher under her wing and taught her how to stretch and sew with elastic when she was 7.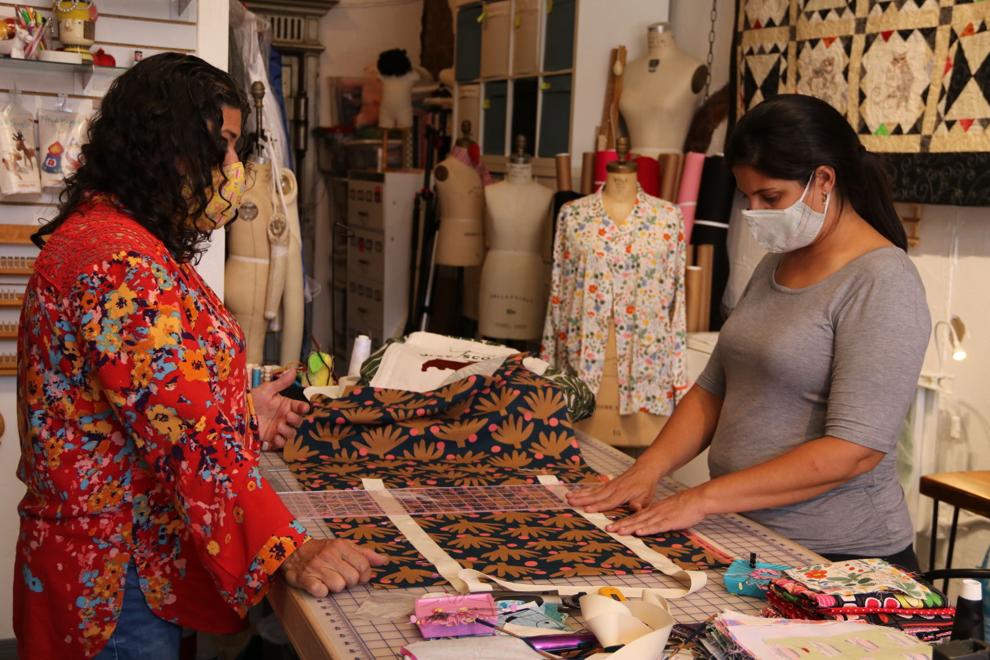 "That summer everybody had a bathing suit in the neighborhood," Gallagher said with a laugh. "We were all little kids so it was just little triangles and the pants all had to have elastic, but nothing fell apart. It was awesome."
This passion continued into middle school when all the students were being encouraged to explore a variety of elective classes; she refused to take anything other than sewing.
"My mom got called to the school and she said, 'Well, if she's not interested in music, let her sew,' and there it was," she said. "So I took every single sewing class that they offered from seventh grade all the way through high school."
After briefly experimenting with an office job, Gallagher decided to instead support herself through sewing and began offering clothing alterations in the community, a decision which would eventually lead her down a path that's been anything but boring.
She moved to San Francisco, California, in 1991, where she became the go-to seamstress for a local auditorium when acts like Black Crows and KISS needed clothing repairs.
"It just started snowballing," Gallagher said. "I worked then with Rolling Stones, [Led Zepplin singer] Robert Plant's wearing my stuff for his induction into [the 1995 Rock and Roll] Hall of Fame, he's rocking out with Neil Young and wearing my shirt."
Her clientele list grew to include the likes of Ringo Starr, Steven van Zandt of Bruce Springsteen's E Street Band, Shakira and Janelle Monáe more recently.
Established in 1995, Wee Scotty has served a different purpose, offering classes to members of the community in San Francisco and now Flagstaff, although some of Gallagher's San Francisco students continue to attend via Zoom. 
She and her husband Frank — a sound engineer in the music industry who had become unemployed as the COVID-19 pandemic effectively cancelled all tours—moved to Flagstaff from San Francisco at the end of 2020 to be closer to her brother. They already knew they would enjoy living in Flagstaff after four decades of visiting the extended family, but found the perfect spot for Wee Scotty sooner than anticipated.
"I wasn't planning on setting up my business for at least four months. I thought I would take time off. I saw this [building] and the sun was shining on it, and I was like, 'Oh my gosh.' I got whiplash," Gallagher said. "And my brother Brian said, 'Oh, I know Mary, let's go over there and I'll set up an appointment and we'll talk with her.' And we signed a lease that night."
"I don't think we're what people expect to be downtown, which is pretty tourist-centric from what I can gather, and foot-traffic-centric," Frank Gallagher said. "Normally stores like ours would be destination stores, but we decided this would be a great location for us and it's working out fine. We have people from all over come and buy fabric because they can't get it [elsewhere], people from Holbrook, and Winslow."
Inside the historic building, which includes a turn-of-the-century vault from the first vaulted bank in Flagstaff—now used for storage purposes—bundles of fabric line shelves on the north wall with patterns ranging from cheerful floral and sturdy plaid to geometric abstraction and a variety of critters.
New fabrics are constantly being added to the shop, and customers can request a specific pattern or weight if they don't see it in stock; the same goes for any tools they may need to complete their textile projects.
Embroidery hoops and floss, pin cushions, Brother sewing machines, Jean-A-Ma-Jigs for hemming thick seams, vintage lace trim, discounted scrap fabric, thread in all the colors of the rainbow, sewing patterns and more are available to help people craft. Other fun items include temporary tattoos, scented hand sanitizers, gum and double sided face masks for kids and adults.
The couple agrees they have already felt welcomed into the fabric of the community since the store opened in February.
"Oh, without question," Frank Gallagher said. "We're a very creative business, and creative people gravitate to us, and us to them. We get to meet the community, we get to be a part of it. It's not rocket science—if you're nice to people they'll come back, and we actually genuinely like people."
"I love the mutual response more than anything," Lynne Gallagher said. "It's important for us to be part of the community. I think sewing has always been part of a community spirit, you know, as far back as quilting and gathering fur, spinning and weaving and looming from the medieval times even."
School fundraisers have proved a great way for her to get involved and connect with people from different walks of life.
"I do try and reach out, and it's hard entering a new community because they're like, 'Who are you?'" she said with a laugh. "And we're like, 'We're so excited is what we are! We want to share what we do, and we want to help donate to your school.'"
Throughout Wee Scotty's time in San Francisco, the Gallaghers regularly donated gift certificates for silent auctions and other school fundraisers. Winning bidders would receive the gift of creativity through discounts on sewing classes, and monetary donations would also go directly to the schools to benefit their arts programming.
Local theater also benefited from Lynne Gallagher's decades of expertise, and she's already partnered with Flagstaff's Theatrikos Theatre Company and TheatriKids to help design and make costumes for upcoming productions.
"There is a whole season on the horizon and we are partaking in costume work with actors but also working with actors on costume plots," she said. "Teaching the planning of actors' costume changes from scene to scene and how this can really bring characters to the moment in portraying what is happening within the scene. I worked for seven-plus years costuming a kids' musical theatre group and had an absolute blast."
While her career has led her down many different paths, helping others has always been at the core of her work whether that involves working on bridal alterations, developing clothing lines for brands like Old Navy and Joe Boxer, sharing the joy of sewing with students of all ages or mending a rock star's outfit before a large stadium concert. It's a seemingly limitless world in which she is proud to have forged success.
"When you think about it, everything we wear is sewn goods, everything we sleep in is sewn goods, in our homes, our sheets, our bedding, our sofas, everything," she said. "You can take it on any path."