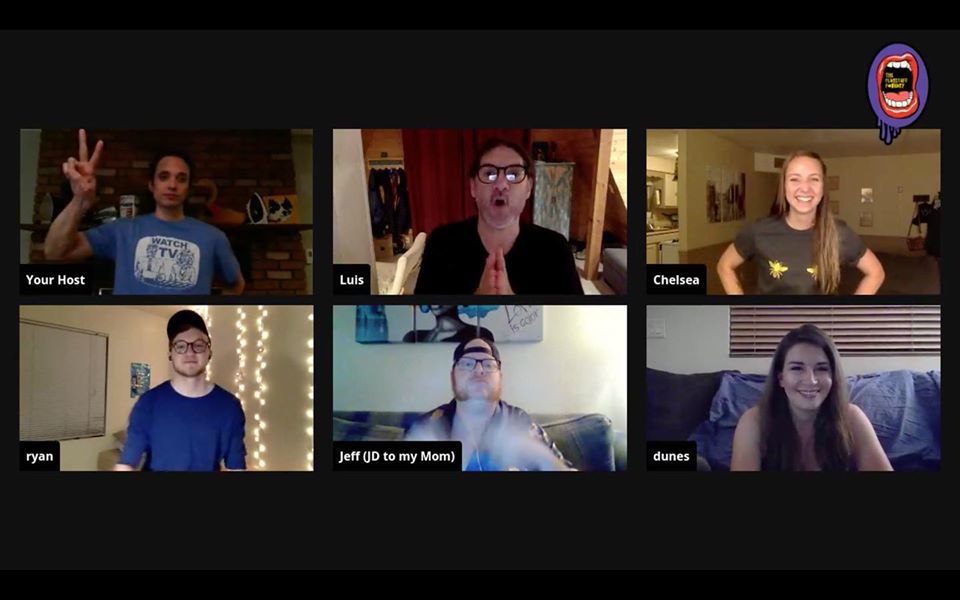 This is the seventh in an ongoing series exploring the lives of artists and community organizers during the coronavirus pandemic. If you know of someone or are yourself a musician, artist, organizer, filmmaker, author, etc. and want to chat, send an email to sconrad@flaglive.com or mchase@flaglive.com.
The old theater adage "the show must go" bears its roots in the circus shows of the 19th century, where it meant that an escaped lion or a performer bungling a stunt would not prevent the ringmaster and band from carrying on for the sake of the crowd. Given the challenges facing the performing arts as a result of the global health pandemic, northern Arizona's beloved Flagstaff Foundry has been carrying on nonetheless, taking its show to the virtual stage for the benefit of Flagstaffians. 
The monthly variety show's first adapted performance, dubbed It's Virtual Foundry Time!, premiered in March. According to Foundry board members, the show was enthusiastically received by regulars and newcomers alike. The extravaganza is coordinated by board member Dina Barnese via StreamYard, allowing viewers to tune in live on the group's Facebook and YouTube pages as she cuts to each performance.
However, while going virtual has not been without its challenges, an adept ringmaster never flinches, and founder and master of ceremonies Garrison Garcia has been able to roll with the punches.
"It is a head trip for sure, the panoptic aspect of it—not to get too Mike Foucault on you. Maybe this is the therapist in me talking, but I think we all perform, on some level, out of a need for attention. And I am alone talking into my computer," Garcia says with a laugh.
But like the skilled improvisational artists they are, Foundry performers and its board of directors have been quick on their feet. 
"I'm thinking of this aerial act, the folks were rehearsing with us and their internet connectivity just wasn't making it possible, which was heartbreaking. We could tell they really wanted to be a part of the show; they ended up recording their act and then we played it live. This was something we'd never done before, shown pre-recorded material, but [the performers] were there in the chat and able to commentate and take questions live, so in that regard it was still in the spirit of what we do, still very Foundryesque," Garcia says. 
Since 2015, the Foundry has been a bastion for community-driven arts with artists showcasing their talents in various fields including spoken word poetry, improvisational comedy, aerial dance and live music among many other disciplines and mediums. The organization's vital work in the creative community has not gone unnoticed, as it has been a perennial nominee for the Flagstaff Arts Council's annual Viola Awards. 
Still, the health crisis has brought forth some unexpected boons to the Foundry folks. 
"There have been artists and performers from our past, from the past four years, who have gone on to have careers in different cities, different countries, and many have returned," Garcia says. "They've been tuning in and participating, and that has been amazing. It has been really wonderful to see them again and have them return to be a part of this."
And though the show has no doubt changed as it has taken to the small screen, much of the Foundry's spirit is still alive in these virtual variety shows.
"I for one really vibe off of the crowd, off the live audience, and some folks aren't into it but I encourage the heckling," Garcia says and then laughs, adding, "I actually look forward to it. And we're still seeing that sort of response in the virtual Foundry shows, only it is in the chat. Some of the common responses, some of the usual heckling and jokes. It's on a delay, but I love to see that."
As for the future, the Foundry's forefather remains optimistic. 
"We're prepared to do as many of these [virtual Foundry shows] as we have to. Of course we'd love to be in front of a live audience again, but we want to be responsible when it comes to the health and safety of our community," Garcia says. "Hopefully we'll be able to have a show soon with a limited amount of audience members, and we can broadcast that live to everyone else."
The free virtual event will be hosted from 8-9:30 p.m. Saturday, May 23. Visit the Flagstaff Foundry on Facebook at www.facebook.com/flagstafffoundry or subscribe to the Foundry's YouTube page for more updates.
Be the first to know
Get local news delivered to your inbox!