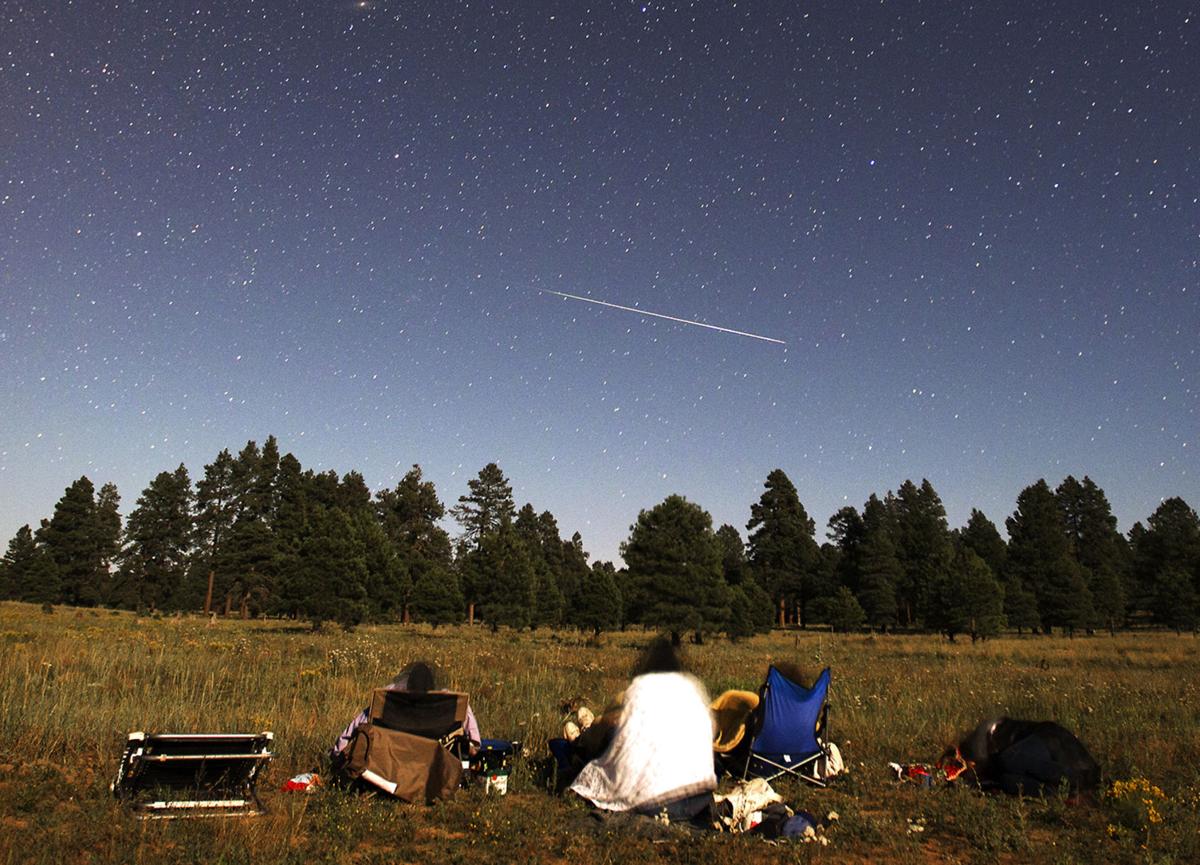 Blankets? Check. Hot drink? Check. Access to an open space free from light pollution? Double check.
Each August, as the earth passes through the debris left by Comet Swift-Tuttle, the sky briefly lights up with between 50 to 75 meteors an hour during the peak of the Perseid meteor shower, and as many as 100 can sometimes be visible within an hour under ideal conditions. But even in the world's first International Dark Sky City, it takes patience to view this annual phenomenon.
"For a shower that's this strong, the lead up and the tail end is quite broad, and we're seeing lots of Perseids now, even a week out, and it will only increase more," Dr. Nick Moskovitz, an astronomer with Lowell Observatory, says. "The trick with a meteor shower is you're always fighting the moon—a big bright glowing thing in the sky is going to make it difficult to see meteors."
For those wanting to catch the shower when it peaks Tuesday, Aug. 11, find a dark site to settle in before the waning moon rises around midnight; keep in mind that it can take up to 20 minutes for your eyes to adjust to the darkness and then cross your fingers that the weather cooperates.
"Clear skies is of course the first prerequisite," Moskovitz says. "If it's cloudy on Tuesday, forget about it."  
The Perseids can be viewed to the north, toward the constellation Perseus, which gives the shower its name. As remnants from the Comet Swift-Tuttle—often the size of a grain of sand—pass through our atmosphere at speeds of up to 100,000 miles per hour, the material evaporates, producing the spectacular trails of light that we see. The shower was first recorded by a Chinese observer in 36 AD and has become one of the most familiar meteor showers to many.
"It's a really cool part of astronomy because everyone can participate," Moskovitz says. "It's not a thing you need a 10-millimeter telescope to observe; your eye is the best instrument you can use."
The Perseid meteor shower is particularly noteworthy for its reliably vivid show, compared to less active showers like the recent Alpha Capricornids and Delta Aquariids, the latter of which will still have faint meteors visible next week.
"If you imagine the stream of particles left behind by a comet and the earth has to pass through the stream to produce the meteor shower, we pass through the center of the Perseid meteor stream, so we get a lot of Perseid meteors," Moskovitz explains, "whereas some of the less active meteor showers, we're not hitting the stream head on, we're just grazing it, or it's a weaker stream.
 "The thing that amazes me when we start talking about the speed involved in these things, some of these meteors, we'll be seeing coming in at 50 kilometers per second, or 40 kilometers per second—it's such an extreme speed, that we can't model that with a computer," he continues. "Nature provides our best way of studying these events because it's such an extreme environment."
Through the All-Sky Camera at the Lowell Discovery Telescope, which takes a long-exposure photo of the night sky every minute, Moskovitz hopes to capture a few meteors in real time during a livestream event next week.
"Education and outreach are such a big part of what Lowell does, and we still are effectively closed to public visitation and we have been since March, so [going virtual has] been a fundamental shift in how we operate," he says. "A lot of effort has gone into how to do these livestreams, how often, what topics to cover, and it's something we've always wanted to do but never had the time to do it."
As the world has had to adjust to new realities in 2020, and Lowell and other local organizations have gone through their fair share of trial and error to carry on operations, digital outreach has largely proved itself a beneficial tool to have.
"We're seeing a growing number of people engaging, sometimes in excess of tens of thousands of live viewers at once, and more viewing the video afterward," Moskovitz says. "Even when we get back to some semblance of normalcy we'll continue to do these events so we can reach people who wouldn't have been able to make it out to Flagstaff."
Catch Lowell Observatory's free interactive livestream program on the Perseid meteor shower Tuesday, Aug. 11, from 9 to 10 p.m. Dr. Nick Moskovitz and research assistant Megan Gialluca will discuss the origins of the meteor shower, share more tips on how to observe them and answer questions from those tuning in. Mike Hankey of the American Meteor Society will also be volunteering his expertise for the program. Visit www.lowell.edu for the video link, or find Lowell Observatory on YouTube.
*The title of this article comes from a line in Isabel Rogers' 2016 poem "Watching the Perseids." It can be read in full here.