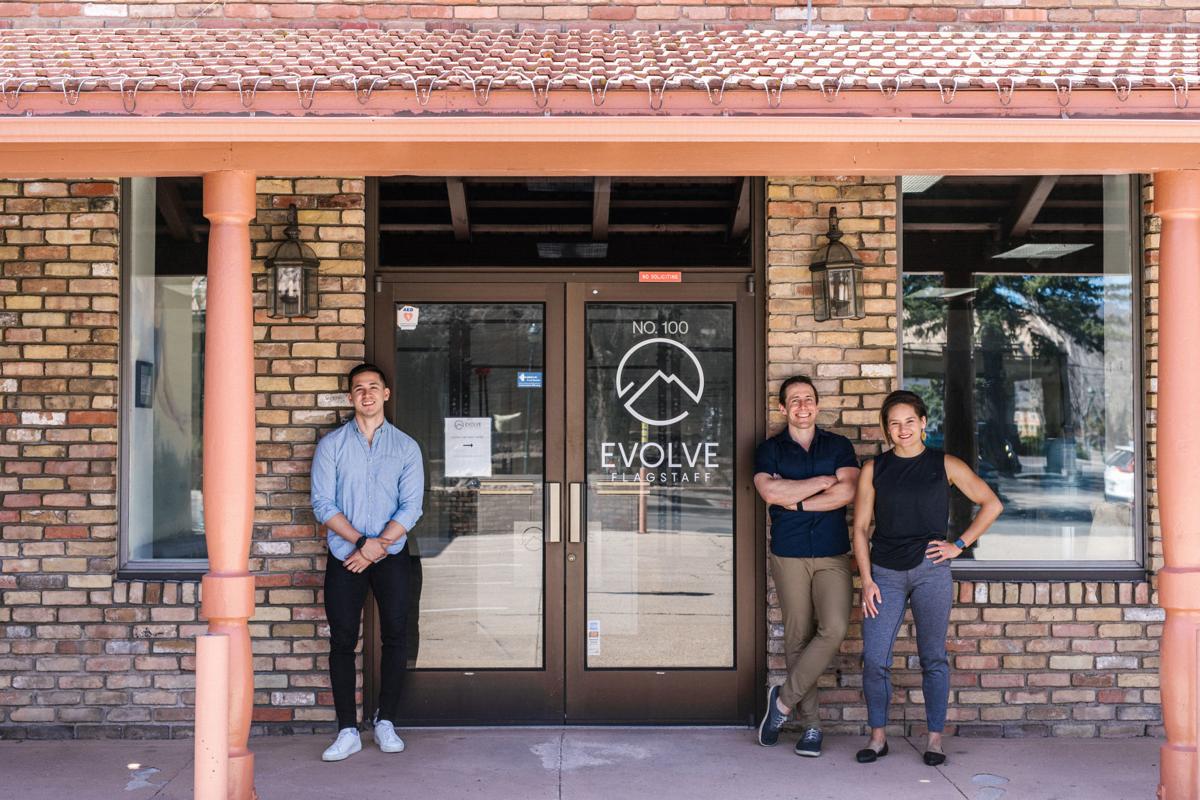 A few weeks before official stay at home orders for the state of Arizona were issued in March, when cases of COVID-19 had not yet officially been recorded in Coconino County, Flagstaff-based photographer Hannah Rose Gray was in Sedona waiting for a couple to arrive for their photo shoot set against the majestic backdrop of Cathedral Rock.
"There's something that these rocks are not shaken by that we are," she recalls thinking. "It is not shocked by what's happening to the human race, there's some 'all will be well' flow that's in nature."
As a wedding photographer constantly on the go, Gray says she had projects scheduled the next few months in Phoenix, Arizona; Denver, Colorado; Napa, California; Puerto Vallarta, Mexico; Boston, Massachusetts and more before they were canceled. Still, she's been able to take comfort in her new, slow-paced version of reality.
"To be home for me is to really enjoy what Flagstaff has to offer," she says, "which is being so thankful for how warm it is—it's giving us endorphins and hope because we have the sunshine and we have this access to nature that other cities don't.
"I feel positive, but that only has come after the fact of grieving a little bit and going through the process of my business declining and couples canceling their weddings because they lost their jobs."
While taking a break from her business, Gray volunteered to photograph families on their porches on Easter Sunday as part of a fundraiser for the Flagstaff Family Food Center organized by The Commons. She decided to take the idea a step further, carrying on the role of documentarian.
"I get to document what is happening to our town and what is happening to our businesses that we all love so much and support," she says. "They're the foundation of what it means to be Flagstaff. This whole vibe that we have, so much of that comes from the heart and soul and energy and passion of these small business owners. I just want to tell their stories, and what it means to be human right now."
The buildings themselves stand sentinel to what has unfolded over the course of Flagstaff's storied history. Human worries are just that when viewed through a wider lens, with many downtown buildings silently watching dramatic changes to our landscape unfold over the years, the transition from horse and carriage to the bumper-to-bumper traffic of tourist season.
"We're people of habit and comfort. We should be adaptable because the world is constantly evolving and changing, but it shocks us every time," Gray says with a laugh. "It's uncomfortable, but it shifts us. We're constantly in a state of change. It's not bad or wrong; it's just different."
Gray recognizes the strange dichotomy of knowing the pandemic is far from behind us, yet still being able to support newly opened businesses like the Juice Pub & Eatery and see friends in the healthcare industry riding bikes downtown. She wanted to pull from the peace she felt that day in Sedona to reach out to business owners and photograph them and their storefronts, those mainstays of Flagstaff's landscape.
Gray plans to photograph historic buildings and businesses like Babbitt's Backcountry Outfitters, as well as other local favorites like Evolve Flagstaff, Pizzicletta and Lux North, gathering the stories of these businesses to document how they've adapted during this important moment in history.  
"It's not a fun time for anyone by any means, but one of the ways we deal with stress is action," Evolve co-owner Abby Chan says. "We've been able to get back to the reason why we're entrepreneurs, which is to get creative and help people. The way everyone has been shining and pulling their own weight has been super cool to see and really energizes us as business owners."
She and husband/co-owner Brian Kinslow were able to shift their business, a dual physical training and nutrition center, online within 24 hours of being ordered to shut down. Webinars, cooking classes for kids, meal planning kits, online workout schedules and equipment packages now make up the majority of their business model.
"We recently had an hour-long webinar on how to manage stress during this time," Kinslow says. "We're not experts because we've never been here before, but we have some tools. Now that [the lockdown is] dragging into its eighth week, life has to go on a little bit, so how do we manage stress, manage nutrition."
"It's been a social collective trauma to a certain extent," Chan says. "We're all grieving the way life used to be; it will probably never be exactly the same. We all need to come together and realize that we can all help and support each other."
Kinslow says he's returned to two quotes in particular for guidance during this time: "Never let a good crisis go to waste," as said by former Prime Minister of the United Kingdom Winston Churchill, and the oft-heard motto, "No one is coming; it's up to us." In alignment with the latter, Evolve donated 20 percent of online sales to a different local business each week of April.
"Yeah, there are some government programs, but it's really up to us, the community members," Kinslow says. "People who are able to take action and stay positive, even if it's one small step each day, we're going to be stronger for it. And I don't want to discount the incredible loss of life, because there's a lot of hurt right now, but we have optimism that our community, our country, our town, we're all going to be in a stronger place as we pull through this together."
Hannah Rose Gray's business portraits will be available for viewing at www.hannahrosegray.com in the next two weeks. Evolve Flagstaff is currently offering 15 percent off meal programs for healthcare workers, and pay-what-you-can online classes and webinars for the public each Tuesday, Wednesday and Thursday evening. Visit www.evolveflg.com or follow Evolve on Instagram @evolveflg or @evolve_eats for more information.
Be the first to know
Get local news delivered to your inbox!