The scene: A sloth lounges underneath a palm tree on an island as he drinks from a coconut with a plastic straw. Fluffy clouds float by and a dolphin leaps out of the ocean before crashing back down into the waves. When the sloth is done with the coconut, he tosses the straw into the ocean where it disappears beneath the surface as an unhappy sun looks on.
The three-minute stop motion film transitions to an underwater scene where a small turtle, voiced by 12-year-old Abby Henderson, advises a larger sea turtle not to eat the sinking straw, but the warning is ignored.
"He told you not to eat that," says a dolphin, voiced by Lilliana Roccaforte, 12. "Are you OK?"
Back on the surface, an alien arrives to lecture the characters about the rising toxicity levels of the world's oceans and teach them a lesson about littering.
Created by 12 students at Pine Forest Charter School, The Last Straw made its public debut this past February as part of the Flagstaff Mountain Film Festival to an audience of around 3,000 people throughout the weekend. The short film then went on to win the middle school category of the Youth Making Ripples Film Festival, making them the first group of inland students to win and giving them the opportunity to go on a shark-tagging adventure with nonprofit environmental research institute the ANGARI Foundation in Florida later this summer. The film will also be screened worldwide as part of the Save the Waves Film Festival and was recently accepted into the Patagonia Film Festival in Santa Monica.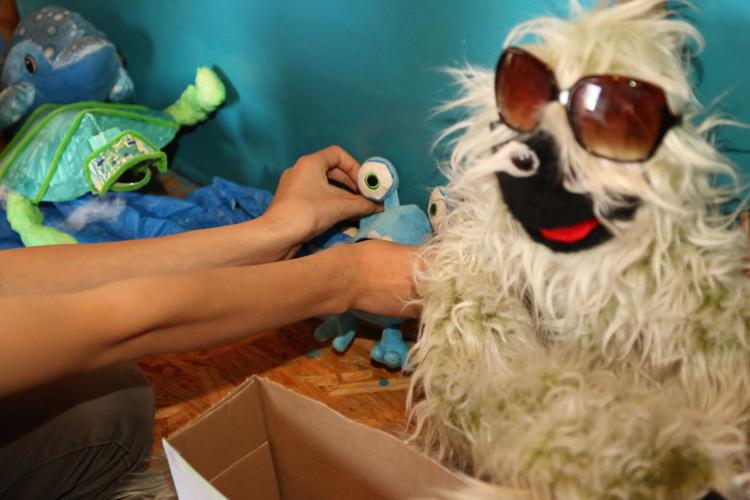 As the students brainstormed what they wanted the film to be about, they created a storyboard for the plot. Throughout the process, several initial ideas fell to the wayside as others became preferred by the group.
"I don't think we were gonna have an alien in it, and then someone really wanted the alien to go in there, and we weren't gonna have the sloth in it either, but then someone insisted on having a sloth," says Alida Perry-Stonebraker, 14.
"And they ended up being the two main characters," adds her sister, Ramsey, 9.
The film was sponsored by the Flagstaff Mountain Film Festival, Azulita Project, Around the Mountain Pediatric Dentistry, Babbitt's Backcountry and NAU professor of anthropology George Gumerman. The students also teamed up with local independent filmmaker Paul Perreault who has run the Animation Station at Flagstaff Hullabaloo for the past five years. There, attendees can create their own stop-motion scenes which typically run only a couple seconds and utilize one or two different camera angles.
"We had, I think, four different locations and lots of different camera movements [for The Last Straw], and sometimes we were animating up to two dozen things on the screen all at once," Perreault says. "It was a lot more sophisticated for sure."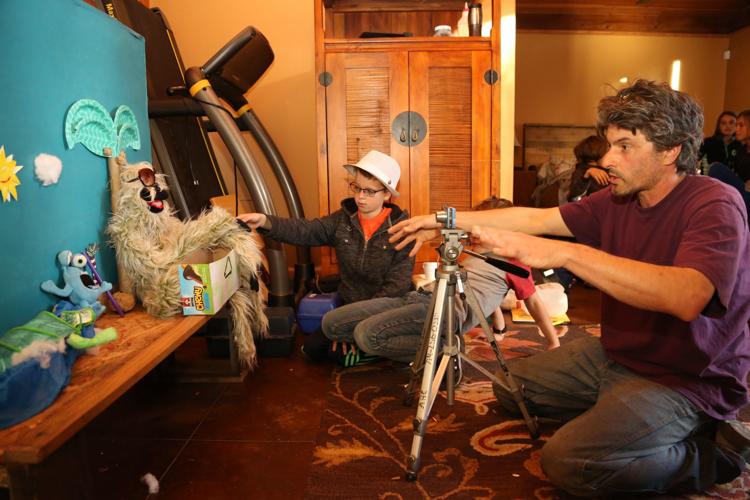 "We didn't really know what to expect," says Abby of the production which took three weeks. "I think the filming took longer than I would have expected it to be and the lighting was very difficult."
The crew consistently shot around the same time each day to ensure the lighting didn't drastically change from scene to scene, and each aspect of The Last Straw was carefully thought-out, all the way down using only recycled materials for props.
"Me and Abby made the little spaceship for the alien out of parts of plastic bottles," explains Lilliana. "We colored it black with marker, and then we took a piece of paper that had the alien in it, and then we glued it on."
Ramsey animated the clouds using cotton from vitamin bottles. Other props were made using toilet paper rolls, plastic bags, paper plates and Styrofoam cups.
"It was all the kids' ideas, but I did give them some support as far as problem solving,"Perreault says.
For example, during a time travel sequence in which the alien shows the characters how plastic will eventually take over the oceans if disposed of improperly, Perreault warps the image through a glass goblet, taking inspiration from a technique he used in a music video he's currently working on for The Unicornicopians.
Many of those involved contributed their musical talents to the production and composed an original soundtrack for the film. Lilliana played violin and piano, Abby played saxophone and violin, Alida played trumpet, Wesley Phillips played guitar, Ethan Owens played trombone and Cedar Bontrager played trumpet.
"It was amazing how the music matched the scenes," Perreault says. "I couldn't believe it; that blew me away. Every day I'd go home at the end of a production and put it together I'd just be like, 'Wow, it couldn't fit better.'"
"For me, it feels like a great way to give back to the community and promote the arts," he continues. "I'm helping the way that I know how."
According to the Environmental Protection Agency, Americans threw out more than 33 million tons of plastic in 2014, and a 2016 report by the Ellen MacArthur Foundation estimates plastic will outnumber fish in the world's oceans by the year 2050. Even food service company Bon Appétit announced last week it would ban plastic straws in all 1,000 of its cafés, including the popular AT&T Park in San Francisco, hoping to solely use paper straws by 2019.
Many of the students involved in the project were already well-versed in the various ways in which they can reduce plastic use and their families follow the three R's: reduce, reuse, recycle.
"We try not to use straws, and if we get any plastic utensils we try to reuse them," Abby says.
"Or ask before we get them," her dad, Rob, adds.
For the Perry-Stonebraker family, they avoid using plastic straws as well as Styrofoam to-go containers and bring bamboo silverware to school to help reduce the amount of single-use plastics in circulation.
"The biggest thing I think it's done for our family is to look at just reducing use of anything that's single-use," says Martine, Alida and Ramsey's mom. "We still recycle, but for the most part we try and cut down our consumption."
"We use PlanetBoxes, which are metal lunch boxes, and they come with metal spoons and forks," Lilliana says.
All it takes is a few small lifestyle changes for people to make a big difference, even for those who live almost 7,000 feet above sea level, because everything goes downstream eventually.
"Flagstaff is fast becoming a hub for marine conservation but, in order to make conservation successful in the long-term, youth advocacy must be a priority," says Maria Campbell, marine biologist and board member of Azulita.
For many of the filmmakers, this project has ignited an interest in conservation issues, and as the film continues to be shown to audiences, they hope it will help raise awareness of how pressing the issue of plastic use really is.
"They are some of the most inspiring ocean ambassadors I have ever come across, and this shark-tagging expedition they will go on will be a life-changing trip," Campbell says. "Who knows, maybe a few of them may grow up to be marine biologists."